Unzip the bag and pull out the camera. Don't fumble. Remember that the strap is threaded through a hole.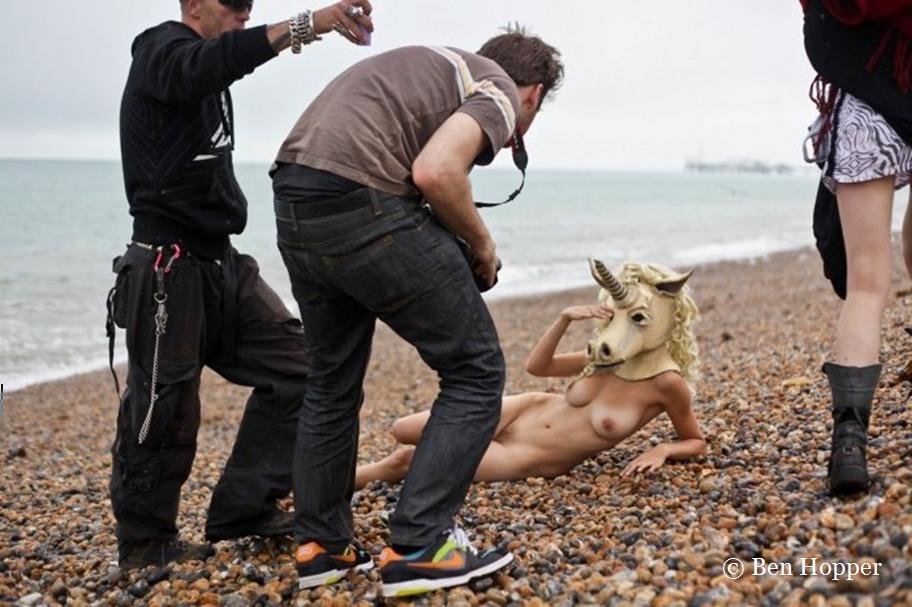 Move smoothly, and with slow intent, unslot the top bit of your tripod and position the little silver nubbin against the bottom of your camera so that it lies flat, and twizzle the screw into the hole. Reslot it onto the tripod.
Maybe you should have adjusted the height of the pod before putting the camera on, but this depends on how high you want the tripod and how tall (or otherwise) you are. If you want shadows to fall on your model's face without showing her double chin and the gaps in her teeth – they all have them – position it high with lots of flash. If you're short, you won't be able to see through the view finder so you'll just have to point, click and try again; point, click and try again. If, however, you're shooting something like a glamour print or porn, as is my predilection, you want to have the model's tits in the centre third of your frame. In this case, position the lens level with her head.
Now you've got to start fiddling with buttons. You might use an automatic focus but I'd suggest otherwise. Twiddle with your lens. It feels good. Not only will you seem more professional but your model will see you as a master of your trade, instantly forcing the power in the direction of your artist's eye.
You're getting paid for this, remember.
Now that you're focused, you're going to fiddle with your lights before pushing any more buttons. If you burn yourself, keep your bloody face straight. Professional and powerful, remember. You might bring them higher, add more or take some away. It all depends on what mood you want and I'm not going to sit here and spoon feed you but I'll give you some examples. If you want something dark and mysterious, remove lights from one side. If you're shooting fashion then you want plenty of lights level with your model's body so you don't get too many shadows on that moonshine-white backdrop. In this case you'll go back to your camera, choose the right aperture and set the shutter speed to manual.
Think of how your A-level teacher taught you about aperture with a hole in a piece of cardboard. High light, low aperture. Low light, high aperture. Or was it the other way round? You won't remember but you will innately know what works, and anyway you hated that teacher. If you go for the dark and moody then adjust your aperture accordingly. Set it to manual shutter speed still, but instead of clicking quick like you poked a needle, linger on the button for a moment.
Maybe count 'one' in your head. Take a look. If it's too dark and you can't see the lines around her nose then think of a two-syllable word. I like to say 'maybe', then release the button. This always seems to be just right.
So now you've taken a starting picture. It's time to say 'left a bit' and 'right a bit'. Tell her to 'let go' and 'get loose' like they do on TV. Do something crazy like take the camera off the pod and slide across the floor to take a shot from in between her legs with that huge charmster's smile on your face. This'll make her giggle if she's an amateur.
Set down a cardboard box by her left ankle and open it to release the powder blue butterflies and tell her she looks like one. She thinks you're telling her she's beautiful and free; you're telling her she's an insect. With cockroach faces and perverted antenna and wings as useful as a lace condom, what's the point in butterflies?
Move to each side. Watch them hit the lights and the black, heat-soaked prongs that surround it. You can hear them scream in voices like children. Once you've snapped about a hundred you've got plenty to choose from.
You'll take her into the editing room and insert your SD card into the mac. You'll compliment her bone structure and have undignified sex with her on the desk. She's light so you can pick her up and put her there; she'll love that, too. She'll love it because you're charming and you're an artist and a fraud.
Lie down on the powder-blue floor of silenced beasts and feel the huge, black hand of gravity push at your shrivelling chest. Tomorrow you will read about Duffy dying and you will say "he was good, but his depth of field ruined the 20th century."  Stand up and start again.