Ali Smith is called "astonishing" by the New York Times and a "a genius" by Alain de Botton. Her new novel is based on her lectures to Oxford University. She talks to Fleeting's David Whelan about lost stories, reversing the past, and her mother's cooking.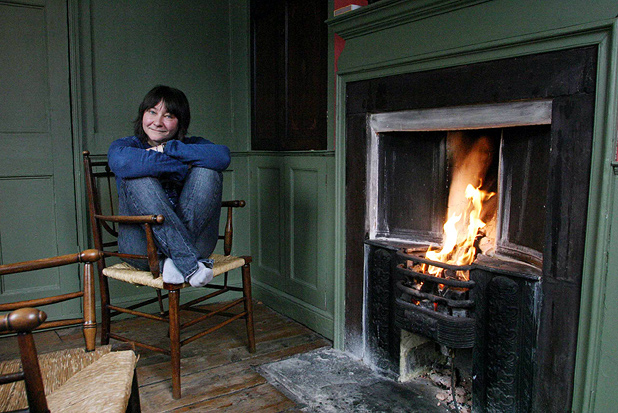 Would you like to send a love letter to anyone?
Yes. Here it is. Anyone, I love you.
If you could reverse or bend a moment in history into an outcome regarded as the opposite of what happened, or at least as substantially different, what moment would it be?
I'd replace Hitler with Chaplin. I'd give Keats, Burns, Austen, Mansfield and Plath full long lives. I'd resuscitate all the butterfly species that've died out, and bring back all the lost varieties of apples. Assuming others will already have dealt with war, poverty and disease.
Why won't the aliens step forth to help us?
They are busy with their own histories.
Do you ever wonder after the stories stolen in Mr Hemingway's valise on the platform in Paris?
Yes, I do – I wonder whether the person who found or took that suitcase read them, or liked them, or found him or her self years afterwards thinking of the stories they found in the suitcase one day and read.  I wonder where they ended up, where exactly the paper they were written on broke down and mulched itself away, or disappeared into landfill, or … Maybe someone published them under another name.  I hope, if whoever found them burned them, it made a warm difference to a cold night and someone's cold hands.
Would a small red balloon cheer you up?
Invariably.
Do you ever devote yourself to making a cake and then sit down and eat it?
No, I was psychologically scarred by my mother's weekly baking regime and as a consequence I never bake.
Of which lost or destroyed culture are you most fond?
The 1960s Greek musical.
If a gentle specimen of livestock passed you by en route to its slaughter, would you palm its rump?
No. I would inhale the scent of a fellow being and look at the way it moved and how its skin sat well on it. Then I'd offer the person taking it to slaughter three magic beans, and I'd take the gentle specimen back with me to live on the farm overrun with animals whose lives have been exchanged for magic beans. (And when I am on the slaughter road myself, I will hope to meet someone who'll do the same for me.)
Do you favour a day of the week?
I actually quite like not to know which day it is.
Are you happy?
More often than not.
Do you believe in ghosts, or want to believe in ghosts but really can't, or dismiss ghosts outright?
I've never seen one, but I like listening to people who have tell me the details, which are usually very pedestrian, a fact I find really interesting. Even ghosts are subject to conventional narrative realism.
Ali was interviewed by David Whelan, who asked questions from his copy of The Interrogative Mood: A Novel? by Padgett Powell.