Laura Dockrill leads the new wave of British performance poets. An inspired blend of writer, coxcomb and confidant to Adele and Kate Nash, she is equally at home at Glastonbury and Woman's Hour, dispenses fashion advice to the Guardian and the Times, and is tipped by the latter for literary stardom. "I have hallucinated a couple of times," she tells David Whelan. "On the District line."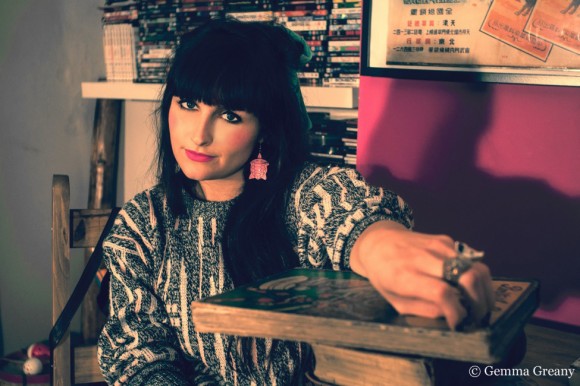 Do you engage in any ritualistic behaviour?
I can't live without tea. I get in a very bad mood if I don't have it. Another ritual I share with my husband is that every night, before bed, he has to put on a Hawaiian shirt and we listen to David Bowie's Young Americans.
Did your mother teach you anything particular, and did your father?
How to drink. How to talk to strangers. One thing that's pretty sly and impressive of parents is how they basically turn us into friends of theirs, in a Frankenstein sort of way. They have babies and then spend the next twenty years customising their very own BFFs. BFFs that look like them. So they have somebody who understands them, with the same taste in music, film, food, culture. Someone to nod with in the pub. I've seen it happen. It's very clever.
If you could design a flag for a nation, what color or colours would predominate?
It would have to be horrifically sparkly and twinkly, made up of individual sparkles so that each circle of glitter was like its own mini rainbow. In answer to your question, the predominate colour would be sparkles.
Are you with me here?
Yes, I am having a really good time. I often wander off into a bubble of my own. Sometimes I get a nasty shock when I think I'm doing an excellent job of integrating myself into society and then realise I haven't been there at all. It's a horrible realisation. I have hallucinated a couple of times, both were the same vision. It was on the District line. I used to see a woman – Feist in an orange dress, to be blunt – on a white horse galloping fast after me on the tracks. I was happy to see her. It wasn't a ghost.
Are you much of a cook?
I get by, but the man I live with is the real chef. If I cook, he hovers over me, telling me to slice things thicker or thinner and then I get fed up. Currently I have a big gash on my left hand from peeling a sneaky sweet potato, so I understand and respect food. I know it can backlash.
Isn't it – and forgive me the pop locution – hard being you?
Oh, shut up. Of course it isn't. Life is what you do with it and what it does with you.
Is the sky the limit?
Absolutely, thank you for asking. I think about the sky quite a lot. I once saw a TV program where a screw came loose on an aeroplane in the air, the window came off from the front, and the pilot got sucked out of the window from the pressure and the other pilot quickly put his arm out and managed to grasp him. He held him there the whole way down to earth. He saved his life. People are amazing. His arm got amputated I think, but it was worth it. What a story.
Are boys meaner than girls, or vice versa?
You can't judge people on being boys or girls. We are rice and pasta, completely different, both need heat, swell in the belly and taste horrible raw.
Should I go away?
Please don't. I've got a six-pack of mince pies and some episodes of Breaking Bad. We can sit on the sofa and tear them open. I'll ask you things about your life and you can answer them. You can wear my slippers or my husbands, depending how big your feet are, or if you have really big feet we can put pillows underneath them and wrap belts around the top to invent you new house shoes. There's always a way. No, nobody has to go anywhere.
Laura was talking to David Whelan, who asked questions from his copy of The Interrogative Mood: A Novel? by Padgett Powell.