Tim is the highest-profile newspaper columnist in the UK. His deadpan analysis appears weekly in G2 and the Radio Times, and his leader column for Guardian Weekend – laconic tales of marriage, banjo playing and tyrannical pets – reaches a few hundred thousand breakfast tables every Saturday. "Never a day goes by," he tells Matt Shoard, "when I don't think, 'What the fuck happened to you?'"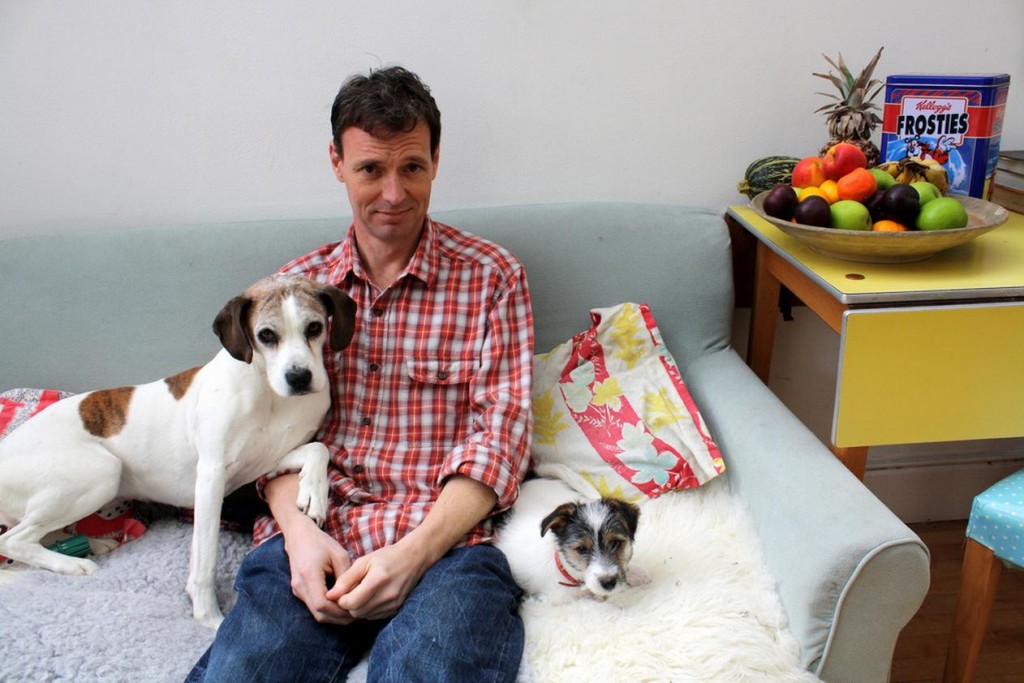 How is your health?

Let's put it this way: if I had fill out a form to go skydiving, I could safely tick all the No boxes in the list of conditions that might prevent my participation, unless one of them was "Fear of Skydiving". I drag myself to the gym twice a week in an effort to keep minimally fit. As a result I am always in pain.
Are you much of a cook?
I'm not bad. My mother taught me some basics when I was young – how to separate an egg, roll pastry – and I'm probably more confident than my kitchen track record warrants. I go through periods where I make bread obsessively. There's a sourdough starter still mouldering in a cupboard from my last attack. I also know how to make éclairs shaped like swans, although I've only done it twice, and I was drunk both times.
What would be the most fun thing you could do, right now?
Right now? Monday afternoon, 4:30? I have an answer, but honestly, she's never going to go for it. I'm not even sure how I would frame the request. Anyway she's downstairs looking at old spoons on eBay, which is probably the most fun thing she could be doing right now.
If you were now thirteen again, what would you do that you did not do when you were thirteen the first time, and what would you not do that you did?
I'm unhappy with idea of going back in time and meddling – I don't want to return t0 the present and discover that everything is exactly the same, except I can't drive. I'll assume you've worked all that out…
It was the summer of the French class trip to Paris. In the first week Amy Darwick fell in love with a German kid from another school, and when he left for home on the Saturday she was heartbroken. She cried so much that she did something to her eye and one of the teachers had to go to a chemist for some drops. In hindsight it seems to me there must have been some way I could have turned these events to my advantage. I suppose I would tell myself: be brave! Her face is all red and puffy – what's she got to be fussy about?
As far as what I would not do – I would avoid all the places where I got beat up that year, particularly the back stairwell that was my shortcut from the cafeteria to geometry.
What's it like being you?
For reasons that are unclear, I have been blessed with more self-esteem than I have use for. I'm actually shy, sullen, weak-willed, lazy, cowardly and ineffectual, but deep down inside there's a part of me that thinks I'm marvellous. It's like body dysmorphia, but of the soul. Still, if you're going to have a big self-worth/actual worth imbalance, this is definitely the right way round. Imagine being absolutely fantastic and having no idea. What would be the point of that?

Would a small red balloon cheer you up?
I don't know, maybe. What other colours have you got?
If you could emigrate to any country in the world and support yourself there, which country would it be?
I've already done this once. I came to the UK 20 years ago for foolish romantic reasons, and I never left. At the time I was quite incapable of supporting myself anywhere, much less in a land where I knew almost nobody. Somehow I've ended up with a job, a wife, and family, a house, a mortgage and the convenience of a local corner shop where they sometimes let me off when I'm 5p shy of a pint of milk. Never a day goes by when I don't stop and think, "What the fuck happened to you?" But, you know, not in a bad way. I'm not sure I've got another emigration in me. I was lucky to get away with the last one.
Why won't the aliens step forth to help us?
I can only imagine they think we'll end up resenting their advice, complaining about their failure to deliver assistance on schedule and recasting their altruism as some kind of sinister takeover plot. I can't speak for the whole planet, but I know that's what I'd do.
Tim Dowling was interviewed by Matt Shoard, who asked questions from his copy of The Interrogative Mood: A Novel? by Padgett Powell.