These were rough, rivetless, piecework men. I stood there in my pajama pants, the night's breeze licking at the flap, shrivelling my already insubstantial poke of manhood.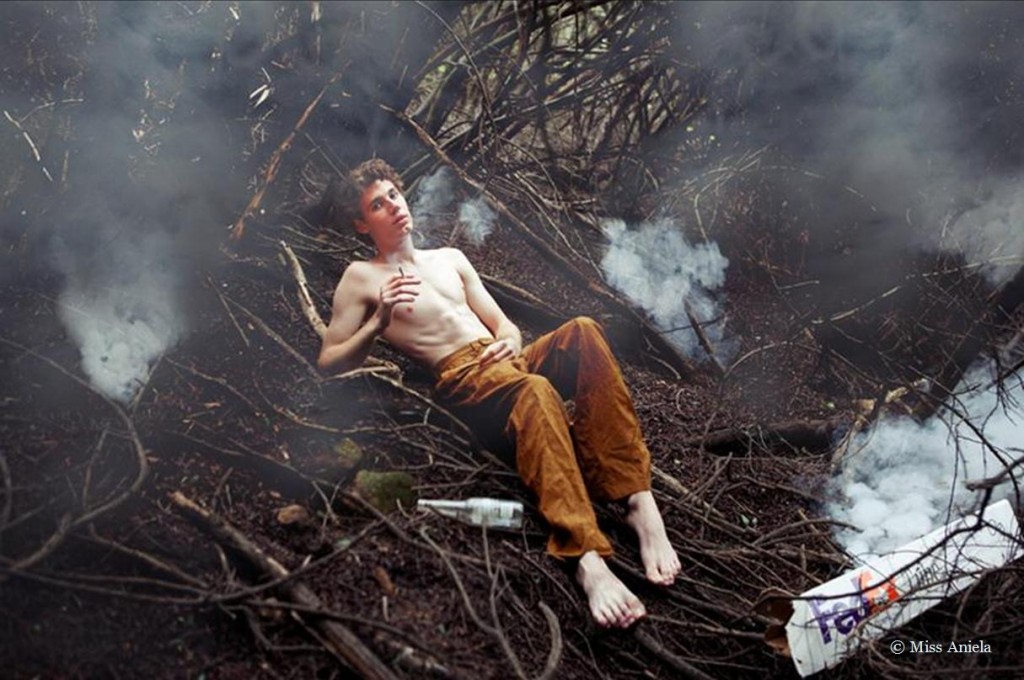 In the front yard the mastodon sat, looking grateful, denting the lawn. His trunk paddled the air in boredom. His tail curled up and then flattened out. His withers worked the surrounding gravity like a washerwoman at the shallows of a stream.
These men were mammoth rustlers. Big, crazy, four limbed men. The type you allow to cut in line at the supermarket. The type who insult your wife and you say: pay it no mind, it's just the way these men are. They breathe like they are angry to take in or give out air, as if any motion on their part is a concession to a world that doesn't deserve it. They hold their urine until the force of it slaps against the urinal.
I am an academic, one who looks lovingly at the world, with the world looking back and saying: I can eat you, you unnecessary product of cell division. I make no ripples. My magnetic field slips and slides about my body and has never fit right. My hands have open argument with utility. My wife has never had a climax when she was coiled with me, and hasn't thought enough of our interventions to invent the sound of one. I stumble through any ordinary social event like the space bar on a typewriter. I can better tell you what I am doing than I can do it.
But every man, even that sneeze in blue cloth, has a moment when he has to reach down to see if his jingles jangle. He has to know that, for all his intelligence and charm and grace and sophistication, he has in his cluttered cellar what he needs to become bull faced terrifying. To raise his scorching hackles and draw from the options resident within him that atavistic solution that will blow bone splitting pride through its horn like steam from a thunder well.
I said, "But that's a mastodon."
And they looked at me with that hatred I have seen in the eyes of thousands of anti-intellectuals: hotdog venders, grocery store clerks, pizza eating lawyers, recumbent girls in string bikinis, wine drinking pet groomers. But this was something more. There was just a hint of an exhale, a hint of room being left in the balloon. The shoulders of one dropped, a crispness passed over his face like an atmosphere exhausted on the moon, and the corner of his mouth started just slightly to crack out of its frame.
They both looked over at the mastodon. The mastodon, unaware of its sudden nuance, was staring at the movement of the stars, the everlasting glide that makes people believe the sky is turning, and others believe, for a second, the earth is turning. His head alone was the size of the neighbor's wheelbarrow.
They said nothing and I stood in my home's simple doorway, the light behind me, the two men in the dark, and held my ground. I could see them thinking, flash cards rising in the hardware of their brains: this is a mammoth, this is a mastodon, this is a mastodon, this is a mammoth. And they turned. They turned and started to walk slowly down my curved patio walkway, moving their feet in short frizzy glides, their hands hanging in wire ball fists, their heads bobbing like whales' heads: unsure, but moving, moving.
I watched my shadow lay comfortably behind them as they moved out of its way. The light flooded out from around me and I counted their steps as they neared the public sidewalk, turned to head back up the street, and began to move faster, their decision reached, their purpose exchanged.
I watched them go for four houses and then lost them in the yard growth. In this neighborhood, people grow things in their front yards: roses, trellises, ornamental trees, a second or third car, gnomes, mint. I had to lean forward for a last glimpse, the two of them sliding into their next task.
In the meantime, the mastodon had moved. In slow, muted steps he had crossed the recently planted six inch hedge between my place and the pharmacist's place next door. Leaning half in my yard and half beyond it, the mastodon was nosing my neighbor's statue of a boy, almost the size of a real boy, standing in a fake clam shell, giving from his limp penis a stammering arc of processed water for any bird that happened by.