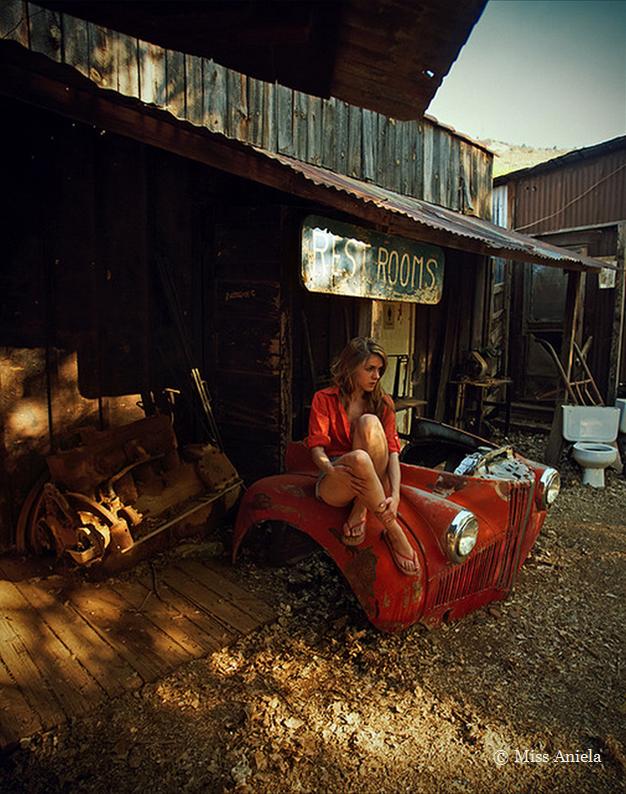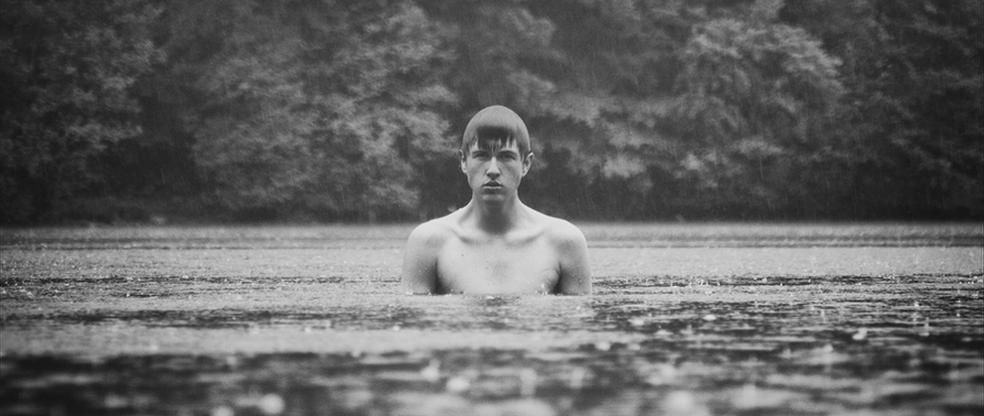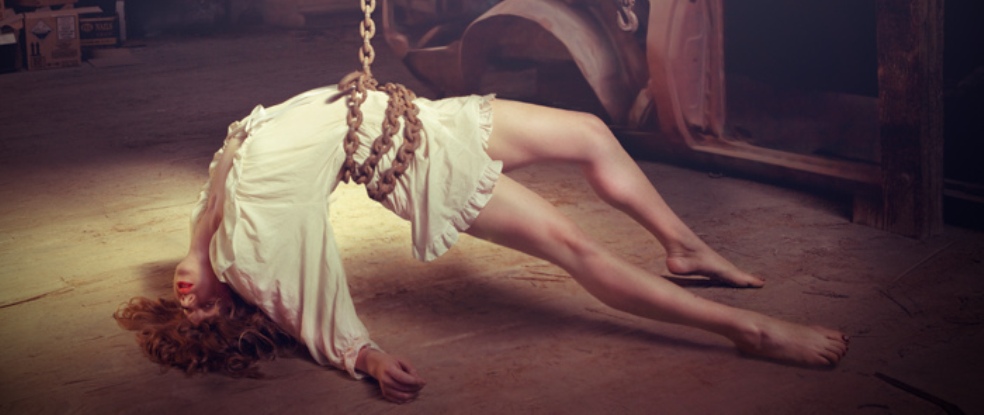 Her teacher asked them to take a piece of paper and write a nice word describing, one by one, everybody in the class. The teacher typed them up on tiny scrolls, one per person, and inflated balloons around them. Everyday before lunchtime she would get one of the children to pop a balloon with this health-and-safety pin on a stick. If you're imagining at this point the teacher was slim and sang to birds and didn't murder the insects that flew into class when it came near to summer, let me stop you. She was pudgy and middle-aged with an unnerving eye that pointed too far towards the other, and none of us could tell which was the rogue. And she liked Oasis, the band, not the drink. That's about all I remember. She was nice though. She got married and kept the wedding photos in her bag for the next few years. If you saw her at the bus stop she would show them to you again. She never was quite the same after her name changed, but it was years after I'd moved to secondary that they found her. When they popped my balloon the note read: Funny Clever Good sense of humour Friendly Polite I still have that note. It's mounted in the attic, facing away from the door, covered in a dust sheet. I climb up to see it every few days, to make sure it's still there, mostly. I couldn't live for the thought that someone else might see it. In the corner opposite, leaning against, is a bowling ball, just in case.
When I lived in King's Cross I used to lie on the bed and listen to my bones melting. At first I thought I was listening to Elgar and then I thought I was listening to the couple who'd moved into the flat above and who were getting to know each other better and then I thought I was listening to the music of the spheres. I was listening to my bones melting.
I remove her hands at the wrist without permission because she never touches my dick. I am quiet and careful not to wake her and am not thinking of anything to help me along. I just watch her hands on my wrists as they work my dick and balls. Her thin delicate fingers and nails, so much smaller than my thick workmanlike digits, make me believe my cock is somehow suddenly much bigger. We recently discovered our hands have matching fixings. A simple snap and shift locking mechanism at the wrist means we can swap pairs with no trouble. The join would be impossible to see except for my bushy forearms ending abruptly where the pale slope of the backs of her hands begin. Of course for her the reverse is true, the smooth skin of her forearms giving way to my tufted, vein-ridged meat hooks. Earlier this evening, trading right hands first then left, we clicked and slid each one in place then looked at each other, the absurdity of my hands on her arms, hers on mine, made us laugh at first. We explored each of our new hands with its partner, spent the evening on the carpet of our room, stroking the pile first, running each other's fingers deep into it, then hours touching stuff, apples, blankets, the leather of the sofa. "Feel this," she said about each new thing. And I did. We scribbled love letters, amused at our writing with each other's hands, my words in hers, hers in mine. It pleased me no end to write with such neat feminine curls. She giggled at my scrawl emerging from fingers under her control. "It feels like wearing you as gloves," she said. Touching each other was new again, feeling her through her own fingers she seemed once more strange, once more undiscovered and she said it felt the same. We lay facing each other and watched our own hands measure our dimensions. A lifetime of familiarity with our fingers washed away as they moved to the will of another. She was deft, made my fingers, often clumsy under my control, somehow agile, spry, not at all the hesitant fumbling fools they are for me. "Touch my cock," I said. The shake of her head and the silent, mouthed 'No' had me squeezing her hands into fists. Then I let it go. Waited. Later while she slept, I slipped her hands free, took them downstairs. I was gentle. She did not stir. Her hands fixed on my arms I stroked myself, ran her fingers through my hair, over the flabby skin of my middle, embraced myself tightly, stretched her palms and fingers over the dense globes of my shoulders. I felt myself as she feels me, delicate fingers on my stocky, gristled trunk, allowing her hands to reach for my cock once I'd done enough to convince myself this wasn't all I'd headed downstairs for. Of all the wanks I've ever had, this one, wearing her hands, is easily best; her slender fingers do exactly what I want when I want as hard as I want. I hear her stirring. "Very funny," she calls down. "Now give them back." "I'm coming," I say and I am. I wash her hands and head back to bed. Once we're wearing our own hands she says, "What were you doing?" "Seeing how I felt," I say. She holds her hands out in front of her, runs her eyes over her fingers and her face pulls. "You bastard," she says. "I'll let you borrow mine," I say "No thanks," she says and she smiles. We touch then with our own hands on our own arms and afterwards lie limbs tangled, fingers cat's cradled, feeling somehow each like the other.
George Saunders has done as much for the short story in his time as Carver and Barthelme did in theirs. The cleanness of his prose and the acuteness of his satire make him one of the most important writers now at work in English. He tells David Whelan about fighting with cyanide, his immediate circle, and his father's lush Renaissance accent. Whose death, recent or not, do you most lament? I lament the death of irony. Also the death of manners. And the novel. I lament the death, also, of the novel of manners. As well as the ironic novel. I am basically just lamenting all the time. I wasn't always like this. There was a time when I never lamented the death of anything. I was just like, "Broadway is dead? Big deal, good riddance." I really lament the death of that pre-lamenting time of my life. Do you believe in justice? Do you mean am I for it? I am. Justice is the most important thing in the world, and the birthright of all people. Especially for me and the people in my immediate circle. For people just outside my circle, I believe in it somewhat less, I suppose. For those way out of my circle, I am not necessarily against it, but tend to not fight for it very hard. For those as far out of my circle as one can possibly get, I am very much against justice. But it's funny – as they move closer to my circle, I am more for it. So really, I suppose, it's up to them. Are boys meaner than girls, or vice versa? Scientists have shown that, at birth, boys and girls are equally mean. Or, to put a more positive spin on it, equally not-mean, aka, nice. But then everything goes haywire. The one thing I can say for sure is that both the boys and the girls that are very far out of my immediate circle are incredibly meaner than those in my circle. If you learned that you would expire tomorrow at 5pm, what would you seek to do until then? Renew myself. Did your mother teach you anything particular, and did your father? My mother taught me to go over to my father and say, in a whiny British accent, "Daddy, teach me something particular." And my father taught me to go right back to my mother and say, in a creepy Transylvanian accent, "Vy don't you teach ze boy somesing particular, Frau?" And we just went on and on like that. No wonder my grades were so bad. Then, on my eighteenth birthday, everything changed completely. It was like the light of sudden realization had dawned on our family like the sun of instant knowledge. Suddenly, as if she had realized she was about to expire but had suddenly been renewed, my mother started teaching me to go over to my father and say, in a confident Southern voice, "Suh, I am a grown man now, and wish to go forth and defend the Confederacy." Boy, was my dad ever shocked. Once he renewed himself, he responded by teaching me to go over to my mother and say, in a thuggish Bronx accent from a 1940s movie, "Hey ma! Dad over deah won't let me go fight for the friggin' Confeds! What'd ya know?" Then I went off to college. And never saw either one of them again. Can you say for sure that you have loved? Yes, and not only that, I can say it in Spanish: "Yo soy un biblioteca grande." If you were to participate in a spice war, which spice would you fight for? I don't know what spice I'd fight for, but I know what spice I'd fight with: cyanide. Wait, is cyanide a spice? Or a mineral? Anyway, I'd fight with cyanide or, if cyanide isn't a spice, then I'd have to say… dynamite. That was, actually, one particular thing my father did teach me. I remember him, as I was loading up the car to go off to college, saying, in a lush Renaissance accent: "Fight thy battles in a comely manner, lad, with cyanide in tow, avast, or dynamite, for these are spices that, verily, shall abide." Do you believe in ghosts, or want to believe in ghosts but really can't, or dismiss ghosts outright? What are these "ghosts" of which you speak? They sound spooky. George Saunders was talking to David Whelan, who asked questions from his copy of The Interrogative Mood: A Novel? by Padgett Powell. Share on Twitter and Facebook
Six months before she died – it must have been just before she was diagnosed – I saw her, but she didn't see me. I was in our living room. It was two or three in the afternoon. My girlfriend was working so it was just me in the flat, rambling around. I do most of my day's work in the morning. I usually have a burst of energy and get started at eight or half-past and go straight up to lunch. I don't do anything much in the afternoon: half-hearted reading, play some music, go to bed. If my girlfriend's not working sometimes we go out – just for a drink or something – before I get my second burst of energy in the evening. But that afternoon my girlfriend was working and I was alone. Her name was Hannah. Literally a friend of a friend. About thirty-seven I thought when I first met her, but forty-two as I now know. My girlfriend and I met her when we went to dinner once at my girlfriend's best friend's. My girlfriend's best friend always invites a couple of other people along whenever we go to his for dinner. I used to be a bit slighted by this but over time I came not to mind, almost enjoy it. If nothing else it meant that myself, my girlfriend and her best friend didn't dwell on our favourite subject: how our professional success was not commensurate with our abundant talents. The people my girlfriend's best friend invites over are always either Brazilian, or Italian, or Israeli, or German – as was the case with Hannah. I don't think he ever invited someone English along. Which is fine by me. I'm not English, neither is my girlfriend, neither is my girlfriend's best friend for that matter. Whenever we're at his place for dinner it feels like a bunch of exiles together in a foreign land – although of course it's nothing of the sort. We'd be exiles anywhere. I think we probably thought 'uh-oh'. The women he invited to these dinners were usually the same stern, prickly types who look like they're in transit from one argument to another. But we found out she lived around the corner from us. She became 'the woman who lived around the corner from us' and we met her a couple more times, once at someone's party. My girlfriend's best friend would always mention how Hannah was doing whenever we'd meet up with him. I suppose he mentioned to her how we were doing when he met up with her too. We never visited her. We never decided not to visit her – in fact we often said to my girlfriend's best friend, then later on to ourselves, "We must go round and see Hannah". But we never did. Six months before she died – it may have been the week she was diagnosed – I saw her standing underneath the tree on the pavement outside our flat, waiting for the rain to stop. Who knows, maybe it was the very day she was diagnosed. Maybe she was on her way to the hospital when I saw her. Maybe she had just got the phone-call to say could she come in immediately; the call that could only mean one thing. Whatever the chronology, one thing is certain: it was before my girlfriend's best friend called to say Hannah was ill. Definitely before. I was rambling about, as I said. I could hear it had started to rain – one of those squalls that come out of nowhere. I went over to the window to look, to see the rain bouncing off the car bonnets, a bone-dry world drenched beyond reason. But when I looked out onto our quiet street, there she was. Standing underneath the tree on the pavement outside our flat. Rain was, I expect, bouncing off the car bonnets but I don't remember. Here was Hannah taking refuge in a dry white circle underneath the dripping tree, while around her the ground grew dark and shiny. She didn't see me. She had her back to me and was wearing a jacket with no hat or umbrella or anything. She kept looking to her left, back the way she'd come; poking her head out into the rain to get a clearer sight of something back there. What didn't make sense to me was that she didn't look to her right where the tube was only a minute's dash away. That's where I'd be looking, I thought. No, she kept looking left, kept looking back. I couldn't make sense of it. So I turned on the TV, turned it off again, ambled over to the bookshelf. After a while I realised the rain had stopped, so I went to the window but she was gone. A scant chorus of birds celebrated the end of the rain. In the dry white circle of pavement where she'd stood, a solitary wet footprint – hers, I presume – exited right.
"I think they're brilliant." Ali Smith Fleeting is an editorial agency. Our panel of high-profile writers and experts offer boutique, personalised and nurturing support to improve your work. How does it work? We send you a reader's report, detailed critical suggestions, a line-by-line critique or a close edit – just let us know what you'd like. We also offer face-to-face meetings and mentoring, phone and email support, and – if you're ready for publication – help with your proposal and contacts. What kind of writing do you consider? Unlike most editors, our team is actively writing award-winning literary fiction, best-selling historical thrillers and crime novels, highly acclaimed poetry, narrative nonfiction, journalism and plays. Our interests are as broad as our experience, and we work with writers of every kind. Is there a price list?  As a writer, you have unique aims and requirements for your work and we vary our prices to match them. If you decide to talk to Fleeting, we'll pair you carefully with a member of our team and contact you with a quote within a week. When should I send you my work? We can improve your writing at any length, at any stage. You'll benefit most from our help and guidance, however, if your work is finished (or nearly finished) and you're thinking about publication. Anything else? It's easier than ever to get into print, but good writing is still a special commodity. Agents and publishers have never been busier or more particular in their choices – and second chances are rare. Make sure your first approach is as strong as possible, and send your work to Fleeting. "Smart and charming." Douglas Coupland - Fleeting also publishes short stories and interviews online. We've been featured in The Guardian, BBC Radio 4 and The Best British Short Stories 2013. We've worked with Roger McGough, Douglas Coupland, Alain de Botton, Laura Dockrill, Nick Laird, Ali Smith, Peter Ackroyd and John Banville. Read our archives or send us a short story. We also champion new books in The Fleeting Five. - All fine art photography on Fleeting appears courtesy of Natalie 'Miss Aniela' Dybisz.
Fleeting Magazine is looking for the Best Short Writing in the World. Near misses will be published here. We're looking for poems of 40 lines or less,flash fiction and short stories of up to 2500 words. As always, we seek work that is daring, expansive, engaged, amusing and infectious. The outright winner will receive £100 and a special feature here at Fleeting. Highly commended runners-up will also be published. Please send original material, plus a short bio, to [email protected] Entry costs £1 per piece. Please use PayPal to send your fee. The Short Writing Competition closes at midnight on September 30th, 2010. Please watch these pages and our Twitter feed for live updates. We look forward to reading your work! There are no restrictions except for length. You may enter any amount of stories and/or poems for consideration, adding £1 each to your total fee. You should include your work's title/s in the donation stages in Paypal. Any story or poem without a £1 fee will not be considered. There will be an outright winner, either a story or poem, and runners-up. All work remains yours, but entry grants a publication right to your entry, name and bio in these pages. Your entry must be yours, not copied and not including material you do not have permission to use. The judgement of the editors is final, and no correspondence will be entered into.
Weeks after the garage filled up, my wife became pregnant. It was the summer for country roads, strawberry picking, ice cream on cones. We wore sneakers, the laces knotted twice, drank ginger ale. She was wary of children, often dreaming of a girl, pigtails caught in the wind, and the boy holding her hand. We agreed on how we preferred to have dogs, perhaps a parrot or two. In the hotel room, I caught her fondling my Belgian man at work. She insisted the red triangle concept was attractive. She had a hard time keeping her eyes off the spade deeply penetrating the dark mound. That night we had too much to drink. In bed, we explored detour after detour: slippery when wet, falling rocks, go slow on curves. The 140 limit we passed on the highway flew from our mind, like birth control.
1. Get artificially inseminated by your gay roommate. Freak out about the idea of childbirth and get an abortion. Feel guilty. Encourage your gay roommate to sue you for getting his hopes up. 2. Get you and your four closest girl friends artificially inseminated by the same guy. Remain friends throughout your pregnancies and your children's lives. Decide whose kid is best. 3. Legally adopt your brother's child. Live with him and help raise the child. Explain to others how that isn't incest. 4. Have a kid and don't name it. On its fifth birthday, let it pick out its own name. Save money by insisting that the privilege of naming oneself is a valuable gift. 5. Gather five good boyfriends. Have sex with each of them until you get pregnant. After childbirth, give the baby a paternity test. Marry the biological father. 6. Get artificially inseminated by your brother. Explain to others how that isn't incest. 7. Marry your gay best friend for the tax benefits. 8. Get pregnant with your boyfriend. Simultaneously, hire a surrogate mother to carry a baby made with your egg and your boyfriend's sperm. See which baby turns out cuter. 9. Donate your eggs to curb the costs of all your abortions. 10. Tell your kid about blow jobs before you tell them about sex. 11. Be the surrogate mother for your grandparents. Abort the baby at the last minute. 12. Play a Russian Roulette Pregnancy: Get five sperm donors, only one of which is a desirable candidate for a biological father, and toss their sperm donation cylinders in a top hat. Chose one randomly. After childbirth, try to figure out whose baby you have. 13. Pretend you're a prostitute but only have sex with one customer. Once you're pregnant, sue for child support. 14. Get artificially inseminated by a ten-year-old. Explain to others why that isn't pedophilia. 15. Get artificially inseminated by your son. Name the resulting baby after yourself. 16. Tell people you're 'pro-abortion', not 'pro-choice'. 17. Get pregnant at the same time as your sister. After childbirth, switch kids. Switch back when they're five. Ask them if they missed you. 18. When you're fifteen, get pregnant and then sue your parents for not explaining sex to you. 19. Get famous. Donate your eggs and see who notices their kids' resemblance to you. 20. Get pregnant and go to an abortion clinic. Allow yourself to be persuaded to keep the baby. Demand child support from the pro-life activists. 21. You and your boyfriend get two sets of clones. When the clones are old enough, tell them each to reproduce. See if the offspring is identical. 22. Leave your baby at the hospital. 23. Cry loudly at your mom's funeral until someone agrees to adopt you. 24. Marry someone with the same last name as you. Go through the name-changing paperwork anyway. 25. Give your kids legal first names that are traditionally nicknames: Rob, Billy, and Becky. 26. Get pregnant. Artificially inseminate the growing baby inside of you. 27. Be the surrogate mother for your best friend's baby, and she for yours. After both childbirths, determine which baby you're most drawn to emotionally. 28. When your friend is drunk and blacked out, get her artificially inseminated. Don't tell her. 29. Give abortion coupons to your friend as a baby shower gift. Say, "Preparation is key." 30. Put your baby up for adoption. Ten years later, marry the baby's adoptive father. Act like a step-mom. 31. Fill your daughter's hope chest with condoms, makeup and morning-after pills. 32. Locate boys who were born on your date of birth in the same hospital. Stalk them. When they notice you, play hard-to-get. 33. Donate your eggs to lonely teenagers who don't have boyfriends. 34. Encourage your sister to get artificially inseminated by someone hotter than her husband. 35. Convince your sister to let you get artificially inseminated by her husband. 36. Give all your quintuplets the same first name. Neglect to give them middle names. 37. Cheat on your husband with your marriage counselor. 38. In a presidential election, vote for a clone instead of a woman or black man. 39. Make a few clones of yourself, simultaneously. Hire illegal immigrants to be the surrogate mothers. Die before the childbirths. 40. Be the surrogate mother for an awful ex-boyfriend's clone. Give the clone Fetal Alcohol Syndrome. 41. Fall asleep during sex. Sue your husband for raping you. 42. Chose a sperm donor who maintains an afro. 43. Ask your child to pick its favorite parent. 44. Train your child to poop standing up. 45. For your daughter's twelfth birthday, buy her a mood ring and sausage flavored condoms. 46. Take photographs of your miscarriages. Put each of them in a scrapbook next to the photographs of the objects or people that you suspect caused the miscarriage. 47. Allow a homeless man to impregnate you. Insist that he have partial custody of the resulting child.
I hear Cary Grant calling me a funny little red head in my dream, and I'm a fiery little thing that chirps up at him from his knee. I'm tiny. He can pick me up in his hand and listen to me tweet, and he whistles along, and we're making a tune together, and it's lovely and it feels like a dream outside of a dream. He tells me that we're getting married on Tuesday, and I'm sure it's Monday today, and I don't know how we'll get everything done by tomorrow. Then I remember that I'm tiny and I feel like he hasn't really thought anything through, or he likes me because I'm different, and he'll never meet anyone like me again. I wonder how he proposed to me, and thought it a shame that I couldn't remember such a thing, because I'm sure Cary Grant makes a wonderfully romantic proposal. I feel a little scared. I don't know if I want to get married, I don't know any married people, I don't seem to know anybody except Cary Grant. He walks me to my tiny house where I must live. The curtains are tiny, and they look like the kind of curtains that I would like; they are flowery and warm. I have a tiny key in the pocket of my coat and I turn it in my red door. Cary Grant blows me a kiss goodbye and I am swept up in this breeze and I land comfortably on my soft red couch. Cary Grant picks up my house and he takes it to his house, he keeps it on his bedside table. He lights a candle by my window to keep me warm. I think about whether I like being called Mrs Grant, Mrs Cary Grant. Then he plays me the music from a jewellery box, and I open up my front door, and see a ballerina twirling around who is as tiny as me. This makes me feel much better. I ask the ballerina to come inside for some tea, but she can't, she is stuck in the box, and that makes me feel sad, and I call Cary Grant on my miniature phone and ask him to come round. He strokes my hair softly with his fingers as he explains lots of things about life to me, and lots of these things seem unfair and he agrees, but then some things sound wonderful, things like his pet goat, Peter. I think I love Cary Grant as he talks to me about love for flowers and animals, and the excitement of living and creating, but I tell him that I feel too inexperienced to get married, and couldn't we just talk some more, because I feel like I barely know him, even though I know I like him, an awful lot. Cary Grant smiles at me, and says something that is like the last line of an old Paramount picture, and then I feel excited about dating a movie star!
What is the foundation of roadkill? Let me take the temperature of the asphalt again—I have tiny blue-bottle feet, I have wings. With this hunger, I feed the maggots in my body. The dead, the fruit rot, the shit are locations like massage parlours or requited love. And it takes a millisecond to hit the windshield— all my beautiful babies spatter and spread. Their cowboy mouths test the air, unaware of their cowboyness, of their mortality, of the submerged people under the glass. The driver himself is a dream—therefore, a living organism.
Colin sits on his stoup. The smell of the next street is overpowering. His team just lost the basketball and there are insects that look like miniature scorpions all over his house. His car sits in the street, bare of wheels. Somebody had them off in the night. The police seemed only theoretically interested. Miffy, a neighbour, dining in center city's Chinese jewel (of a restaurant) Panda Garden enjoys a joke at his expense with her two friends-cum-fuck-buddies Shane and Willy. Organising her apartment in upstate New York, Colin's wife, Mariela Delgado (she never changed her name) puts the divorce papers at the top of her To Do list. Ivan Tibbs, a fresh and eager delivery down at the internal revenues service comes across some irregularities in Colin's tax records. Colin takes a call from his mother, Vera Cadwallader, who has just suffered a bad fall and has been receiving strange packages in the mail. She sighs a long, sad sigh. Colin, suddenly remembering the bath he was running rushes in and up the stairs. Gorky, the house mastiff, named after the Russian playwright renowned for his thoughtful, eccentric theatre, flees the house through the open door in a delirious stupor of curiosity. Two young men enter as Colin deals with his mum in the bathroom. They take the TV and the DVD player, six or seven family heirlooms, the beer in the fridge, and most of the cutlery. Colin, sweating in the ankle-deep hot water, drops the phone from between his moist ear and neck into the bath. Snatching it out and heading back downstairs, Colin slips and falls, badly turning his ankle. He sees the sitting room, strangely bare, empty of dog, hardware, and rushes outside to the stoup, where a moment ago the evening had just been beginning, the sky ripening the buildings all around. Where was Gorky? The white noise of his tinnitus revving like an engine in his mind.
Unzip the bag and pull out the camera. Don't fumble. Remember that the strap is threaded through a hole. Move smoothly, and with slow intent, unslot the top bit of your tripod and position the little silver nubbin against the bottom of your camera so that it lies flat, and twizzle the screw into the hole. Reslot it onto the tripod. Maybe you should have adjusted the height of the pod before putting the camera on, but this depends on how high you want the tripod and how tall (or otherwise) you are. If you want shadows to fall on your model's face without showing her double chin and the gaps in her teeth – they all have them – position it high with lots of flash. If you're short, you won't be able to see through the view finder so you'll just have to point, click and try again; point, click and try again. If, however, you're shooting something like a glamour print or porn, as is my predilection, you want to have the model's tits in the centre third of your frame. In this case, position the lens level with her head. Now you've got to start fiddling with buttons. You might use an automatic focus but I'd suggest otherwise. Twiddle with your lens. It feels good. Not only will you seem more professional but your model will see you as a master of your trade, instantly forcing the power in the direction of your artist's eye. You're getting paid for this, remember. Now that you're focused, you're going to fiddle with your lights before pushing any more buttons. If you burn yourself, keep your bloody face straight. Professional and powerful, remember. You might bring them higher, add more or take some away. It all depends on what mood you want and I'm not going to sit here and spoon feed you but I'll give you some examples. If you want something dark and mysterious, remove lights from one side. If you're shooting fashion then you want plenty of lights level with your model's body so you don't get too many shadows on that moonshine-white backdrop. In this case you'll go back to your camera, choose the right aperture and set the shutter speed to manual. Think of how your A-level teacher taught you about aperture with a hole in a piece of cardboard. High light, low aperture. Low light, high aperture. Or was it the other way round? You won't remember but you will innately know what works, and anyway you hated that teacher. If you go for the dark and moody then adjust your aperture accordingly. Set it to manual shutter speed still, but instead of clicking quick like you poked a needle, linger on the button for a moment. Maybe count 'one' in your head. Take a look. If it's too dark and you can't see the lines around her nose then think of a two-syllable word. I like to say 'maybe', then release the button. This always seems to be just right. So now you've taken a starting picture. It's time to say 'left a bit' and 'right a bit'. Tell her to 'let go' and 'get loose' like they do on TV. Do something crazy like take the camera off the pod and slide across the floor to take a shot from in between her legs with that huge charmster's smile on your face. This'll make her giggle if she's an amateur. Set down a cardboard box by her left ankle and open it to release the powder blue butterflies and tell her she looks like one. She thinks you're telling her she's beautiful and free; you're telling her she's an insect. With cockroach faces and perverted antenna and wings as useful as a lace condom, what's the point in butterflies? Move to each side. Watch them hit the lights and the black, heat-soaked prongs that surround it. You can hear them scream in voices like children. Once you've snapped about a hundred you've got plenty to choose from. You'll take her into the editing room and insert your SD card into the mac. You'll compliment her bone structure and have undignified sex with her on the desk. She's light so you can pick her up and put her there; she'll love that, too. She'll love it because you're charming and you're an artist and a fraud. Lie down on the powder-blue floor of silenced beasts and feel the huge, black hand of gravity push at your shrivelling chest. Tomorrow you will read about Duffy dying and you will say "he was good, but his depth of field ruined the 20th century."  Stand up and start again.
In Alexandria, on the longest day, the chief librarian bent down beside a sundial to measure the world. He linked its pillar's height and shadow to an angle in Syene where at solstice the sun glares straight down a well. From this: a magic sum, a number men can carry which encircles the earth, reveals the size of everything. Me? I have my doubts about the fervour he has caused, these hordes who press for news about the next, more vast expanse. The sky isn't tall enough. Stars will never do. There was talk last week of plotting the distance to the afterlife. The librarian proclaimed the age of final answers. I hear a priestess plans to ring his house with dung.
"Hey," says the one with the neck tattoo and the blunt, "dude here can give us a ride to the party." And I'm about to say I can't give them a ride because I've got to get home (and they look mildly dangerous) when fat-in-the-hat says, "Thanks, man," like he's surprised I'd be so cool and suddenly I want to be that cool. And then the fat kid looks down at my hands, and laughs. "Damn, man. Why you buy your milk here? Shit's like nine dollars a gallon." The clouds are low, like a drop ceiling suffused with light from the city. They slide silently overhead. And two dope-smoking bangers in tracksuits climb into my car. I read once that we can only fear what we're already afraid of; that our deepest fears are the memory of some earlier, unbearable fear. If that's true, then maybe it's a good thing my mother never lived to see another 7/11. "This a nice ride." "Thanks." "Seats heated?" "Mmm." "Feels funny. Like I pissed my pants." "You pro'ly did piss your pants, yo." "I'll turn it down." "What kind-a-car is this?" "Nissan. Maxima." "How much 'at set you back?" "Oh. Not much." But this isn't true. With the winter floor mats, taxes and redundant two-year service contract, the car set me back $31,256. And because of several other recent setbacks—missed payments, ensuing penalties, house refi's, debt consolidations, various family crises and my untimely job loss—after two years of payments I still somehow owe $31,000. On a car worth eighteen. This is my life now: set as far back as it will go. "My brother boosted a Maxima once," says the kid from the backseat. "Or an Altima. I can't keep 'em straight." Car thieves. Nice. The criminals' names are Skeet and Jamie. "Jamie?" I ask the kid in front. "Yeah right, no shit, huh?" says Skeet from the backseat. "Dude's got like a chick's name, don't he?" "Eat me, Skeet," Jamie says, and he offers me the blunt again and I surprise myself by taking it this time; I just want the smallest taste of that sweet smoke, or maybe I want to make sure they haven't done anything new to the pot…. Oh, but they have! I suppress a cough. Nose runs. Eyes burn. Someone is composting leaves in my throat. Scraping my lungs with a shovel. Wow. "Good, huh?" asks Jamie. I hack: "Not bad." "Shit's designer. Like three hunnerd an ounce," Skeet says. The next roll of coughs I can't suppress. "Really?" "Definitely," Jamie explains, voice lilting with excitement. "In this lab in British Columbia? This Nobel Prize dude? He Frankensteined that shit? It's knock-off, but shit's still pretty good. They can do whatever they want to it, you know? Make it do a thousand different things to your mind, yo." And I think that must be true, because a couple of old dorm-floor hits later my brain springs a leak and my life seems to trickle out, as I tell Jamie and Skeet my whole story: how I left a good job as a business reporter two years ago to start an unlikely poetry-and-investment website, how we got buried in the housing collapse just as my senile father moved in, how I scrambled back to my old newspaper job, only to get laid off eight weeks ago. How I got fourteen weeks of severance from the paper, and have six weeks left to find a job, because fourteen minus eight is six. How last week it was seven, next week it will be five, but right now,    at this moment, with Skeet in the backseat and Jamie in front, right now, as of this . . . very moment—and I hold the smoke in my chest as if I can make this moment forever—Hooooo— "It's six. Six weeks." And that's not even my most pressing deadline; I have all of seven days to liquidate my retirement and pay off a $30,000 balloon payment to the mortgage company, or risk losing our house. And it is this second deadline, I tell the boys, that has given my job search such throat-constricting immediacy, as I worry over thinning want ads, shakily fill out applications and hope my references still have the positions I've listed on my résumé, and how—this part has just occurred to me—I've gone and added another stress to a very shitty situation, because "Even if I do somehow get a job interview now, they'll probably make me take a—" "—drug test!" Skeet yells from the backseat, and he laughs and I laugh and he laughs and I stop laughing and he keeps laughing. "Don't freak, Slippers," Jamie says, "there's a million ways to beat a piss test." "Pecans," says Skeet from the backseat. "Pecans?" Jamie turns back. "Didn't I read about some kind-a pecan diet in O?" "How the fuck I know what you read? An' what the fuck Oprah be writin' about how to pass a drug test?" "Dude, Oprah don't write O. She just own that shit." "And what the fuck you be doin' readin' it?" "My moms reads that shit, yo. . . . An' I don't know, maybe it was in People." "So what the fuck the pecans do?" "The fuck I'm supposed to know what the pecans do! Clean up your piss or somefin'." "You crazy, motherfucker." "You crazy." "You crazy." "You crazy." "You so crazy you took the short bus to school." "You know that shit was behavioral, yo." And I must be high because this conversation makes sense. Jamie waves Skeet off and faces forward again. "Don't listen to that shit, Slippers. Here's all you gotta do for that piss test. Get some of them pills. You know, online?" Not you too, Jamie. Don't fall for the online lie—that everything we need is available at the click of a keystroke: all that shimmering data, the dating habits of the famous, videos of fat people falling down, porn . . . investment poetry . . . job listings, foreclosure information, poverty advice . . . and what about the thing my wife has begun seeking online? But before I get too deep into a new round of self-pity, Jamie offers a lilting anecdote: "You could do what my cousin Marshall did? Fucker wore a catheter? Connected to a baggy? With some other dude's piss in it? And now he screens luggage at the airport? And he's up for a supervisor job with the NTSA? And a security clearance? I shit you not, Dude's got someone who warns him about random tests, and he keeps that catheter full of someone else's whiz right there in his locker? And when he hears about tests, dude loads that shit up." In the rearview, I see Skeet drink directly from my milk carton. Hey. That was like nine dollars a gallon. Very good pot. Far better than the dusty brown ragweed we smoked in college. And I think of my mother again, and the trouble we had at Christmas break my freshman year when she was doing laundry and found a single joint amid the pennies and pocket lint of my 501's—she hated the sound of change rattling in her dryer—and I tried to convince her it was a rolled up note from a friend and she asked if I thought she was stupid and I said No, even though I was eighteen so of course my mother was stupid, and my parents were still together then but she never told my father about the joint, and I feel awful about her being so decent when I was such a shit; I feel awful for everything I did and everything I didn't do, and I miss her terribly, although it's probably good she's not here because I couldn't bear for her to hear about Jamie's cousin Marshall screening bags . . . pissing someone else's piss as he watches for shoe bombs and keeps us safe from the dudes planning another 7/11.
and mails its single-stemmed blood down the spinal telegraph all petal and thorn and never signs the card o i stand at the delivery ajar and won -drous at my syncopating lobes as rhythmloveswells down there to the one old tune – work it out  head puffs  work it out : that pencil-biting maths of trouser and gusset forged in the belly-furnace those matching sets of differentials yielding smaller-version selves – such noble illusions i have borne through changeling vein – azilian sumerian cretan egyptian navaho graeco- roman : all the one difference through china belgium to meso-america i crossed burning and spurned bridges and crossed myself pons-pubis to pons-cranium spanned with that smile i cannot put on for she who gave speech in chocolate -sized pieces gave speech me gave speech you – o prometheus bind me in my red room on this red mountain bind me to tell through the liver each form of love – for there is married love and married love with a pillow and married love with pillows for head and foot and married love with the pillow between and the woman with six children and pillow and the man who has come to woman who has a husband to ask for a pillow and three men who seek the same married pillow – these are the forms whose words have quarrelled with pillows between – for illusion excels as i say its three words over and out with a voiceprint computers can register grimly – o love you have sent appeasing flowers and that delivery tries every address down my spine but i grow closer in calculating who sends am singling you out by elimination – can nibble your edges o love – earlobe viced be -tween my lips those fluttering hands clamped at my brow your bracing breath upon my instruments – i have you a hatchling in my palm i have you as you were when you began and soon means to determine your flight – to release when you suit me for i would go naked though not through eden though not in the head and so will take you while you are going take you while you are going fast take you three in a bed with knowing but then what one-dressed what what thrusting luck i can still peel you back to climb in be- side myself to slide – yes slide in to love full clothed
it doesn't matter what I call you peter-paul-joseph-aleksandr-potemkim all I know is that when you said you were leaving without any further delay and I brushed your cheek with feathered fingers, a sparrow-hawk fearing its prey would fly – your anger flayed me I might be giselle, but to you that day I was chardonnay-bethany-britney-sharon a pony-tailed kitten with unlikely cleavage a whisper of ribbon, a pretty pink paperclip my name is margaux-desert-orchid anna-magnani-lollobrigida I wear dark glasses, my jeans are tight and I'm spilling over the top of my bra for you for you for you for you – oh, peter-paul-joseph-eugene-onegin slip back into my life tonight between my sheets my thighs my lips before I forget your name
I held the tenner out to him. He was Reebok Classics, drainpipe pale blue jeans, ellesse sweater and at least a foot taller. A thin gold chain snaked around the back of his neck. I smelt CK One. He pulled out a Zippo and in one flick lit his cigarette. Three bottles of the cheapest cider. Big bottles. And a packet of Benson & Hedges Gold, I said. Classy. What do I get? The change. What would your mummy think? He held his cigarette between his index finger and thumb, examining the stub. Okay. Wait behind the recycling bins. I'll be back in ten. He swung into the passenger seat of a Vauxhall Nova 1.6i GSi, White Town on the stereo. Fucking kevs, said Jon, walking towards the bins. Do you even know him? Seen him hanging around the car park sometimes. How do you know him? I don't. I just asked him if he would do it. He could just take our money. What else are we going to do? The teachers have been into the Spar, they know who we are, and we're in uniform. We won't get served. I don't have any ID. There's nothing else to do. The recycling bins fanned out in a circle at the edge of the carpark, leaving a hidden patch of concrete in the middle. Cigarette butts filled the cracks and corners, a choice hideout for schoolboys. If you poked your head around Brown-Glass Only you could see the latch-gate leading to the corner of the boarding house. I looked at my faded lace-ups. Jon wore Kickers, despite, or because, they were against school regulations. He kicked out at the bins, scuffing the base with black rubber. An empty gong went out among the assorted Mondeos and Astras, dated company cars out on the weekend's chores. Subtle. Real subtle. We're not doing anything wrong. Yet. What was that song they were playing? That song is so old. Pretty ancient. At least a year. I heard the latch go and watched two sixth-formers make their way across the half empty carpark. Jon backed up against the side of the bin. Last time we managed to get alcohol, some prefects blackmailed us. Give it up, or explain yourself to the housemaster, they smirked. A letter to your parents, how very disappointed everyone is. Three weeks of detention. Gated all weekend, signing your name every hour into a battered green A4 book, watched by the housemaster, giving your excursions a maximum radius of thirty minutes. There was nowhere to go in town anyway, but sometimes you wanted to stay there. The sixth-formers made their way past the public toilets and round out onto the road towards the station. Jon gave them the finger, well out of sight. After a while, the Nova made its way around the edge of the car park, weaving in and out of the empty spaces. Here you go. He handed me the white plastic bag. There were only two two-litre bottles of White Lightening. I fished out the B&H. Where's the other bottle? They only had two. Why didn't you get me something else? Never asked. Can I have the money then? You said keep the change. I reasoned he had been waiting for this line for the past five minutes. Someone revved the Nova. Anytime you gays need anything, let me know, yeah? He smiled. Got a spare fag? I looked up at him. How much change is there? About four quid. He jumbled the coins in his pocket, thrusting his hips at me. Seeing as I fucked your mum last night, let's call it even, I said. He stopped jangling the coins. I had that warm feeling that comes with the knowledge that you are going to be telling this story for the next week, miming his traumatized face, puffing out my chest, flicking my wrist at the punch line. I also had that feeling it was only a small matter of time before he punched me in the face. I turned, pushing Jon between Clear Glass and Cardboard and Paper Only. Running towards the gate, he shouted Run the Cunt Over, and I heard a door slam and the Nova lurch into gear and for a moment it felt like some ridiculous Pamplona and I did not feel so clever. I stumbled, catching my palm on the concrete and as we clattered into the yard, bag flapping against my chest, I heard laughter and the screech of wheels. Fucking kevs, said Jon, crouching behind the wall. I picked the gravel out of the palm of my hand and looked at my calculator watch, scraping off the dirt caught among the maze of tiny buttons. The on-duty teacher would be doing the rounds in the afternoon, checking that those off-games were busy being useful, remaining on the straight and narrow path, becoming all-round individuals. Why did you run away? said Jon. I don't know. I wondered if Jon thought I was a coward, or was just winding me up. I doubt he would have stayed much longer either. He spat at the wall, as if to make his point. What do we do now? he asked. We can't go into the House with all this. Guess we wait until they leave the car park. I spat as well, the summer dust spinning and falling in the two domes of spit. We looked at the 60-boy boarding house, a red-brick new build, extending out from the back of an 18th century housemaster's residence like the barrel of the gun, finishing with a square patch of grass large enough for frantic football games. No-one was around. I crept up to a bottom floor study window, taking a handful of primary colour textbooks from the ledge, the covers curling up under my arm. Let's go sit on the bench. I want to know where Willoughby is. Why have you got those? Props. We sat down facing the House. On the housemaster's side lay a gravel driveway bisecting a manicured lawn. A bed of Louise XIV roses were in bloom. Ivy clung to the front of the housemaster's home. This was the side where parents dropped off their children. On the other side, behind the ivy, striped lawns and dormitories, lay a thin elongated concrete yard, penned in with an eight-foot wall, topped with galvanised wire. This is where we milled in breaks, playing variations of basketball and cricket, ending in scuffed knees and tears from the younger boys. Willoughby was my English teacher, and also the on-duty tutor in the boarding house. With Willoughby, there was no 'Dead Poets Society', no self-realization through Shelly and seizing the day. Instead, during his allotted hour, he made us read in turn from Conrad's Lord Jim, turning seconds into minutes like a macabre alchemist. On the bench as the two bottles of White Lightening expanded in the summer heat, I scanned the windows of the housemaster's study hoping to see the Willoughby head, easily identifiable by an almost impenetrable wave of hair circling his cranium. A uniform hirsute plane, without hesitation or deviation, whirling and waving like a primitive helmet. Finally he moved past the study windows, settling at the far end where a desk sat, stacked with homework and hiding a 12-year old Glenlivet. Jon and I made our way back to the car park, ever watchful for hatchbacks and the smell of CK One. Our drinking hole was a clearing by the river that meandered past an orange-brick supermarket and out the bottom of town, through countryseats and market towns that litter this part of England. Getting there was "a fucking mission," according to Jon. I saw it as part of the enterprise, stuffing the textbooks around the cider, waiting until finally out of sight so I could tear off the foil of the cigarette packet and fumble for a lighter. Keeping a lighter in your pocket was a risk in itself. Teachers needed little evidence to cast a guilty verdict. Clemency was a capital offence. But leave the lighter in your room, and sooner or later it would be taxed by some opportunistic boy. This is why cargo trousers were so popular. Eventually, we slipped between the fence and crept along the wall that separated a supermarket loading bay from the Bermuda Triangle of vegetation that you so often find at the base of car parks, too small to catch the eye of an hyper-active urban planner, but big enough to become overgrown sinkhole for empty multi-pack snacks, and made our way along the river. The clearing itself was well used by schoolboys and a collection of vagrants passing through town onto bigger things. In mid-Summer, boys and bums continually fought an encroaching guerrilla army of nettles, setting up a barricade of empty beer cans and cigarette stubs. The similar needs of the homeless and boarding schoolboys were lost on us as we sat down on the bank, legs dangling over the river, passing the first bottle between us. The silence, away from B-roads and weekend shoppers, also helped us hear company snaking its way through the nettles. The school had recently introduced a policy of paying teachers a commission per-boy caught flouting the school laws. These proctors prowled the cubby holes and recesses of the town, even in the dead of night. I imagined them standing in the headmaster's study by candlelight, felt coin pouches plopping into their hands. Confusingly, these sentries of proprietary, eager for the thrill of the chase, were often the chummiest of teachers, slapping backs and ready to please. While we waited for sounds in the undergrowth we finished the cider, hiccupping and burping, tearing pages out of the textbooks and sending paper airplanes floating down the river. 
In an attempt to prove that God didn't exist, I filled a bucket with water and like a windmill's clock, spun a fly wheel around my body's axle. The blood fizzed in the bell of my eyes, my ear drums warped to a beat, or the shock of a clot, fit to burst my melon-tender head, and I spun that bucket like a fairground ride in the hands of the damned and the dead. My question answered, I wound down time, counting the seconds in: this gravity that pushed an ocean up against its wall, and boiled the plastic astronaut in his metal box, had slowed my heart to an almost stop. The bucket rested in my blistered hand, the water sparkled in its sun soaked sky, not one drop spilt. Disappointed, I sat down on the grass, out of breath and dizzy as a saint.
The Oxford buggers mostly are the worst… After a reading, when I'd like to eat, Or drink… relax, at any rate… he comes (it always is a he…) and asks me why I don't revise my work. He's sure I don't. He tells me… Doesn't want to know the truth… Small talk is welcome. He can't do that sort. Everything that he says must prove he's smart. He's used to wiping metaphorical boots, On boys or girls who're only half his age. In vino veritas – the discontent Spills out of him like sick and soils the place. The worst I've ever met asked why I'd got Two thousand billion brain cells left unused. Ten years before, it wouldn't have been allowed, A woman like me, published instead of him. After the reading, after we'd  all dined, He promptly offered some of us a lift. It was a chance to spout more of his views… Well tanked on wine at other men's expense, He mostly used the wrong side of the road And detoured past museums like a guide: "The British Library is all stored there…" I had a reader's ticket in  my bag - Something my driver simply wouldn't believe. He quizzed me on the literature I knew. Eventually he found some books I hadn't read. He chortled, swerving blithely down the road. Yes, boys, I'm ignorant, but SO ARE YOU. I can't read Ulysses or Finnegan's Wake Or finish books by Ms Virginia Woolf. I only got halfway through War and Peace. But what of you? Just what have you achieved? A lectureship? One book of criticism? You've never even made your students laugh… Well, not intentionally… Somewhere beneath the patronising sneer You envy me. Yes, that's the truth. One day, you fear, that you might have to teach My work, while knowing no-one will teach yours…
I'd study my naked self: small-bodied and cross-legged on his sex-wrinkled sheets. I was less than two-thirds husband number three's weight. Welterweight, just like husband number two, who'd danced slippy-skinned and knee-high with the great Nureyev. A real shit he was, husband number two told me. © Miss Aniela So there we are, in husband number three's glorious parquet-floored bachelor pad, bay windows opening to a friendly expanse of green, dog walkers and maples a month away from turning leaves. Husband number two ducks and dives, wonders where to take off his leather jacket, decides to leave it on, hands patting himself down as if he's frisking for knives, guns, a shield. He wears fingerless leather gloves, curling at the edges from wear. His best jeans. He's dressed up for it. I feel a little ill. Sit, husband number three says, gesturing apologetically at the bed. I'm curled on the single easy chair by the window, an antique, not well preserved, his grandmother's. Husband number three is standing, towering really, Praxiteles would be moved, and then, when husband number two lowers himself gently to the bed, those inseminated sheets now well covered with a pretty blue and red print, he turns and busies himself by the cooker, making tea. Husband number two's eyes slide past mine like a shadow in a mirror. He grins, not to me, not to anyone really, not even to the beautiful room: it's a smile you'd give to the thousands you could not see for they were sitting fidgeting in the darkness and you were standing there, blinded by a spotlight. Still you smile, because you know they're there, because you know they can see you. Sugar, asks husband number three of husband number two and I stop myself just in time. No, no sugar, thank you, he says, and then he says it again: Thank you. If you want to be treated politely, invite a boy from the projects. Hot mugs of tea in all hands, steaming into the already steamy room, and I'm thinking: I'm so stupid, so stupid to have invited him here. I wanted to show each to the other, I want them to understand, to love as I do. As I still do. But they are chalk and chocolate, the wrong sort of party guests and I'm straddling tracks, about to split in two. Husband number three makes smalltalk. It's like a prison visit: what do you say to a lifer? But then husband number three makes a statement that's not smalltalk at all, it's as real as the swollen feeling at the back of my throat: You two have been through a lot, he says. Husband number two stares out the window. He takes off his leather jacket and puts it on the bed beside him. He straightens the edges of his white t-shirt, arms and collar ripped off as always, but so neatly they look designer. I can see the wings of his collarbone, the milk-coffee smoothness of his skin, the dagger tattooed to his bicep. I twist about, trying to get comfortable but a spring is poking me in the back and my leg has gone to sleep. I know, husband number three continues quietly. I was worried before, but now I'm flat out bothered. Husband number two slicks a hand over his almost-shaven head. The attack is too direct, unexpected, he's not in close enough for elbows and knees and he's left his shotgun at home. He must know by now, by the resonant weight of husband number three's voice, that I've told all: the secrets, the perversions, the little and not so little transgressions on both sides. We were evenly matched, perfect for each other. I untangle my pins-and-needle leg, about to give him an escape route. I'm about to say: we can walk you to the subway if you like, I know you've got class to teach. But husband number two is cracking a knuckle and I think it's too late to escape but then he flops backwards onto the bed. It gives a little creaky bounce. He lies there awhile on the African print, his legs dangling. I haven't seen him this relaxed in how long? I don't remember. Yes, he says, we have. He stretches, a lick of pubic hair escapes the top of his jeans. I try to focus on the sparky prickle in my calf. Husband number three sits down and asks me if I'm alright. I lie.
Mark Stopforth's bold, subtly calibrated and paradoxical poem The Bucket wins Fleeting's Best Short Writing in the World 2010.    Mark told Fleeting Magazine: "That's fantastic news. It's lovely to know the writing has some merit and there's an audience out there. I'll be using the prize money to buy some poetry, fund other competitions, and pay for a footie away day – Norwich City, since you asked." Mark topped an overwhelming number of entries from as far afield as Tokyo, San Pablo, Pasadena, Murcia, Sri Lanka, Brisbane and London. Thanks go to The Poetry Library, Asia Writes, Black Heart Magazine, Mslexia, Arts News and Write Words, as well as countless personal posts and tweets, for spreading the word. He also faced down Sandra Jensen's sexually agitated On Havelock, Fiona Pitt-Kethley's scolding Academics, Catherine Edmunds' operatic and Ting-tinctured what's in a name (that's not my name) and Giles Turner's picaresque An Afternoon in 1998. Each finalist had the wit, unexpectedness and control of the best short writing in the world. Honourable mentions go to Stuart Evers for "Commuters", Aliya Whiteley for "Sink", Zahrah Sheikh for "Beneath", Francesca Fletcher for "Being Mad", Jamie Kerry for "A Brief Sexual History While Masturbating" and Timothy Ogene for "Episcopal Hills". Thanks for writing and reading, and stay tuned for our next competition.
I imagined him striding into Sloane Square station, coffee in hand, handsome, hyena-hung, swinging his black leather attaché case. To be injected, hypodermic-like into the blood stream of London. I imagined him invading, erupting, pushing down through the station like a volatile gas. In interviews, Jared said that, for him, viewing the female body was like taking acid. A trip. Mind-bending synaesthesia. Everywhere women, everywhere the same brain-flaying effect. To take the acid tab, to lick, to feel the chemical, tongue-curling fizz, the vinegar burn of it. To take it in his mouth, to swallow, to let the tender heat wash over him, inside him, through his head. To expand in his skull and push out of his ears like cookie dough out of a cutter. This, he said, was for him the nearest approximation of what it felt like to look at a woman. Over there, on the platform, a shapely toe stretched out by a shapely shoe. Women, everywhere, jumbling up his field of vision. A great pair of tits, and there a stomach, an arse, pushing back at the stretch-dress that contains it, teaching that dress how to stand up and be a goddamn dress. And there – legs! What is there, in all of human experience, to know of legs that can't be taught by that nook of mortality there? Calves like they were finished on a lathe, then the too-sensuous curve beneath the too-short skirt. Obscene. Like a mouthful of cream. And there – a miniskirt, so-high. Ballet pumps. Spaghetti straps. A brunette, she reads Now Then magazine, busy eyes scanning back and forward over the page. Legs liquid smooth like syrup, her tight white t-shirt stretched over alert breasts. The gurgle in the pit of his stomach. The game is… tube train roulette. Eyes down, gentlemen please! Roll up, roll up, who will take on The Great Jared Montague, the World's Wiliest Player in the Game of Seduction? Whatever you're doing, stop now and prepare to watch the maestro sweep her off her very feet. Easy, too easy. That loping tallness. The gait which betrays no shame for his wonderful, luxurious longness, and yet turns, every so often, polite, as though to give those less blessed a fighting chance. Not that there ever is a chance. Not really. With Jared, there is no even laying field. He approaches the girl. 'Hi. We're going to be sleeping together very soon, so what say we get the formalities out of the way right now, and swap numbers?' 'Fucking pervert.' This is not promising. Not what we'd hoped. But this, we intuit, is not the 'fucking pervert' that would have been thrown at us, had we dared dive in so impertinently. No, this 'fucking pervert' had, like a young sapling branch, a certain twang, an easy give. 'Mummy didn't bring you up to speak like that, did she?' 'Freak.' The feet in the ballet pumps do not move. Correction: the feet in the ballet pumps do move. They turn, minutely, so the cute toes in those cute pumps are facing Jared minutely more than they were just a second ago. 'Are you always this forward with girls?' 'Only the hot ones.' And then she smiles and it's like the lovely smooth easing of a thousand years or more guarded heartbreak, and she moves, imperceptibly, into his golden orbit.
Dear Telepath, here at my makeshift bureau, I'm trying my hand at a picturebook about clouds that hang above airports. The book is set in June 2004. You can't hear the polyphonic ringtones, but they're there all right. Things are pretty samey round here. The lake is a bit greener, the antique shops have closed. We get the hunting channel now. I just wanted to thank you for the box of broken joysticks. It's the kind of thing only you would think of. No one has seen you since Jim's party, where you took apart the swimming pool to see how it worked. You looked so beautiful thrashing about in the water. The sky full of Welsh thunder. Some of those clouds have won awards. Whenever I think of you at night, I know you're tuning in, sitting there in your house with its see-through walls, glass hedgerows, all of suburbia cut through into cross-sections. The lusts of the upper sixth, humming like an electrical storm, mixed with the fluorescent dreams of spiders, the boy next door, checking the smell on his fingers after lifting weights. I try to imagine the shape of my thoughts in the hope that the feedback loop boosts the signal. Your police reports are inadmissible. You burn toast. You sold your best painting to a knob and you know it. I hope that makes you feel a little less special. This town is full of kids from unaired pilots who sandbag their personality tests and I'm sorry I think you were the only person who knew what I was trying to do opposed to what I actually did.
You look down from the top-floor room of your hotel onto the beach below. It is 7am, and the man you know as Renato carries deckchairs from a small square shed and places them in lines on the stone, ten metres from the shoreline. Once they have been laid out, he flaps them open, exposing a flash of yellow calico with one flick. You watch the beach brighten in horizontal waves, nodding your head in time. Renato is your only acquaintance on the island besides your parents and has been working the same beach for thirty years. You have watched him every morning of your annual two-week holiday for the last five. You buy into the idea that the eyes remain the same. Two nights ago you bumped into Renato in the courtyard of a nearby bar. Your parents were chatting with the owner, sucking olives and drinking Rakija. They were laughing and slapping their hands down on the wooden bar-top. You were bored. The two of you shared a carton of wine, although Renato was reluctant to pass it over at first. His lips hadn't tasted salty, as you had thought they might. You can still feel the press of bark on your back and an ache in your thighs. You mull over the scene in your head, allowing your mouth to fill with saliva, thinking if only my visual memory was sharper. You think about pushing your hands down into your pyjamas and touching yourself, but you're not sure you know how. Today is your fifteenth birthday, and your parents are taking you to that bakery with teal shutters for breakfast. You think you invited Renato the other night, but you can't remember his response. Exhaling on the glass of the balcony doors, you write various letters and shapes with your finger. For the remainder of the morning you will try on your entire closet, dropping skirts to the floor when dissatisfied, and practising standing and sitting in sexualised positions. Next year when you visit you will find Renato laying out his chairs on a beach on a neighbouring island. He will say that Lopud's constant arcade music was driving him crazy. You will talk about the tourists and your parents, and not much else.
That reactor, says Ivan, is deliverance. Will spawn new words. Chernobylite. I tell him they will hang us like overalls on his new words - so they can always find us and put us away. Ivan is shaking his big head. But think, he says, of our genius children. They will be called out of bed by their friends. Just to see them stand there in nightclothes, a pale blue ember. A splinter of dawn.
Fleeting has teamed up with Stack to find the best short stories and poetry in the world. We're looking for short stories of up to 1500 words and poetry of no more than 40 lines. As ever, we seek writing that is daring, witty, erudite, lucid and infectious. The winner will receive a year's subscription to Stack, a personalised monthly selection of the best independent magazines from the UK, Europe and America. Two runners-up will receive three months' each. Winners and near misses will be published. All finalists will be published within a week of receipt. Please send your work, plus a short bio, to [email protected] Entry costs £1 ($2) per piece. Send your fee via PayPal. The Competition closes at midnight on September 30th, 2011. Watch these pages and the Twitter feeds here and there for live updates. We look forward to reading your work!
I want nothing more than to smell these roses. I want nothing more. My family, I will never see. Again. My crew. Rescue, is improbable. If they find me, at all, it will be frozen, my visor furred … with frost. Turning and turning.      The Earth is so far away. The Sun. There are no stars here. We had reached the black region, at last. The Mysteries. The journey, had taken all our lives. It has taken all our lives.      I am not sure, my dying, if I wanted it, to be otherwise. It is a mean thing. A shaming, thing. A dog crawls and is never found. Surrounded by children, disappointed, a man is also a child.      The roses. They are blackened and small, like poppies, dried by – the wind. When I touch them to the glass of my visor, the petals … break off. They drift away.      Merely holding them, is comfort. It is something. It is. But smelling them, if I could do no more, and in their ghosts find a last breath of sweetness …      I want nothing more than this.
Samuel Johnson's word for bat returns to me at sundown, beneath a screeching cloud. Forms zigzag while the moon watches, thirsts. I think of you with the Great Cham's dictionary beside a shelf, your long white fingers splayed across the spine. Unable to swallow his term, you squealed and burst the library's hush, then froze, astonished by the echo. You left town three weeks later, disappeared without a text or email. Flittermouse, what happened? In what rooms do you seek out words like insects now, combing books and specialist websites, open-eared, as you wait for your own strange voice?
It is 00.51 and I have kept the light on. It is 00.51 and I have kept the light on and I feel sick because I have eaten too much. It is 00.52 and I feel sick and the light is on and I have eaten too much and I think I still love you. My legs are pale in this light. I am pale in this light. I have eaten too much. It is 00.53 and I am trying not to sleep. I was eaten in my dream last night so I am trying not to sleep. It is 00.53 and I am trying not to sleep. It is 00.54 and I am trying not to think about you and I have hidden you on facebook and you ate me in my dream. It was The Road. I am too heartbroken to come up with my own dreams. I am trying not to sleep. It is 00.55 and I am trying not to sleep and I've been slipping in and out of reality since we broke up. I have spent more time out since we broke up. My dreams seem more and more real. My life seems more and more dreamlike. I am trying not to sleep. It is 00.56 and we have stopped talking. I have sent you an email. We have stopped talking. You have stopped talking to me. I will get a call tomorrow and will explain that I am trying not to sleep. I feel sad. It is 00.56 and I am trying not to sleep. It is 00.57 and I have a slight headache and I saw a photo of you and you were smiling and I don't think I've smiled since we stopped seeing each other. It is 00.57 and I feel sick because I am eating too much and getting fat. I am pale and unattractive. It is 00.58 and I am not sure where I am. I am somewhere. I don't know where. I am dreading my dreams again. It is 00.58 and I need to sleep but I don't want to sleep. It is 00.58 and I miss you but you don't miss me. It is 00.59 and there is every chance you are smiling at someone else. I want that smile to be mine. It is not mine. It was your teeth that tore into my flesh. I am not friends with my subconscious. It is 00.59 and I still miss you. It is 1.00 and I should get into bed. I am sitting in my dead Grandmother's chair. I am in the underwear you made me buy. You said you thought it looked sexy but I think you were joking. I look pale and fat and lonely. It is 1.01 and my headache is getting worse. My headache is getting worse because I need to sleep. I don't want to sleep. Sleeping is stressful. I will get a call tomorrow. It is 1.02 and I will get a call tomorrow. They will ask me how I am even though they know the answer and I will not be honest. It is 1.02 and I realise I will get the call today. After I have slept. It is 1.03 and they will make me better. You will not make me better, although you did. I am worse now though. I can still feel your teeth in my skin. It is weird that that is what I should remember. It is 1.04 and I am thinking about your house. I am thinking about your house and how it was nearly our house. You called it ours and I corrected you. Maybe that was why we fell apart. I don't want to sleep but I feel sick. It is 1.05 and I feel sick. I feel sick and I have a headache. I am scared of sleeping but I need to sleep. I am scared of sleeping. I am scared of what will get dredged up tonight. It is 1.05 and I am scared and sick and shivering. It is 1.05 and I am scared. It is 1.06 and I can feel my mind and body calmly separate. How sad I feel is tied in to how many people talk to me on the Internet. It is 1.07 and I am sad and scared and alone and fat and pale in the unguarded light of my childhood bedroom. I miss your bed which used to be our bed. I miss you. I love you and I miss you. I feel sick and I am scared of sleeping. It is 1.08 and I am listening to ambient music and regulating my breathing and writing and typing. I am trying to feel better. I am trying to be happy. You would have loved me if I were happy. It is 1.08 and you would have loved me if I was happy. It is 1.09 and the tops of my thighs are sweating from the heat of my laptop. I am nearly naked and only you know how disgusting that is to behold. I am scared of sleeping. I will die alone. I will die alone in the near future. It is 1.10 and I am scared of sleeping. It is 1.10 and I feel sick. I am trying to breathe. I am trying to remember to do what I was told. I am scared of sleeping. I am scared that I am stuck. It is 1.10 and I am stuck. It is 1.11 and I am feeling scared of everything now and I don't see the point of crying alone but if I did I'd be doing it now. I don't see the point and I am scared. I want to cling to you like a child and have you stroke my hair although I know my body would shake at your touch. It is 1.12 and I want to cry in front of you one last time. When the tears were flowing I was at last being honest and you saw me for what I was. I am having baths. I am sitting in the warm liquid trying to remember when I was in the womb and probably felt safe. Maybe I was scared then. It is 1.13 and I have stopped feeling. I am in a state of permanent post-shock. I near robotic. I am no longer human. I have gone. I am outside the normal. No-one has noticed but I am outside the normal. It is 1.14 and I want to sleep. It is 1.14 and I can't sleep. I haven't tried to sleep because I am scared. I am outside the normal. I am not normal. It is 1.15 and I wish you were here so we could listen to I Wish You Were Here. I am alone. I am alone. I am scared and alone. I don't want to sleep. It is 1.16 and I don't feel anything. Do you remember the first time we kissed? It was not a good kiss. Is that why you don't love me? We hardly had the perfect start. The end was almost surgical. It is 1.17 and you removed neatly, a slight incision. I am scared of my slight incisions that sit upon my left thigh for when I couldn't cry. I was bleeding in your shower. I was bleeding in your shower. It is 1.18 and you were deciding not to love me while I was bleeding in your shower. You decided not to love me. I understand. I am a mess. I am a mess. It is 1.18 and I am awake and alone and scared of sleeping. I am a mess. It is 1.19 and I have got an email. This makes me feel better but i could hardly feel worse. I have got two emails. My pale thighs are sweating, dear. No-one else quite appreciated the joke that is my body the way you did. It is 1.20 and I am thinking of all the times you mocked my Ashkenazi nose. You told me about your childhood friend who you were in love with being able to pull off a long nose without looking ridiculous. It is 1.21 and I am scared of sleeping. I am scared of sleeping. I am scared of sleeping. I will be shaking and quivering and I will wake up feeling not refreshed but scared. I am out. I am no longer normal. I am out. I am out. It is 1.22 and I can't sleep. It is 1.22 and I will waste my life on the Internet because it is wasted already. I am having stomach cramps again. It is 1.22 and I am scared of sleeping. It is 1.22 and I am scared. It is 1.22 and I am scared.
Sometimes when I say "you" I mean "me." When I say "there is a conspiracy of insulation" I mean "we." It never means "me" when I say "your oil is economically attractive." When I say "as people lose their connection to a larger functioning social matrix, they will survive in any way they can," I mean "you." When I say "I" am unreliable, I mean something but I'm not sure what. When I say "you are a sacred container," I mean "can I borrow twenty dollars?" When I say "the place where all souls will await their judgement on the day of the apocalypse," I mean "my apartment hangs over a Steak 'n Shake." When I say "the city has been burned and rebuilt twenty five times," I mean "the first thing on my mind is carpet." When we appear to kneel in the sour stream of silence, when space is our deranged form of forever, I mean nothing.
Recovering from a plate of fried Prawns, the Author drifted into a hallucinatory Haze. He recalls being suddenly reinvigorated by an intense Vision of responsible City Planning, and rushing to the nearest Internet Café to write it down, where he cannot, by his own Admission, have composed less than 300 Lines, complete with Technical Drawings. In his Ecstasy he forgot to save his Work, and when it came to sending the Plan to his own Email Address, he clicked back at the wrong Moment and found that his Vision had been lost. William, it's hotter and colder by turns than at Nether Stowey. Concrete suffocates the rivers that in any case breathed no water, and in the old lanes' low-rise twistings the demolition notices are daubed as crosses on doors. An absolute must is to visit the Empress Dowager's boat, her painted folly of stone, and the sixth ringway is finished, circling the Northern Capital like the Great Khan's cavalry. For dietary reasons I passed on the dumplings and duck. The cycles give way to cars. I miss our hilltop walks.
Where a Placard Reads, 'Come Closer. We Don't Want You Watering Your Shoes.' Public Toilet behind the Second District Police Station, Ningbo, 2004. A man in a public toilet once asked me if there was anyone I needed to have done. I asked what he meant, told him I couldn't read between lines, especially when I was trying to have a piss. & he said, anything you don't want: an arm, a leg, an eye, a head, I can have it disappear like magic, made into fertiliser, mixed with pig dung. Rice crops thrive on human meat. Just think of all the wars that have helped it replenish, he said. I was still not clear, and as I shook down, pulled up my zip, he had his hands in the Swedish blow-drier mounted on the wall. And he said, It's all a matter of price. Three hundred for an arm, five for a leg, a palsy thousand for a head. Dwell on it well, he said. No need to make decisions now but call me when the need arises. In business sometimes you need to teach lessons and some are only learned by losing something. He'd left his name card sitting on the edge of the sink and it got wet, and the ink smeared, so in the end all I got was a number, but I never caught a name.
there is no reason to panic until the dogs begin to lie on each other's bellies & make love like humans. this will surely be the time when sharks build houses out of snow & whale songs are played on the radio. this will be the time of alcoholic babies & washing machine pornography. until this happens, there is no reason to panic, continue killing trees. if history has taught us anything it is: shoot first, bathe later & never confess when the toothbrush is still wet. this will be the time of the pagan rebirth of smoke & the sharks will hibernate with the bears & it will all happen in your living room or your garden. there is nothing you can do to stop it, it will be the end of laughter & the panic will wash over you like red wine on egyptian cotton.
1. All men are candles. Their flames are their dreams. The sound of a lit matchstick dipped in water? That's love. Knowing you was like looking at the ceiling on nights when my consciousness refused to accept that knowing you was like looking at the ceiling. 2. Shoveling to survive, I said "I love you". You said "I love you too, and it's nauseating." We ignored Palahniuk's warning. "Everyone you love will die." We've survived together to shovel since. I think what he meant was from the inside. 3. We tied our paranoia like bibs, called them garlands and drooled vows all over ourselves for the sake of each other time and time again. You were the pale sky milking moonless nights, I was the crow virus fettered by the rain. 4. Diseased with love, disconsolate with the shades of bile, we saw the dream of death in daylight. We wondered why we never had a choice. We wondered why we never made it. Then we wandered off into different rooms thinking, "What's the point anyways?" 5. We integrated genetic providence and intellectual imprudence into an amalgamation of chromosomes thrown into existence, explicating their birth like the ambiguity of Kierkegaard. 6. Our palms were the map of the world before we clasped the end time. We now grow old like time-saddled horses taken to the pond standing adamant in the awe of our own hydrophobia; unfazed by sunsets, paddle boats, cotton candy or even flogging. 7. Waiting out a malady of consciousness to consume us inch by inch, hour by hour, until the sand slipped through our fingers and it is too late to hold hands as if that is all we ever wanted from life. 8. A deranged disintegration of oaths shaped our forever until you decide to fill the empty space in the earth with your bones. Men may call it a happily ever after, but we both knew from the very beginning that we'd never make it all the way to #9.
Imagine me as a child with a measuring tape borrowed from my mother's sewing basket and it was yellow on one side and grey-white on the other. Imagine me stretching it across the dining room table and realizing 57 inches lengthwise but 64 on the diagonal. From protractor and compass, I learned to extract the area of a figure and express the value. My hand was so many inches long before it grew. My loneliness was measured in square yards. The co-sine of my longing became my latitude and I could find its position from the angle of another person's moon. This was and is and will become my geometry, my way of saying that I was here for so long and for so often and it will never be enough. Stretched from end to end, each of my emotions might or might not circle the earth.
I don't recall what was blaring from my brother's stereo when I walked in on him, sitting on the side of his bed, naked to the knees, touching himself. Aerosmith? Kiss? Queen? Pink Floyd? A couple years later, I learned the word for what I'd witnessed. A curious child, I came across the family medical dictionary among the 22-volume World Book Encyclopedia Mom had bought from a door-to-door salesman. A pink scrap of paper nonchalantly bookmarked the entry. Did I adopt my brother's taste in music to earn his respect? I don't know, but Def Leppard's Pyromania got me through college calculus. The title understands their elaborate onstage production, brilliant white fires and fountain sparks with thanks to magnesium, but The Diagnostic and Statistical Manual of Mental Disorders classifies pyromania as one of impulse control: three of the conditions for a positive diagnosis are tension or arousal prior to the act, gratification or relief when it's over, and the act is done for its own sake. Freud linked fire with the male sexual urge, but I'm pretty sure it was a fluke when Pyromania's lead single replaced Michael Jackson's "Beat It" as the most requested MTV video in 1983. A pyromaniac needs to watch things burn. Listen, I swear it: my brother's door was open.
Robert Masterson's The Distance Between These Things wins Fleeting's Best Short Writing in the World 2011. Second place goes to Nathan Moore's semantic comedy Exegesis, and third place to Marc Vincenz's While Facing the Urinal. All three poets win personalised subscriptions to Stack Magazines. Robert's subtle and disarming poem topped a thrilling selection of verse and prose from across the world. To read all our finalists, click backwards from Marj Hahne's elliptical prose poem Mg – Magnesium 12, published this week, to John McCullough's Flittermouse, from July 1st. "While I cannot say I deserve this award," Robert told Fleeting, "I am honoured to receive it. In an age when ideas and words have become matters of life and death, Fleeting's recognition of the positive power inherent in language itself is both heartening and hopeful." Special Commendations go to Chelsea Armstrong for 'Sun Stains', Sharlene Teo for 'Eaglefish Lasagna', Adrian Perks for 'The Girl, The House, The Man, The Suit', Luiza Sauma for 'Milk',  Fatima Al Matar for 'Who Sleep Alone', Tim Anderson for 'Before the Canvas', Sarah Evans for 'The First Time', Zoe Wodehouse for 'In Lieu of Purpose Forgotten', Kulpreet Yadav for 'Not the Only Peanut Seller Who Hasn't Heard of Osama', Natasha Skinner for 'A Visit', Kate Woof for 'Double Time', Jazmín Oña for 'Direction', and Alice Slater for 'Edamame'. Thank you to all who entered and wrote about Fleeting this year, and to Jack Davison for his accompanying photographs. Please keep an eye on our Facebook and Twitter for the next competition. "Fleeting Magazine have started announcing their Best Short Writing In The World 2011. In my opinion, there couldn't be a higher accolade." Sarah Dawson, Poetry After Ink
Geraldine Illingworth saw the Buitoni Oven Roasted Butternut Squash Ravioli with brown butter sage sauce and said: Se ve delicioso. Can I find it in Mexico? No, Geraldine, God answered, Come back home.
We arrive at the sentencing early, even before the news trucks, to a team of policemen that directs us away from the courthouse and into the Municipal Building parking lot across the street. We bring coolers with cold drinks, portable grills to cook hamburgers and hot dogs, portable TVs to watch him step out of the car on the news with us cheering in the background; make posters to hold up to the cameras (JUSTICE FOR KACEY AND LYLE; DIE PETE; FORGET THE COST… KILL HIM); and do interviews with local and national news correspondents, saying things like, I mean, yeah, they should kill him, the punishment should fit the crime; and, He knew what he was gonna do to that woman all along. Later on, we will tell people we know, who are working or otherwise busy this morning and afternoon, how we saw Pete Britton the wife and baby killer, clearly, up close, entering and leaving the courtroom, clean-cut, thinner than during the trial, in a blue suit, smiling, probably smiling (the fuck), although the horde of police and media block our view and we gather the details from TV like everyone else. We never knew Kacey's family (though we've seen them crying on TV) or Kacey herself. But we know enough—how Kacey's body washed up on the rocks of the Bay, the fish having eaten her arms and legs, and then the unborn baby a few days later, in about the same condition; how Pete was making concrete anchors in the weeks leading up to her disappearance; how he was fishing on the Bay that very day and still proclaims his innocence; how he was cheating on Kacey and planning a new life with his mistress, a nervous-looking blonde whore career girl, who says she thought he was single. And Kacey's photo on TV, turning a big smile on us, body profile fully pregnant, beautiful. So, we know. Because of Pete, we know that our daughter's thirty year-old good-looking husband can kill her and dispose of her body just like that, no remorse. But we say our daughter like we say our kids or our boys about soldiers overseas when none of us knows, or even knows someone who knows, a soldier overseas. We arrive early. Every once in a while, as we wait, looking across at the brick facade of the now-silent courthouse, to disrupt conversations of refinancing mortgages or gas prices or local high school sports, someone says something like, He'll be quivering when he's in the chair (although we know statistics lean toward lethal injection, if the jury does suggest death), and someone else says, Yeah they're all cowards when it's their turn; rising taxes or reconfiguring sprinkler systems or food and beer prices at baseball games, and someone says, They'll plug his ass like Bundy till he cries, and someone else says, I think they plug everyone's ass so they don't shit themselves, and someone else says, they're always, always cowards when it's their turn. But no one knows for hours yet. And even then we only know gradually. In unison, a slight stir of voices and movement across the street and here, in the Municipal Building parking lot, one of us looks up from a portable TV and says, "Death!" "Death?" another of us, a man wearing an L.A. Lakers hat, says. A chain of mumbles begins: Death Death? Death. Holy…Yeah, death. Just said it death Death! Death? Watching ourselves on the news later, we will notice a woman, mid-thirties, in a tight white tank top and short beige shorts, gazing across at the courthouse with a blank smiling expression, say, at the end of the mumbling, "Ohh, wow. Oh my God…" And we will wonder: Has the sudden reality of death, whatever the circumstances, caused her momentary stupor, or has this woman, one of us, suddenly fallen in love with Pete Britton?
—for Cissy Mary Law Noodt In the year of the earth Snake, on a moist Hong Kong morning, I nosed through a black-lacquered cabinet, Grandma, and found it full of you: Newspaper clippings and photo albums smelling of nguh eh nongs and mooncakes, smelling of a girl who escaped habitual snuffing, smelling of your Shanghai— You, rubbing your temples, blushing in the black-and-whiteness of Russian jazz bands at a table full of latecomers from the international settlements, somewhere between smoke and sherry. You, in high heels and anti-New Life Movement hair, purse under your arm, ceremonial rope in your hand, guiding the Hirzai colt and jockey through a mass of sweating Chinese, some in cheung-sams, others in fedoras and Irish tweed. You, slender and oriental, standing along Ya-fei Lo with a pink-skinned husband and a solemn-eyed daughter, eyes turned towards a land of perfumed harbours, where the Japanese will force you to go. You, in Edith Head white gown and elbow-high gloves, walking down a catwalk in your Zhou Xuan-esque  beauty, in a room of tight-lipped, ex-pat servicemen's wives, looking at anything but you. You, frowning at salty fish and ginger, yelled away by hawkers, tripping in your steps, wondering where the ingredients are to knup-knup, a dish that makes sense to no-one else. You, watching The Young and the Restless in your make-believe opium den, squatting on your fold-up bed, puffing Dunhill lights, remembering Portuguese boys, waiting for buried friends to play mahjong. And you, staring into a Yoksang hand-mirror, fussing with your frizzled hair, powdering your yellow-white face and smiling at the shadows behind you.
One fear of mine: My children resenting these days in the future. So I told my wife to put all of it aside for one day. For one day, I said, let's focus on being the father and the mother, not the husband and the wife. Fine, she said, as long as you plan it. I reminded her about the poppy festival. I wanted to say, This has been the plan for weeks. Instead I said, Let's take them to the poppy festival on Sunday. She mentioned something about the crowds on Sundays. I said, It's either Saturday or Sunday, and won't church keep some people away on Sunday? She said, What about Monday? I had to remind her that they have school. Had she forgotten? Again I didn't say anything, but I pinched the back pocket of my jeans. We were in her bedroom. Our bedroom. Soon to be her bedroom, or someone else's altogether. We have two children, a boy and a girl. Luke is nine, and Jessica is seven. The last time we went to the poppy festival, Jessica was still a part of my wife. Baby Luke had his face painted by a clown with blue eyes. I volunteered Luke from a crowd of parents and children. The clown asked us, No brothers or sisters for this little guy? And I said, Funny you should ask, and went to put my hand on her stomach. The clown said, What a blessing. It took every piece of her not to flinch at the sight of him. I could see it. Since she was a girl in Lancaster she'd been afraid of clowns. Nothing is scarier than artificial happiness. But up close this clown seemed softer, and she allowed him to put face-paint on her stomach, for our baby Jessica, whom I can't remember not knowing. She let the clown paint her stomach, and the mothers in the crowd made sounds that sounded like love and community. This time, of course, will be different. Not just for my family, but for everyone. I can remember the day I realized things were changing. I walked alongside Luke and Jessica as they rode their bicycles. Jessica's training wheels made a certain noise. Sometimes we'd take these midday trips to the Stater Bros., and I'd let them choose a DVD or video game to rent. Other times we'd stop at the Thrifty's and take scoops of ice cream back to their parked bikes. But on this day we came back to discover that Luke's bike had been stolen. I was naïve then. I ate a beautiful cone of green pistachio ice cream. We waited there hopeful that the person who'd taken the bicycle, sluggish with conscience, might come back. Eventually Luke asked, Why my bike and not hers. What could I tell him? We walked home, and I asked Jessica privately not to ride her bike. When I told my wife, she said, And you're surprised because why, exactly? Have you seen the people moving in around here? Sometimes you could almost see the italics when she spoke. Last year's poppy festival, according to those who attended, went off without a hitch, so I'm hopeful that for at least one aspect of our community culture, order has been retained. I have friends – Martha from the bank, for instance – who are, I'm not afraid to say, socially backward people. Martha refused to open a Mexican's account because his English wasn't up to her standards. She went on her lunch break and left me to work with him. Meanwhile she misspelled the word bureaucrat on her rally sign. I'm different, I hope. I'm not afraid of change. I'm afraid of the disintegration of a good thing. Update: Nothing is scarier than the disintegration of a good thing. Or maybe that's her excuse, too. Update: Nothing is scarier than seeing your reasonable excuse used unreasonably. Sunday's come. We pack the car with blankets we haven't used in years. My wife drives, maybe for the last time, and I turn in the passenger seat so that I can look at my children in the back. I ask Luke, Do you remember the last time you went to the poppy festival? Luke's getting to an age where he's not afraid to disappoint me. He says, How can I remember? I was just a baby. Jessica says, I remember. They've heard the story about the clown a thousand times. Jessica says, It's my very first memory. Luke gives her a hard time about it, using the word logical, which he's just begun to use everywhere. My wife says some quiet would be nice. She's in a bad mood and it'll only get worse. I don't care. Soon we'll be at the poppy festival and the orange flowers will turn the day into a color-coded memory, and the color will give that memory a smell, and a flavor, a chocolate orange, peeled away in layers, and the flavor will turn into a feeling low in my chest when I think about it, and – scariest of all – when I don't think about it.
In a violent country across the Western Ocean lives and breeds a type of moth which feeds on the tears of large mammals. Silent, like a handkerchief settling on their faces, its wings outline the angles of their cheekbones and absorb the salted moisture trembling between their lashes. Sated, it will take its sadness eastwards, and beat itself against the glass of my window and I will trace the dusty imprinture of its effort left there against the woven fibers of the morning.
These were rough, rivetless, piecework men. I stood there in my pajama pants, the night's breeze licking at the flap, shrivelling my already insubstantial poke of manhood. In the front yard the mastodon sat, looking grateful, denting the lawn. His trunk paddled the air in boredom. His tail curled up and then flattened out. His withers worked the surrounding gravity like a washerwoman at the shallows of a stream. These men were mammoth rustlers. Big, crazy, four limbed men. The type you allow to cut in line at the supermarket. The type who insult your wife and you say: pay it no mind, it's just the way these men are. They breathe like they are angry to take in or give out air, as if any motion on their part is a concession to a world that doesn't deserve it. They hold their urine until the force of it slaps against the urinal. I am an academic, one who looks lovingly at the world, with the world looking back and saying: I can eat you, you unnecessary product of cell division. I make no ripples. My magnetic field slips and slides about my body and has never fit right. My hands have open argument with utility. My wife has never had a climax when she was coiled with me, and hasn't thought enough of our interventions to invent the sound of one. I stumble through any ordinary social event like the space bar on a typewriter. I can better tell you what I am doing than I can do it. But every man, even that sneeze in blue cloth, has a moment when he has to reach down to see if his jingles jangle. He has to know that, for all his intelligence and charm and grace and sophistication, he has in his cluttered cellar what he needs to become bull faced terrifying. To raise his scorching hackles and draw from the options resident within him that atavistic solution that will blow bone splitting pride through its horn like steam from a thunder well. I said, "But that's a mastodon." And they looked at me with that hatred I have seen in the eyes of thousands of anti-intellectuals: hotdog venders, grocery store clerks, pizza eating lawyers, recumbent girls in string bikinis, wine drinking pet groomers. But this was something more. There was just a hint of an exhale, a hint of room being left in the balloon. The shoulders of one dropped, a crispness passed over his face like an atmosphere exhausted on the moon, and the corner of his mouth started just slightly to crack out of its frame. They both looked over at the mastodon. The mastodon, unaware of its sudden nuance, was staring at the movement of the stars, the everlasting glide that makes people believe the sky is turning, and others believe, for a second, the earth is turning. His head alone was the size of the neighbor's wheelbarrow. They said nothing and I stood in my home's simple doorway, the light behind me, the two men in the dark, and held my ground. I could see them thinking, flash cards rising in the hardware of their brains: this is a mammoth, this is a mastodon, this is a mastodon, this is a mammoth. And they turned. They turned and started to walk slowly down my curved patio walkway, moving their feet in short frizzy glides, their hands hanging in wire ball fists, their heads bobbing like whales' heads: unsure, but moving, moving. I watched my shadow lay comfortably behind them as they moved out of its way. The light flooded out from around me and I counted their steps as they neared the public sidewalk, turned to head back up the street, and began to move faster, their decision reached, their purpose exchanged. I watched them go for four houses and then lost them in the yard growth. In this neighborhood, people grow things in their front yards: roses, trellises, ornamental trees, a second or third car, gnomes, mint. I had to lean forward for a last glimpse, the two of them sliding into their next task. In the meantime, the mastodon had moved. In slow, muted steps he had crossed the recently planted six inch hedge between my place and the pharmacist's place next door. Leaning half in my yard and half beyond it, the mastodon was nosing my neighbor's statue of a boy, almost the size of a real boy, standing in a fake clam shell, giving from his limp penis a stammering arc of processed water for any bird that happened by.
The naming of the house RENFIELD is an unambiguous reference to Bram Stoker's Dracula, in which Renfield is a minor character. It provides a suitably gothic name for the house in the story. The mix-up over luggage identifies that two of the house have the same initials: J.R., for John Rosowski and Janitha Rice. Absinthe and champagne is otherwise known as "Death in the Afternoon" after the Hemingway novel. The Bahá'í faith began in C19 Persia and is practiced by over 5 million people worldwide, Iran and India being countries of high prevalence. The faith particularly appealed to "baby boomers" who had lived and travelled abroad. As a Bahá'í, even a lapsed one, the deceased will have made a will. A Bahá'í funeral should take place no more than an hour after death using whatever transportation is to hand. RENFIELD's remoteness means that the body is buried in the island's disused cemetery. Above ground burials were once common in Britain, particularly in north Lancashire. Janitha suspects mistaken identity. Benton jokingly reassures her that "there were no plans for rice this evening." Kibbe nayyeh is a northern Lebanese dish, which consists of uncooked lamb or beef, bulgar wheat and spices. A typical recipe can be found in Marwan Yamout's Classic Lebanese Cuisine pp.22-3. Ibid. pp.104 Group hallucinations usually take place following the ingestion of some psychotropic drugs such as "magic mushrooms". The suggestion that this is what takes place is a rationalisation. Like everything in the story so far, there has to be, as Benton says "a more toothsome explanation." The Maricopa harvester ant, Pogonomyrmex Maricopa, generally found in Arizona, USA, is the most poisonous insect in the world. A sting from one would produce intense pain for several hours, so a swarm of ants attacking one person would be beyond imagining. For the first time the guests at RENFIELD are not convinced by Benton's rationality. Diane's incantation, and her drawing of the funeral pyre, with the guests of the house leaping into the flames, could be interpreted as "sati" or Dakshayani.  It is unsettling enough to convince the others to abandon RENFIELD and the island. In folklore a Demon can't cross a line of salt without counting each grain. The others doubt Diane's superstitions but do not stop her from creating a circle round each entrance, even as Benton more pragmatically locks the doors. The "skiff" by the boathouse could relate to any kind of small craft. Still, fitting all four inside will be a squeeze. The Scorpion and the Frog is an ancient fable in which a scorpion asks a frog to carry him across the river. The frog initially refuses, fearing a sting, and is only convinced when the scorpion points out that to sting him is to drown them both. Halfway across, the scorpion stings the frog, putting them both to death, because, "it is in my nature." As Benton tells the story, it appears that he is the scorpion, but in reality he may be using it to suggest that none of them are safe. Janitha's final words "is anyone else getting tired?" echo, unconsciously or otherwise, the poem "When" by Methodist poet Robert M. Latterday (1850-1901):When the LORD is bidden The body is expired; HIS words un-hidden: "My love is getting tired." A pandemic of "sleeping sickness", or encephalitis lethargic, occurred between 1915-1925. There have been only isolated cases since. It places the victims in a "statue-like" condition, without speech or movement. Its cause is not known. On making shore the inhabitants of the boat will have escaped the island with their bodies, but capable of little else. Whatever they were escaping from has not let them go. See 1.
These are the things I didn't tell you.  1.   When I saw you tilting the Egyptian Pyramid Explorers Kit in the heel of your hand in Godleys, I was not only shocked it was you, and gently thrown by the hint of grey at the roots of your parting and your sensibly brown wool skirt when I associated you with tie-dye. Dread threatened to overwhelm me. 2.  To steady myself, I thought about the first time I placed my hand on your thigh. You were sat on my desk, swinging your legs and going on and on about mojitos. I couldn't help it that time. I grabbed hold of your thigh and you stopped talking. One of your mules fell off and clattered on the floor. 3.   When I saw you holding the Egyptian Pyramid Explorers Kit I'd imagined your children and their unwavering father. If you had not dropped the box and said my name I would have skulked into another aisle. 4.   The client meeting I mentioned, the meeting I used as an excuse not to have coffee with you there and then, was a lie. 5.   Overnight I was convinced I shouldn't see you. 6.   I had restaged certain scenes and edited certain situations in my head. 7.   I knew you were my end. 8.   The day after, in Cafe Pizzicato, I suspected you were sparing my feelings when you talked about yourself at such length without asking me anything. It took you about an hour to explain that you were on sabbatical from aid working. You were taking a break from the dust and the airstrips, the shuttling between compounds, the bureaucratic wrangles, the political fudges. Your mother was dead. You were sorting out her house. You might keep it, you said. Be home. You were getting too old to feel so helpless. You smirked as you started your second coffee – I'm not sure why you were smirking – and repeated you were fed up with feeling continually helpless. 9.   I could hardly contain my relief when you said the Egyptian Pyramid Explorers Kit was for your nephew. 10.   A week later, when we revisited the abandoned meander and sat face-to-face in the dip and you told me harrowing stories of Bosnia and Afghanistan, I did not tell you that those lunchtimes, when the weather was warm and when we were clear of the building and would hold hands openly and cross the woods and the field and end up here, and you would undress and the sunlight would slither about your bare shoulders and afterwards you would whisper the names of places you wanted to see – Zanzibar, Marrakech – these were the moments I'd brooded on most deeply during the years. 11.   I did tell you, on the night you cooked for me at your mother's, that it unsettled me that the house seemed unchanged: the fifties décor; the diagonal smear of flying ducks above the mantelpiece with their chipped wings and goofy smiles; that faint smell of bleach, but I didn't tell you, when we were full of gin and slow-dancing on the patio, that bleach always smelled like that night we left the Christmas bash shamelessly early, no longer caring if the others knew. 12.   When we kissed like teenagers under the burglar lights, it felt like us as teenagers kissing on your mother's patio. 13.   When you left and for a long time afterwards this moment on the patio had ceased to be beautiful for me and contained only warnings. 14.   After you'd left work I could no longer come up with the straplines and copy. 15.   I started to enjoy, strangely, a cavalier attitude to time keeping even though I knew Collins was a pernickety little stickler. I slept off the nights in the washroom, then topped up at lunch like a real live advertising creative and soon started handing in all those joke ideas I used to share with you but then cross out. 16.   After that place I was turned down by the police force, and then the ambulance service and worked in the Housing Benefit office for a while. 17.   I was flitting and pausing for over a decade. 18.   I woke up in small rooms and wondered where I was. 19.   I once found myself on a bench, in a park, on a Sunday, it was sleeting and I had what I'd now call sloppy thoughts when I could hear an airliner roar overhead but couldn't see it, the clouds were so thick. 20.   I've since kept a routine of TV and computer games, junk food and nightly beers that help me face forwards. 21.   I wrote rules. After the therapist explained the sloppiness of my thoughts, and the men's group facilitator the self-indulgence and control-freakishness of taking things hard: never show, never give, never ask, never plead. Never care or make the first move. Never covet or look back. Never surrender to whining loneliness. 22.   If forever breathes the lonely word I covered my ears. 23.   At the end, when you came to me in a panic about your solicitor and your mother's equity, how it had been released early, tranche by tranche, and spent on cruises and medical bills – I still didn't tell you. You said kind things about me that couldn't be true. They made me wince. 24.   When I saw you tilting the Egyptian Pyramid Explorers Kit in the heel of your hand, I was en route to the packing bay, where I worked supervising the dispatch of goods. 25.   I told you the first lie in Godleys, and then a series of lies in Cafe Pizzicato and Extremadura, on the towpath and on the way to the folly, because I had spent all day watching young people wrap things up and send them away. 26.   I told you I'd just nipped in to buy one of those Egyptian boxes for a friend's kid but they were sold out: you must have had the last one. We ended the second time in the street, if you remember, by the entrance to the covered market. It was raining and the first thing I said was something along the lines of the weather can be so clichéd on occasions like this. I thought you looked alarmed so I did you the service of not telling you any more lies. I was married. I was dying. I was about to leave the country to avoid tax. We each have only one chance with young love. We'd had ours. We should leave it at that. It was over. I told myself I must never regret this. I stayed under the yellow hanging lights by the market entrance as you walked across the square. I did not go after you. I was the person I should have been. I would wait for routine to kick back in. I would get back to normal. I would work and pack boxes and sit you out. I had rehearsed. I was sure. You must never know. Rain glittered on the cobbles. The rain looked no longer real, like the rain in films never looks real. You were growing smaller as you walked away and I could feel the thud of you descending through my shins. I came after you then, Rosa. I caught you up. I'd had a premonition back there as I watched you walk away. I told you everything then. You know it all. And you know everything you said.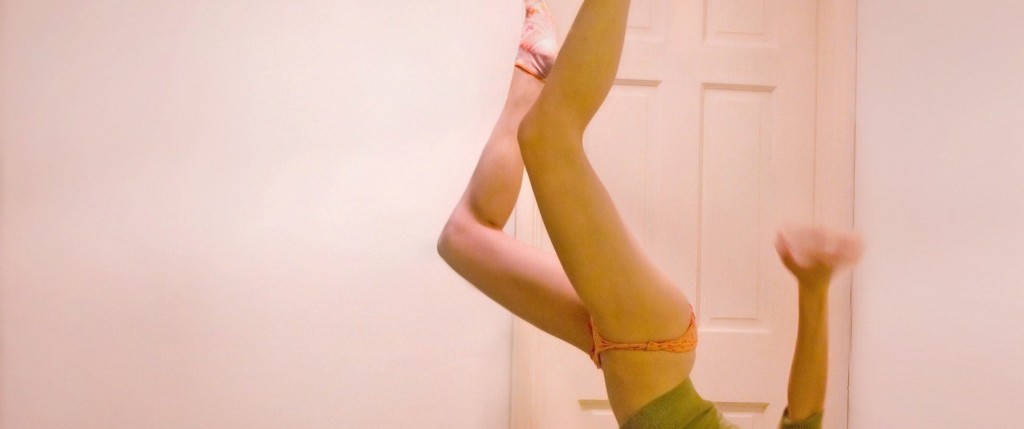 If you travel far inside the one you love, into the distant continents that lie beyond the breakwaters and the ports of call, you will arrive at the outpost where the alcalde's daughter in the red-striped shawl, having probably not yet celebrated her quinceañera, is playing the clarinet, and the other one, so old you don't think she can do it, is playing the trumpet, both of them holding a single note so long that you can no longer tell the difference between the instruments, and then you notice beyond them Frida Kahlo, next to the adobe wall of the cantina, across the street from the cárcel, from which the prisoners at the rusted iron bars are spitting and shouting obscenities, as she leans back on two legs of the tottering wooden chair with the tassels, twirling her twin pistolas. She will ignore you, by the way, and you'll decide to wait till evening, thinking it makes more sense, and it's true: there will be red slashes and parrots whose cries will wake you in the morning, and when you go back into the square, damp clouds will be hung in the jacaranda trees, and you will find the yellow shawl of Frida Kahlo, negligently thrown over the wooden chair. But you will not find Frida Kahlo. Here is what you will think, or here is what I thought: I have lived my life without seeing until now how the prairies are pinned inside the dense mountains. Nor did I realize that the Aztec canals with their barges were carrying me to mere templates. And stupidly I thought Frida Kahlo was a painter. I woke from this dream sometime later. A woman had fallen from a cliff, and I fell from that woman into another woman and in the agony of cliffs, I fell, and found myself in the deep embrace of Frida Kahlo. She wrapped me in her monkey hide, stinking of the urine she used to cure it, and put me out to dry. I did penance on the shelf marked Productos de Mexico. My love – if I may be permitted to speak so familiarly – is deep and shallow and urgent as the night lights on Death Row, as prophetic as ambergris caught in the wings of flies, and prehistory knows that it is nothing to please forget, please forget, please forget. And: I will be happy to take back these words in a court of law. How was I to know how hidden the world is? Or how the hidden world is? Or how hidden she was, necessarily? And then to find out that the juice of the female comes from her blood, and does that mean the semen of the male too comes from his blood? I think so. And so on that night in San Francisco in 1977 in the Haight, what was my girlfriend doing at the bottom of Frida Kahlo? And do you remember reading Lautréamont at the laundromat? We ate in that place in Chinatown with the walled-off booths like in Dostoevsky. Perhaps it's why Yevtushenko ate there too, according to the plaque. Yet why was Frida Kahlo lurking there in the bottom of the tea glass, and when I raised my eye to yours why did I know that I was looking at you for the first and only time, and then – my crime – why did I look away? But life doesn't really hold on to these dramas. And we know that too. And of course we know better. But I believe the singer in the cantina anyway. Her notes are the tide I go out on. And so I knew her and I went to her and knew what was inside her, or guessed, and no one suspected I didn't know her at all, and now that she is dead, this is her death song, and this is her marvelous journey, and even if the desert beyond Guadalajara has lights that we decide are signals crawling out of the mountains curving down the dangerous roads, then on this day, when the sunlight is crashing into the room, we make claims for these signals too. Or will we waste them? And anyway, she had a little bit of the cat's soul. Is that so wrong to say? She believed in the monkey and its lack of shame. And she fought her shame using the monkeys she built out of her shame. It was brave, brave, brave. It scares me to think even a little bit honestly about it.
It is the last Saturday in August. Alice is waiting in baggage reclaim at Prague airport, and she knows before it is completely certain that her bag will not appear. For twenty minutes the luggage belt has looped along its tracks in a slow mesmerising circle, a dead grey river. Her bag is not on it. Yes, she can fill in a form. She can give the official her mobile number and the address of her hotel near Malá Strana, but she tells herself to accept that she has lost everything. The cheerfully vague official in charge of missing luggage (her name is Petra) understands that filling in the form is a waste of both their time but she takes the trouble to guide Alice through the procedure. Petra's breath smells of aniseed or something like that. Alice isn't really bothering; she can barely read her own hurried writing. The worst thing is that her mobile-phone charger is in the bag that has gone missing. Even if the airline does find it and calls her to collect it, her phone will be out of charge. Petra has a system in place to process loss – and she has other information too. She warns Alice about dishonest cab drivers; the minibus shuttle will drive her to her destination for a cheaper price than a private cab. Also, given that Alice has lost her bag with her mobile charger in it, she should use a public telephone box and buy a phone card. The emergency number is 112. And then she tells her there will be a screening of a film in the park on Tuesday night. It's free but everyone dresses up. It is Tuesday night and Alice is dancing in a park in central Prague in the blue dress she has worn for three days. The film Petra referred to turns out to be an outdoor screening of Martin Scorsese's documentary of the Rolling Stones in concert. Midges are biting her arms, it is eleven at night and the moon is shining on the crowd. Two Serbian women, Jasna and Adrijana, dance with her while Mick Jagger sings 'Yeah, you light up my life'. Alice has only just met them but she is pleased to have their company. She tells Jasna that when Mick walks away from the microphone to change his costume, the stage goes dead because he is not on it. Like the luggage belt at the airport when she realised her bag was not there. Jasna's and Adrijana's boyfriends are queuing for beers. They wave to a man selling frankfurters and shout, 'Hot dogs!' Adrijana insists on buying one for Alice too. They smother the hot dogs in ketchup and drink beer and watch the swans sleeping on the black water of the Vltava. When the film ends they all invite Alice to join them for a swim the next day in a lake just outside Prague. Apparently it's not really a lake, it's an old mine that flooded a few years ago in a rainstorm. It's near a cornfield and there are castles nearby and a forest and eagles. Would she like to go? Alice nods and smiles and they all cheer and wave their beer bottles at the dark sky. Later, when she walks over the cobblestones towards her hotel in Malá Strana she realises that arriving in a country with nothing but the clothes she is wearing has made her more reckless, but more introspective too. The car that pulls up outside her hotel on Wednesday afternoon is a beaten-up Mercedes. Adrijana shares the Merc with three other families and Wednesday is her driving day. Jasna, Petar and Dimitar, who are sitting in the back, move up to make room for Alice to squeeze in. There is someone else in the car too. He is introduced to Alice as a famous brilliant terrific genius composer of electronic music. The composer tells her his name is Alex but she can call him Mr Composer if she likes. And then he doesn't say a word for the entire journey. When they finally arrive at the lake that was once a mine, the green water is still and flat. Alice thinks it might have some sort of force that will suck her deep into the earth and make her disappear like her lost suitcase. Jasna lends her a swimming costume but Alice takes her time getting changed. She folds her blue dress carefully and then places it on a rock. Everyone is in the water, except for Mr Composer who refuses to swim and sits on the same rock as her dress, buttoning up his jacket and shivering. When he catches Alice's eye he shrugs his shoulders and wryly translates the sign at the entrance to the lake. He tells her it says, 'DANGER! NO SWIMMING!' He watches her climb down the clay path and dive into the water. It is very cold and she cannot feel her legs. Adrijana and Jasna have swum out to the centre of the lake where it is deepest. They have pinned up their brown hair and swim calmly and slowly together like the swans on the Vltava. After a while they turn on their backs and stare at the sky. Alice climbs out of the water and sits dripping wet next to Mr Composer or Alex or whoever he is. He hands her a plastic carrier bag. Inside it is a heavy square of cake. He explains that it is baklava made by his mother who he has just returned from visiting in Belgrade. It is not like the baklava Alice is used to because it's heavy like bread. He takes out his mobile and Alice hears him say, 'I'm at a lake outside Prague with Alice who is from Britain, which is why I am speaking to you in English. She wants me to tell you she likes your cake.' When he ends the call, Alice points out he has the same mobile phone as she does. That's really interesting Alice, he says, and tells her that he, like Adrijana and Jasna, had to cross three borders 'during the war' to get to Prague. Every now and again she notices a strained look in his eyes. She is just about to ask him something when Jasna creeps up behind her holding out her blue dress like a flag. It has fallen off the rock and is smeared with mud. On the way back to Prague they stop at a pub for beer and Alex orders a plate of smoked ham. While the others are talking he tells Alice that though they are all from Serbia they did not know each other in their own country. They met for the first time in Prague. In fact, he says, we didn't really want to meet each other at first because you never know what each other is going to be like. Adrijana asks Alice if she has heard of a famous European philosopher. She tells her the philosopher's name. Alice has never heard of him. Well, he has this beautiful wife, Adrijana says to Alice. Beautiful like you. Long blond hair. But this philosopher, who we like very much because he has written about what life is like for us, he is very, very busy. Always giving lectures all over the world. In fact right now he is probably writing a lecture somewhere and it is midnight and the philosopher's beautiful wife is on the phone and she is saying to her husband, so kiss yourself good night tonight and I will kiss myself good night and you stroke your own hair tonight and I will stroke my own arm tonight. Alice does not really understand why they are all laughing so much. She feels lonely and out of the loop, whatever the loop is, and anyway she's not that sure the loop is a good place to be. 'Are you ok, Alice?' Alex prods her arm with his long fingers. 'By the way,' he says, 'I really like your blue dress.' He asks her when she is returning to the UK. She tells him she is leaving later that evening. 'Uh huh,' he says. 'Then tonight you will kiss yourself good night. And I will kiss myself good night.' He tells her he's going for a walk in the woods to stretch his legs before the drive back to Prague. The woods are just across the road from the pub. Alice asks if he minds if she joins him? She wants to see autumn leaves. The sky has clouded by the time they cross the road to where the entrance to the woods begins. When they get there, Alice doesn't want to walk with him after all. She has changed her mind. He says, 'Well, anyway, I'm really happy to meet you.' He waves his hands around a bit and suddenly grabs the ends of her blond hair with his fingertips. She wants to ask him where on the map his country is but it sounds insulting and ignorant and she doesn't think she can ask a question like that. He lets go of her hair and he says, 'I really like so much your blue dress and red tights. If I stop working in my stupid job, one day I will buy you a pair of shoes.' And then he walks into the woods. The season is turning and she wants to go home to England. A bird scrambles in the upper branches of a tree. She watches the bird and she thinks about Adrijana and Jasna swimming in the deep, cold lake. They have been hurt in ways she has not been hurt. They have left all the seasons in their country behind them. When she looks at her watch she wonders if Alex might have got lost. Has something happened to him in the wood? She thinks something is about to happen. This is how she felt at the baggage reclaim. A feeling of dread in her stomach when she knew her bag had gone missing. Strange thoughts occur to her now as she waits for him. She wonders if there are people hiding in the woods because they have lost their country and their home and their children and their sister and cousin and she thinks Alex might have lost his brother and father because of something he said earlier. She thinks about the form she had to fill in at the airport and the official who looked bored when she listed all the things she had lost. The material of her blue dress is rubbing against her skin as she paces up and down the road on the edge of the woods. A wind suddenly blows in and then she sees him. He is walking towards her. There are small leaves in his hair as he stands too close and tells her his name is not Alex. Not exactly. It is Aleksandar. He tells her he saw a deer in the woods with small antlers and how he used to have an Italian coffeemaking machine in his kitchen in his country which he liked a lot, the coffee machine he means, not the country, and he is sorry to have missed the Rolling Stones film last night in the park because then he would have been near her a little bit longer. Aleksandar squeezes his lips and lowers his eyes. He offers to charge up her mobile phone for her before she leaves for London. He folds his arms across his chest and leans back on his heels as if to get a better view of her and then he tells her it's nice to watch her laughing at him while the wind blows her hair about. 'Shining a Light' is an exclusive preview from Black Vodka by Deborah Levy, published by And Other Stories on February 26, 2013.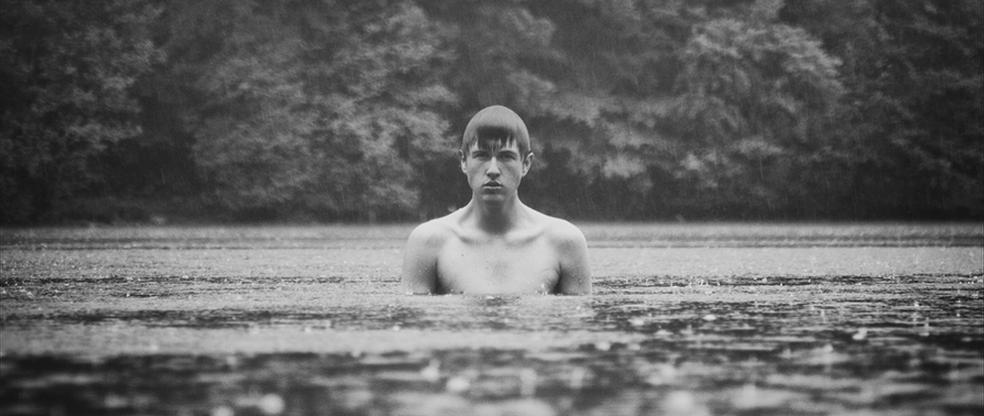 And I see her, the girl of my crutched dreams - La Gioconda smoking a pipe that's not a pipe, sipping absinthe from a fur-lined cup that tickles her moustache. We miss the train that leaves the fireplace but it's raining businessmen so we stay inside, smooch to the Broadway Boogie Woogie, sleeping in this tent with en suite Mutt urinal. We've learnt our lesson. Abstraction came too easy for Brancusi, the universe already constipated with objects: he fed his two white dogs lettuce floating in milk. Schiele was more realistic – he couldn't afford the paint, he said, when the judge who burnt his work in public asked "Why choose models with amputated feet?" Our millennium opened late for staff training. By the time we wake to Turner's blazing sunrise, it's all on video. Our taut bodies.
Somewhere over Greenland the plane hit turbulence again. The whole fuselage shook. Ray's seat shook. The girl next to him shook. Her elbows and her book shook. The tips of her hair shook as they had with every jolt since Nova Scotia [1]. Did she actually shake, though, Ray wondered, or did she quiver? Did she quiver, or did she quake? It didn't matter. He was certain now that next time she quivered and/or shook her head would end up on his shoulder. She would like her head resting on his steep shoulder so much that she would keep it nestled there. She would then, each time the plane quivered and/or quaked, rub her lovely head into his steep shoulder that was as hard as plate armour. The skies above Greenland might be empty but later tonight fireworks would spread over London, drizzling rosy and indigo. She would quiver and she would quake. _________________________________________________________ [1] This short story by India Emmott arrived in the post. She'd clipped a postcard of an Egon Schiele nude to the title page. There was a note written on the back. Dear Ashley, Please find here a story I've written in case you're disappointed with me after our night with Ray. Finding a title has been hard. I've toyed with A Stranger Comes to Reclaim Baggage, The Long Lick Goodnight and Kensington Gore but settled on Not for Publication. This means that you are not, should your paths ever cross again, to show this to Ray. Please help me find a better title. Should you find yourself in London, do try to make me have coffee with you. You do know what I mean by this, don't you?                 India xx I'd like to say that I'd forgotten her, but you can't really forget India. I took her manuscript to a café, ordered mushrooms on toast, found myself a window seat and started to read. _______________________________________________________________ Since JFK, though, they had only exchanged the briefest of smiles. She'd been engrossed in a book. The book looked poncey, too, with its milksop-white jacket and inserts that kept falling from between the pages every time the plane jolted [2]. It came to him in a flash, suddenly. On a flight from New York to London, a tall, mysterious, capable man meets a pretty girl with a problem. He sorts out her problem. He suffers a few grazes. She shows her appreciation. He moves on. Several of the other passengers, Ray had noticed, were reading his books, mainly the new one, The Slaying Depot, but also some of the backlist titles: Shot From Both Sides, Bloodbath Autobahn, a couple of Pump and Grind. He'd even signed a few copies for fans in the departure lounge. Ray Gorse couldn't go anywhere without seeing his Jock Stretch novels piled up in supermarkets and airport bookshops. Jock Stretch and he had come a long way. Their story was like something out of The Iliad or The Bible. He'd been talking Jock all week. He'd been in LA, holed up in hotel bars, checking out the girls and signing their Jocks while his US agent, Shuff Howse, hammered out a film deal. Ray Gorse (not his real name, of course, his real name is Miles Templeton [3] but he wasn't going to tell this to the girl with the quivers even though Miles had been the toughest dude at Marlborough College until Batson-Byers rocked up in the sixth form) was returning to his roost in Monaco via a stopover in London with considerably more change in his pocket than when he'd flown out. Ahead of him were six weeks of sheer hell while he pounded out this year's Jock. ______________________________________________________________ [2] I'd met India at Saltsell Farm in Norfolk. A programme of weeklong writing courses had been set-up by Howard Devereaux, the farm's owner. His original tutor, Emma Hummus, had suffered a nervous breakdown after The Engorged Coypu Review said her novel That's Why Mum's Gone to Rehab was "relentlessly purposeful", and thus Howard, in desperation, employed me: locally respected creative writing tutor always available at very short notice. The farm was set in beautiful countryside. There were newly built chalets dotted around that accommodated the guests and acted as writing rooms ('scriptboriums,' India called them). Howard had even arranged for a big name writer, Ray Gorse, an old school friend of his, to come and read in the barn on the final night. [3] It is as well. Howard told us when he was pissed. ______________________________________________________________ The new Jock now came to him in a flash during this turbulent storm over the north Atlantic. He would call it North Atlantic Storm Turbulence: A Jock Stretch Novel: on a flight from New York to London, tall, mysterious, capable Jock Stretch meets a pretty girl with a problem. He sorts out her problem. He suffers a few grazes. She shows her appreciation. He moves on. He just keeps moving on. She wasn't reading a Jock, though. She was reading something called The Pictorial Jackson Review [4]. The plane shook again. A few respirator masks tumbled from their overhead compartments. Ray Gorse wasn't fazed, not for a millisecond, but the girl beside him let out a sigh when The Pictorial Jackson Review slid across her knees. Her bookmark, which was slate-grey and embossed with a yellow clarinet, dropped onto the floor between Ray's shoes. He reached down to pick it up. He made sure that he looked not at her but into her, but as he looked into her not at her he experienced a terrible bump inside. Until now he hadn't yet managed a full frontal examination. Dusky, he thought. She was dusky. The word 'dusky' struck him like a pile driver  [5]. ______________________________________________________________ [4] On the last afternoon of the course, I sat in my scriptborium reading an extract of India's work-in-progress, All the Pretty Cages. She'd parked herself on my desk. Backlit by sunshine, a glow coursed around her hair. If I looked up it was like being in the shadow of a great sunflower. Every time I either smiled or frowned, or if I merely paused to think through one of her sentences she clicked the heels of her sandals together and said, 'What is it?' [5] India was the most hardworking and self-critical of the students that week. The group was composed mainly of bullish young male writers. She kept her distance from them. By making herself so mysterious she caused these bulls to wag their horns at her moon. I mean, what would you do if you were marooned in a scriptborium with nothing to do but write words on a screen when India Emmott was lounging in her chalet down the line? You would scrape your hooves through the dirt. You would give your ring a vigorous polish. You would dream about what she does alone in her scriptborium as she concocts her trysts and situations? When you ought to be writing about your ex-trader, now SAS officer Hank Phalanx running around a multi-storey carpark with his pistol hanging out, you would find yourself describing what India might or might not be wearing. You'd have some pretty exotic ideas, right? Especially after you'd heard what she did eventually read out to the group. I thought it was brave of her to read out that scene in front of those guys. ______________________________________________________________ He knew that one day he would find himself thinking wistfully of this girl and writing something like: For the dusky maiden, thought Jock as he pumped his pump-action shotgun at Madskis' army of goons. But here, experiencing turbulence on the long, dull flight, Ray found himself noticing things about her face that he never noticed in the faces of women, or at least he hadn't since he'd been Miles Pemberton. A maroon tinge deepened the gentle grooves in her lips. They had gravitational pull, those cupids, like the Sun or the Moon; they were like flypaper or maybe a big magnet used in heavy industry. Where the light caught her cheekbones the pale, tawny brown of her skin became infused with an arrestingly odd blue. Her eyes flashed as he continued to stare and her irises had a rainbow's gleam, like a compact disc as it's tilted. Her sleek black hair was tightly clipped at her nape, apart from two tendrils that hung by her ears, the tendrils that quivered with each jolt to the plane. He wanted to unclip that clip and let her hair fall onto his pillow in whatever clean white hotel room waited for them in Kensington, where the rose and the indigo would drizzle all through the night until breakfast was served on little silver platters wheeled in on a hostess trolley by an Estonian nymph on minimum wage [6]. This was a terrible bump, oh yes it was, the sort of terrible bump that Raymond Chandler used to describe in a sad, subdued fashion, in the sort of passages that Ray Gorse always cut because he wasn't a drunk, or a bender. Jock Stretch suffered no bumps. Jock Stretch wasn't bent [7]. ______________________________________________________________ [6] For the most part that week's group consisted of a new type of creative writing student that has emerged with the economic downturn: the Crash Hack. Most of these guys had, until the banking crisis, worked in financial services. Most of them had never even thought about writing until the bubble burst. Now they wanted to write action thrillers to make money. They tried to follow India around. She wouldn't be followed and kept stuffing her pages under my door, sometimes with hand-written annotations of a vaguely suggestive nature. There was a sixteen-year gap between us and even if I was reading the signals correctly I knew that I must not respond. It would quickly get all F. Scott Fitzgerald for me. I'd had quite enough of that already. [7] 'What is it?' she said. 'This phrase,' I said, '"drizzling rosy and indigo". You keep using it. Every time your girl here makes love, there's always something rose-coloured and indigo going on.' 'Deep and rich colours are sexual,' she said, 'like red and indigo. Light and pale colours, like yellow, are for shit sex. Dark colours, like slate-grey and black are for frightening, don't-go-there, but still go-there sex.' 'So being with Arzhang on a grey mattress on a bed with a black headboard, when she's wearing red underwear and an indigo ribbon in her hair, and his, manhood, looks yellow…' 'He joins the Party of God later.' 'I see.' All the Pretty Cages was about a family of Russian émigrés in Persia between the Bolshevik and Iranian Revolutions. Its central character, a teenager in 70s Tehran somehow manages to sleep with everyone who will later murder her relatives. It was quite good and only marred by these moments of over-describing, of trying too hard. I told her this. She seemed happy and dropped off my desk to prowl around my room behind me. I kept staring out of the window at the golden fields. 'So,' she said. 'Tonight. Ray Gorse?' 'I saw his face on a bus shelter once. There was bird shit over it that spelt a bad word.' 'Don't be jealous, Ashley.' I spun around on my chair. She was sitting on the end of my bed and smoothing out the long train of her hair with her hands. India wore a short grey dress with yellow hems, a red cardigan and black sandals. I handed back her pages. 'Time's up, I'm afraid,' I said. 'I've got at least twenty pages of Ptolomy De Gascur's Antlers of Death to knock into shape before tonight.' It was beginning to prey on my mind that later on I was going to have to read one of my stories. I'd be the warm-up act for Ray Gorse, King of the Bus Stop. ______________________________________________________________ 'If you ask nicely, you can have this back,' said Ray, suavely rippling the bookmark between his fingers. He wasn't doing this, though. She must have plucked the bookmark from him while he was examining her eyes like tilted CDs. She smirked in a way he didn't like. Her smirk reminded him of the smirking face of the idiot bean counter who'd made Miles Pemberton redundant from Ipso Media. He knew that he should be grateful for, or at least accepting of that exec's bean-counting idiocy. Without that idiot exec's bean counting he and Jock would not have embarked on a journey like something out of The Iliad or The Bible. He and Jock still hated the exec even after the first Jock, The Bean Counter Massacre had sold four million copies. She was smirking. Ray Gorse didn't know what to say. 'I'm Ray Gorse,' said Ray.  'I've marked you down as a Mabel. Mabel's are able.' 'And I expect they probably live in a stable,' she muttered. 'What are you reading?' 'Just a story.' 'Who by?' 'Ashley Stokes.' 'Never heard of him.' 'That's a shame.' 'Bumpy ride.' 'Worst I've ever had.' The poncey book was now open again and rather than read it on her lap she was holding it up, partly concealing her face. 'Do you have a name,' said Ray, 'or am I going to have to call you Able, Mabel?' 'Ivich,' she said and angled the book further to towards him so that he couldn't see her face at all. This was good, though, even if she had a name that sounded like a munchkin's sneeze. If this were how she wanted to play it he would play it her way. He used his crafty bestselling novelist's skills to work out that she was the sort of girl who liked the thrill of the chase. She was Little Red Riding Hood. She was Bambi's mother. 'I'm going to call you Bambi.' He didn't say this. He reserved it for later and sat back, pretending to look at the clouds but all the while maintaining an eyes-left surveillance operation. She had very pretty, expressive fingers, not too long like a mole's and not short and stubby like betting pencils. After about twenty minutes she snapped the book shut and sat there for the rest of the flight with her hands over her mouth, as if she'd been struck by some thought, as if she'd realized something quite serious. She knows that there are too many people about, thought Ray, too many other fans. She wanted to be the chosen one. He would therefore wait. He would meet her at the airport. She would appreciate this. Bambi would thank him later. At Heathrow, on the moving walkway and in the queue for Customs, Ray kept a discreet distance from Bambi. He kept reminding himself of the secret signal she had given him after the plane landed. She'd not even said goodbye or acknowledged the moment they had shared over Greenland. This meant that she wanted to gain his respect by not acting like a book-groupie. In Baggage Reclaim he stayed back and watched her standing at the carousel. She was slightly apart from the other Jock fans. She had a very nice bottom. She was looking for something. She had lost something. Jock Stretch noticed such things. Some people have a radar for loneliness [8]. Others have radar for money. Jock Stretch has radar for damsels in distress. Jock Stretch has radar for problems that only he can solve in his own inimitable style. The girl has a problem. A stranger comes to Baggage Reclaim. There will be fists. Ray crossed the hall and sidled up beside her. He counted to ten in his head, then said: 'Oh, it's you again.' ''Fraid so.' She turned away and looked over to the chute that disgorged the suitcases and holdalls onto the conveyer belt. Ray counted to ten again, then really pushed the boat out by counting to fifteen. 'These things can take for ages, can't they?' he said. 'I remember being stuck in KL for three days once. Terrible wait, and the heat there. Have you been?' 'Yes,' she said. 'But take everything I say with a pinch of sodium chloride.' 'Would you like to go there?' he said, 'Look, Ivich.' He angled his body around so that he faced her. 'Tell me I'm wrong, tell me I'm bonkers, but, listen, back there, on the plane, we did share a moment, didn't we?' 'I don't know what you mean,' she said. She did, though. He knew that she knew the rules of this game. The rules were inside the box, under the collapsible board and the dog and the iron and the random-event generating cards and the plastic components that never fitted together as neatly as they did in the picture on the outside of the box. ______________________________________________________________ [8] See The Lonely Crowd and the Crowded Loon: Liminal Space and Non-Space in the Stories of Ashley Stokes 2005 – 2010 (Womb, Tomb and Gloom: Essays on Unread Fiction, Mordechai Gythumper, Gytz Press, 2011), which has frighteningly detailed passages on my stories: It's That Man Again, All That is Solid Melts into Claire, The Great Leap Backwards, Touching the Starfish and Me, The Moon and a Monkey. ______________________________________________________________ 'I'm intrigued by what you were reading [9]. I was hoping you might tell me about it.' He wagged his head, cheekily. 'Have dinner with me? I know a nice little place in Kensington.' She shrugged. 'That's out of my way.' 'We could eat here,' he said, 'but you don't look like a girl who can be herself in a Burger King.' 'Why are you interested?' 'I'm a writer.' The CD eyes lit up and her rigid stance softened. 'Really?' 'Ray Gorse.' 'Ray Gorse?' 'C'mon. Blood Factory 101?' 'The name rings a bell.' 'Sunday Express interview, three weeks ago?' 'Oh yes.' She clicked her fingers, almost letting the poncey white book slip. 'I saw you on a bus shelter. There was an interesting splatter of bird mess across your face that spelled out a certain word.' ______________________________________________________________ [9] Evening came. We had dinner in the barn. The students divided into two contingents. My lot consisted of India, the other women and the men over thirty-five. The Crash Hacks – Ptolomy De Gascur, Evan de la Zouch, Guy Gisburn etc – attached themselves to the newly arrived Ray Gorse. Howard had introduced him to me earlier. Ray Gorse nodded at me like you might a valet. ______________________________________________________________ 'You're kidding? What word?' 'Adios.' She reached out and grabbed a small magenta suitcase from the conveyor belt and walked off. 'Come for a drink? Just one,' he called out after her. 'You look like a kingfisher with a broken wing.' He didn't know why he'd called this out, especially after her bird mess-splattered-across-his-face come-on. But the kingfisher line had worked once before, and he'd managed to rehash it at the end of Slash Cannery before Jock Stretch gives Lula O'Flue a right seeing-to. Ivich paused and turned back. She was kind of smiling now, this time more smile than smirk. 'Collect your bags,' she said, nodding at the carousel. 'There's that bar beyond the barrier. I'll powder my nose and meet you in there.' He wasn't an idiot. If he let her out of his sight she would powder no nose, but take it with the rest of her beautiful head, down the escalator and out of the building. It had happened before, at the start of Never Stand Me Up: A Jock Stretch Novel. Marlene Sexley had lived to regret standing up Jock Stretch. That's why she let him pork her into next week on page 408. 'What sort of cheapskate do you think I am?' he said. 'Let me pay for a cab. We can go somewhere in the West End?' 'I don't know.' 'Short, warm cab ride, glass of champagne at the end of it, or wet plonk in a plastic cup and then the grim-death of the Piccadilly Line. Your choice, Bambi.' 'OK,' she said. 'But I'm warning you, I have magic powers.' They stood and waited for Ray's luggage to make its way around the belt. He started to tell her all about himself, the unstoppable rise of Jock Stretch and the delirium of millions. She was all-ears now. She was surely starting to give in to the rhythm of the plot [10]. Two hours later Ray found his vast and tall frame rammed into a booth in a snug little bar in old Soho. It couldn't be that he was too tall, so the booth must be too small. England was no longer fit for giants. Ivich was sitting opposite him, candlelight whirling slowly around her face. She was not drinking her champagne as greedily as he would like. She was still going on and on about the story called Island Gardens by Ashley Stokes. He had made the mistake of asking her about it in the cab. He should have invited her to tell him all about herself. He still didn't know anything about her, if she was single or married, employed or work-shy, rich or poor, struggling or fulfilled. If he could procure this kind of intelligence he could work out how to pose as her protector. If he could pose as her protector she would show her gratitude. This bloody story, Island Gardens, sounded so rubbish that as far as Ray was concerned it ought to be banned [11]. It ought to be banned so he could lean forwards and tell her how marvellous, dusky and pretty she was, how she was unlike any woman he'd ever met, how although he had lain ______________________________________________________________ [10] I didn't know a great deal about Ray Gorse. He was a name that started to appear on bus stops and in the window of WH Smiths about ten years ago. No one I respect had ever recommended him to me and when, prior to teaching this course, I'd skim-read the first chapter of his novel Blunt Instrument I felt I had solved Ray in a couple of paragraphs. I didn't need to read any more. Ray Gorse, though, has sold millions of his Jock Stretch novels. They include: The Murder Greenhouse, Smash 'n' Crab, Real Men Do, The Pastrami Choke, The Swastika-Shaped Man and its sequel Blood on Hitler's Cojones. One of these titles I made up. If you can guess which one, contact me via my website and I'll send it to you. The Crash Hacks were having a right old guffaw with Ray. Later I would suspect that one of them, or all of them had confided in Ray their frustration with my feedback. India looked over to me and said,' He's very tall, isn't he?' [11] At the end of dinner, Howard, ripped to his tits on booze again, banged a dustbin lid with a ladle to indicate that the readings were about to begin. Ray gave me this horribly smug, careers-advisor look as I walked to a stage assembled from crates. At first I wasn't close enough to the mic, which had been adjusted for someone of Ray's height and had to restart my story Island Gardens because no one could hear. After this I did manage to read the whole thing through. ______________________________________________________________ beside many women in many places, in many proper places like Monaco and LA, the hang-outs of the tall, rich and successful, she was by far the prettiest. This wasn't true, but he would tell her anyway. He sort of loved her but she frightened him. Something about her frightened him and realizing this frightened him more. A girl who frightened him was useless as Jock fodder. Jock Stretch could not be frightened by an unarmed girl at the start of North Atlantic Storm Turbulence: A Jock Stretch Novel. It was sad to be frightened. Ray Gorse was never sad. Ashley Stokes, however, must permanently be sad, given the miserable end of the miserable story that Ivich kept gushing over as if she was writing an essay or a review in a publication that Ray could write for if he wanted to, like the London Review of Books or Let's Chat [12]. Island Gardens by Ashley Stokes was not: On a flight from New York, a tall, mysterious, capable man meets a pretty girl with a problem, etc, but: In Piccadilly Circus a loser waits for a girl who stands him up. Some scumbags give him some verbal. He doesn't kill them and cacks his pants. They find him later and it gets worse. The end [13]. ______________________________________________________________ [12] Island Gardens is the story of a man called Woods who at the outset waits for a girl called Varvara at Piccadilly Circus. They've had a bit of a thing in Berlin – he'd been her English language tutor – and Woods believes that the much-younger Varvara is his last chance for love. While he's waiting he attracts the attention of a rough-looking couple. There's an altercation. It baffles Woods, so he walks off. Realizing that the couple are following him he tries to lose them and heads for the flat in Docklands where he's staying temporarily. En route, he starts to dwell on his life. Lost in thought, he doesn't realize that the rough-looking couple are still following him. When he spots them on a train he starts to feel jealous of their unguarded public intimacy and perceives the gulf between he and they. When he arrives at his stop he makes a decision to return to England to give something back. Noticing that the rough-looking couple are on his tail he decides to reason with them. They attack him with a samurai sword. He dies. [13] I used to say I write about sex and death. Now I say I write about not-having-sex and death. Island Gardens, I know, sounds morbid and my morbidity has been noted by the only critic to pay me any attention, Mordechai Gythumper from the University of Gytz in Hungary and author of One Door Closes and Another Door Shuts: The Lost World of Ashley Stokes (Turgid Books, 2010). Gythumper's essay: The Bad Film Ends: The Lone Aesthete and Mob Rule in the Stories of Ashley Stokes (Womb, Tomb and Gloom: Essays on Unread Fiction, Mordechai Gythumper, Gytz Press, 2011) examines my stories The Prettiest Girl in Karl Marx Stadt, Touching the Starfish, Island Gardens and Lesser Lights in such detail that I suspect I invented then abandoned Doctor Gythumper and somehow he has made himself flesh. ______________________________________________________________ 'The thing is,' said Ivich, 'we're so very close to Piccadilly Circus, which must be fate, seeing as I first read Island Gardens on the plane, three times, mind you. Sorry, Ray, I just get every excited when I meet a new writer.' 'I'm glad you are,' he said. 'Getting excited.' 'This is very exciting.' Suddenly, it all became clear to him. This wasn't a bust or a wild goose chase. She was so excited by meeting a writer of his stature that she was gabbling due to nerves. He was an intimidatingly successful chap, after all. He tilted the champagne bottle over her glass. She put her hand over it. 'Oh, come on,' he said. 'I'm driving,' she said. 'I just paid for a cab …' 'The thing I most love about Island Gardens …' Ray decisively banged his large elbows on the tabletop. He was tired of listening. Ray Gorse was nobody's sounding board [14]. ______________________________________________________________ [14] I finished reading Island Gardens and returned to my seat. At least they clapped on my table. Now that the reading was over I felt empty inside. India leant over to me and said, 'that was brilliant.' 'Thank you,' I said. I assumed she meant that the story was easy to admire, difficult to love. Ray Gorse was now standing astride the stage carrying a gold-embossed tome. ______________________________________________________________ 'Look, I know it can be a bit intimidating meeting a big-name writer. I've not told this to anyone before but when I met Wilbur Smith at the Thick Book Festival in Toronto, '99, I almost pissed my Calvin Ks.' She leant back and crossed her legs in what could have been a very Basic Instinct way if she hadn't been wearing jeans. 'I don't consider myself to have met a writer until I have met him, or her, on the page,' she said. 'That's where they give themselves away.' 'All I've heard about from you is about some short story written by someone no one has ever heard of. If I've not heard of a writer they can't be very good, can they?' This was obviously going over her head. She looked quite confused. 'Think about it,' he said. 'This Island Gardens thing, I'll play it back to you. A sad sack, a loser gets stood up. So what? Who wants to think about losers, failures getting stood up? Then he gets killed. The hero gets killed? Only zeros get killed. Who cares about zeros Gardens who get killed?' 'Mothers and fathers,' she said. 'Brothers and sisters, friends and lovers, judges, police officers, human rights campaigners, crusading journalists, Amnesty International, Jesus.' 'Only in the bleeding-heart editorials of loony-left newspapers. Give me your address and I'll send you my books. I'll show you how it's done [15].' ______________________________________________________________ [15] Ray Gorse adjusted the mic to the level of his gob. 'Good evening,' he said. 'It's lovely to meet you all. Before I begin, though, and I have to admit that I usually reach for my Browning when I hear the phrase "Creative Writing", because such courses, taught as they often are, knock the originality out of you. You want to write; you want to write a thriller, right?' There was a mumble of approval from the Crash Hacks. 'The thriller is the original story. All stories are thrillers. As for so-called "literary writers", they're all jealous of thriller writers, those of us who deal in suspense. There isn't a literary novel that I couldn't write in two weeks but none of them could write what we do.' ______________________________________________________________ 'Would they be worth more if you signed them?' She lowered her eyes and smiled, smiled as if all the mysteries of history and death had suddenly been revealed to her. This was more like it. Jock Stretch was bobbing and weaving towards the line, barging the losers aside as he dashed clear of their cheap kit and runners-up medals. 'Look, this is the way. No one wants to know about losers. That's why all stories are thrillers. All stories. All the great stories. All the myths, all the legends, the epics, all novels, all the poems and all the plays. Anything that isn't a thriller isn't a story. Anyone who doesn't write thrillers is a fake who can't write a thriller. When you realize that, you're made. Here, let me have a look at that.' He masterfully swiped her Pictorial Jackson from where it lay on the table. He thumbed it through until he found Island Gardens. It was only eleven pages long. 'I could have written that in two minutes [16],' he told her. 'Worthless. All you need to know is that a stranger comes to town.' 'But in Island Gardens,' she said, 'a stranger does come to town.' 'To get stood-up and killed? A stranger can't come to town to get killed unless he's bait to get another stranger to come to town. And if the stranger who comes to town gets killed, how are you going to write book two and book three?' 'By writing about something else?' 'But it takes at least three books to get a franchise off the ground.' 'Then write about something less predictable.' ______________________________________________________________ [16] Ray craned forward to give me a harsh look that seemed to suggest I should be looking back at him like a rabbit in his Bentley's headlights. I wasn't, though. I was doing mental calculations. My last book had taken three and a half years to write. Ray Gorse writes about one a year. During the time it took me to write one book Ray should have written ninety-one. Lazy. ______________________________________________________________ 'But that's not what you really want. It's not what you need deep down. It's not what we must believe in, nor is it the great truth stories reveal to us. You need to believe in a hero. The hero must be heroic. He must fight and win. The bad guys' guts must be stamped into the ground. The bad guys must be smitten. You need to believe this to be smitten. You need to let it into your soul, don't you, Ivich? Are you smitten, Ivich? Are you realizing your needs? [17]' ______________________________________________________________ [17] Ray continued. 'I'll pass on to you the only advice that's ever been of use to me. Firstly, never use a long word where a short one will do. I'm sick and tired of literary writers and their long words.' Now, this left me a bit confused. I'm not sure about these literary writers who only use long words. The only writers I read who use 'long words' tend to do so for comic effect. I wouldn't advise using 'Bladyughfoulmoecklenburgwhurawhorascortastrumpapornanenny-kocksapastippatappatupperstrippuckputtanach' for 'whore', as Joyce does in Finnegan's Wake, but I would caution a writer like Ray not to use 'ho' in every paragraph of his novel Where Hos Fear to Tread: A Jock Stretch Novel (especially if you're not from some desperate, crime-ridden US city but Market Harborough like Ray). It struck me that if Ray was writing a sentence like the one I use in my first footnote here, 'I took the manuscript to a café and ordered mushrooms on toast', he'd write: 'I took the manuscript and ordered cultivated fungus on toast.' Some boilerplate hack gave Ray the 'shorts words über alles' tip and he's followed it with fanatical devotion ever since. But it's case by case, Ray. Each word needs a certain charge. Short can mean stunted. 'And there's no such thing as character development,' said Ray. 'People just are. Jock Stretch is just Jock Stretch.' If you believe this, you can never complain about anything that ever happens to you. You had no capacity to choose, to resist. 'And,' Ray said, 'there's only one story: a stranger comes to town.' Now I can accept that all stories owe something to Beowulf but not that this debt is best acknowledged by rehashing The Lone Ranger over and over again with ever-escalating levels of cartoon violence. I was thinking how come Ray's millions of readers don't get bored with a narrative formula that's: WOLF THREATENS SHEEP SHEPHERD KILLS WOLF SHEPHERD SHAGS SHEEP How is this suspenseful? You always know what will happen. And wouldn't Jack Knackers get exasperated when every time he strangers into a town he has to kill a wolf and shag a sheep? If this were my story I'd start with jaded bafflement as the premise: Jack Knackers got off the train. Oh for fuck's sake, not again. Put it away, man, let's have a pint. I was thinking as well that in The Great Gatsby two strangers come to town. And Nick Carroway is greatly changed by the experience. He's disabused. He matures. The other stranger, Jay Gatsby, dies, dies for love, but in doing so releases some of the most beautiful passages ever committed to paper. Is Gatsby a thriller, therefore? Or does it fail because it's not a thriller? What would you rather have on your Also By list? The Great Gatsby or Flick Knife Bunga: A Jock Stretch Novel? In the year that Fitzgerald died Gatsby sold only a handful of copies. It soon started to sell more copies year on year until well into the 1990s because it has something timeless to say and says it in a mysterious fashion. The sort of mass-market churner-outers that Ray admires, your Mickey Spillanes and Alistair MacLeans – their books died with them. No one reads them anymore. There's always a new Jock on the block to peddle the same old lie about life and its flux. ______________________________________________________________ She did now flash him her eyes like tilted CDs and reached out her hand. Just as he assumed she was going to slip her neat tiny hand into his brutal bear-like paw of a mitt she teasingly whipped her pinkies away and retrieved the Pictorial Jackson. She stuffed the journal into her bag. 'Let's go,' she said, 'it's getting stuffy in here and I could handle a long, cool lick of an ice cream.' Outside, the night was warm but breezy. Some of that turbulence over Greenland must be catching them up, gusting through London now to disturb the litter all over the pavements. They found an ice cream parlour. Ivich leant back, one foot pressed to the parlour's white wall as she stirred her tub, slowly, lasciviously stirring her tub and taking her time before she scooped the ice cream into her little mouth. He didn't order any for himself. He didn't think he should be seen eating a tiny portion of ice cream. He ordered a large jammy doughnut but knew that he ought to be holding a smoking gun to his lips and blowing across the muzzle, just like Jock Stretch on the cover of The Crime: A Jock Stretch Novel [18]. ______________________________________________________________ [18] Ray then gave a reading from his new masterwork, The Slaying Depot. Jock Stretch, Ray's alpha-penis vigilante, who travels around East Anglia slaying wolves and shagging sheep, is creeping about a disused McGuffin factory looking for a man with a gun. He has a fight with a man with a gun. The last lines were: 'Silvio was large. He came at Jock. Jock put his big weight into the punch. Silvio went down like a sack of spuds. Jock kicked him in the balls. He kicked him in the balls again. There was a nasty crack when he kicked Silvio in the balls again. In the balls. Kick in the balls. Silvio snuffed it. He was pissing with the sticklebacks now. There was blood all over his balls. ''Who loves yer, baby?' said Jock sarcastically.' ______________________________________________________________ 'Has that cleansed your pallet?' Ray asked as they sauntered away from the ice cream parlour. 'You've got red stuff dripping from your chin,' she said. 'Have you got a wet-wipe?' ''Fraid not.' With manful dominance he slashed the back of his palm across his chin. 'Where are we going?' he said, although he knew the answer. They were going to the Stalioni Hotel in Kensington for a nightcap on the roof terrace bar before the end of this particular Jock Stretch story: London Stopover. If he just added something about the Estonian nymph chambermaids on minimum wage nicking the guests' valuables and Jock Stretch killing the Bulgarian mafia warlords who pulled their strings while his stopover chick is having a shower in the nude he could send it to The Pictorial Jackson Review. Ivich would read it in six months time and think of him wistfully. He was about to suggest that now he had bought her champagne and ice cream, wouldn't it be great to wander back to Piccadilly Circus and hail a cab. They could head over to the Stalioni and look for shooting stars from the roof [19]. 'Do you know where I'm from, Ray?' she said. ______________________________________________________________ [19] 'Thank you,' said Ray and bowed to the Crash Hacks' enthusiastic applause. 'I'm happy to answer questions.' Crash Hacks asked questions. I didn't. I was thinking of a passage from David Mamet's Three Cuts of the Knife that I later looked up at home. 'Our endorsement of violence is … a compulsive expression of the need to repress – to identify a villain and destroy it. The compulsion must be repeated because it fails. It fails because the villain does not exist in the external material world. The villain, the enemy is our own thoughts.' After I'd first read these lines I knew that I would never be able to write a commercial thriller. I didn't mention this to Ray. He'd be well ahead of me. After all, he could have written each of Mamet's plays in two weeks, and in any case he was in full flow, explaining to Evan De La Zouch why his Jock Stretch novels are like The Canterbury Tales but better. ______________________________________________________________ 'I thought you were Dutch?' She huffed, like she was tired. 'I was actually born here,' she said. 'My father is English but my mother is from Iran, which she insists on calling Persia, as if nothing happened.' 'What happened?' said Ray. 'What happened?' said Ivich. He had lost track of where they were now; he didn't know London as well as he had when he was Miles Pemberton. He started to feel almost unsettled when they emerged into a deserted street market. The turbulence was definitely catching them up. As the wind tore at them, the awnings and the bunting on the stalls made a crackling sound. At the far end of the market something metallic crashed, then clanked and skittered. Something had been ripped free. Something was loose.  He thought, for a second, that he could hear voices carried by the wind, gleeful, ugly shouts. 'I think we should get out of here,' he said. 'Let's get a cab. [20]' 'What happened was …' she said. ______________________________________________________________ [20] India was trying to talk to me but the room was noisy now and I was brooding on Island Gardens. I hadn't meant it to be morbid. I hadn't on purpose omitted the Jock character that arrives in town just in time to save Woods. I had no choice in the matter. The story was based on something that happened in my hometown. A man out shopping found himself in a pointless and unprovoked altercation with some young men. They followed him and slashed him with a samurai sword. I couldn't stop thinking about this: the senselessness, the sadness. The story chose me, therefore. I did imbue it with a crushing sense of romantic longing and desire for temporal displacement that lifts just before the pointless murder: something is, after all, at its most beautiful immediately before it's destroyed. This is a cheap trick, though, one often deployed by non-thriller writers because we can't create suspense. I mention this because the narrative that Ray and his like believe in with such passion has never, once happened to anyone, ever. We are all strangers in this town, Ray. The stranger doesn't come to town. The stranger lives next door and over the road. The stranger is you. Get your facts straight, Ray. Open your eyes. Read the papers. Watch the news. Take a good book to bed. Do not write to be solved. I didn't point this out to Ray. I didn't point out that any of the Crash Hacks here could feasibly have written any of his books in two weeks, that his popularity depended on brute luck. He's not a writer; he's an entrepreneur. Why he feels the need to lower all stories to the level of the only dream that he dreams (look at me, bean counter, smiting the scum), why he insists on dismantling a house of books with many windows and leaving behind only a wizened turd on the cracked patio tells me everything I need to know about Ray. ______________________________________________________________ 'Can't we talk about this later? I know a place where we can look at the stars?' 'See, that's the thing. We can no longer look at the stars.' 'Who?' 'The Voskresenskis.' 'I'm lost.' 'I mean, my great-grandfather took us south to Persia to escape the Revolution in 1917. Lots of killing, you see. We lost all our money and all of our land. And for two generations we thrived in Tehran, running a bi-lingual newspaper.' He didn't want to tell her that this was boring – it sounded like the sort of story that would get on the Booker Prize shortlist but wouldn't win – but the gusts were getting stronger, the clatter and banging more frantic and those voices were louder and closer. 'But the big dark thing caught up with us again.' 'Ivich, this can wait, can't it?' 'You see, after the next revolution, the Ayatollah decreed that all the non-state newspapers were to be shut down, and when there were protests, well, the Party of God, they were let off the leash. I still don't quite know how mother got out, but my uncle …. They broke into the house. They beat him to death with chains. [21]' ______________________________________________________________ [21] I didn't say anything, though. I let myself be bullied by a bank account with a word processor (again). People would have said I was jealous if I'd argued. But I was thinking that Richard Yates died in an unfurnished, rented house with only two cans of Carlsberg in the fridge. Fitzgerald died with nothing but debts. Ray Gorse is made for life. Would such injustice be allowed in the world according to Jock Stretch? ______________________________________________________________ 'That's really horrible, Ivich, but let's talk philosophy later. C'mon.' Down at the end of the market, beyond the farthest of the stalls he thought he could see white flashes, the piping on tracksuits, he assumed, and the flicker of hands. 'Who was the stranger who came to town? Where was your hero then?' 'Look, I'm in the entertainment business … [22]' 'And I do have magic powers. [23]' The rainbow tint was still gleaming in her eyes but her mouth was pursed and her eyes closed. He realized that he might have come on a bit like a bull, not put his best foot forward or given a good account of himself. All night he had told her what he thought she needed to hear, what he was used to people wanting to hear. He'd been wrong. She was different. He should have broken in by subtler means. He could be subtle. He could. It was too late for subtle now. There was a shout behind him. It didn't sound friendly. He turned towards it. There were six of them, hooded, lithe, their black-gloved hands gripping crowbars and hunks of wood. He reached back for her, to hold her to him, to shield her. He couldn't find her. When he swung about he couldn't see her either, and it wasn't simply because he towered above her. ______________________________________________________________ [22] Are you going to let him get away with that?' said India. I didn't answer. I was thinking about Margaret Atwood's essay Happy Endings and how Ray could have written The Handmaiden's Tale in two weeks. 'Well, I'm going to put him straight,' said India. [23] Next time I looked over she was mooning up at him, playing with her hair and thrusting out her breasts and he was admiring her like a cattle dealer before a brood mare. He looked like he was about to chuck her under the chin and examine her teeth. It was too predictable. I didn't want to drink with anyone else and sloped off to my scriptborium. I left Saltsell in the morning, before any of the others had risen. ______________________________________________________________ She wasn't there. She had vanished. The kids without faces were stalking towards him, slowly, indefatigably. He girded himself, tried to remember all the combat moves he'd researched for Ambush Avenue, Headshot Honeymoon and Guts on the Cobbles. He was encircled. They were all around him. He wondered how many of his books they had read. This is your moment, Miles, he thought. This is where you show them how it's done [24]. ______________________________________________________________ [24] Two weeks after I'd received Not for Publication by India Emmott I found myself rather nervously entering The Manticore in Soho. I imagine a camera viewing me from behind here: splatters of rain glimmering on the shoulders of my leather jacket; the strap of my bag slanted across my back and tightening as I swayed; my head turning this way and that as I looked out for her. Candles on the tabletops. An old jazz standard plays (why always jazz for atmosphere? Why not Belgian Cold Wave synth-pop?). I note this thought, file it away for the future. Silverware sparkles, a gauzy mist seems to hang in the air, and there she is, wearing an indigo dress and rose-coloured ankle boots. She is reading a book, not one of mine but not one of Ray's. I sit down across from her. Smoke drifting from the candles seems to commingle with the tips of her hair. I slide her the envelope containing the story. 'The title's just come to me,' I say, 'in a flash.'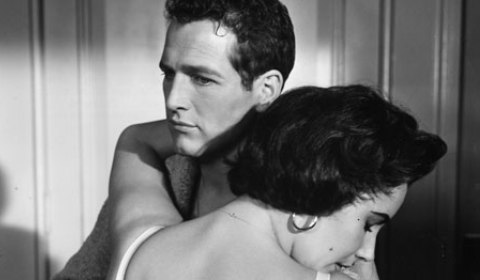 I have moved nineteen times in my life. These are the things I've lost. My bicycle broke on the trip from Poinciana Terrace to Pelican Avenue. My parents threw it away, but I still have a photograph. I am about eight, my hair is short and I hold the bicycle tightly. We moved from Pelican Avenue to Amaryllis Boulevard and I lost the saddle I'd thrown over a low branch of the mango tree in our garden. My grandfather gave me the saddle when my parents wouldn't let me have riding lessons. I cleaned it daily with saddle soap and Dubbin. I sat on it in the mango tree, pretending to ride an Arabian horse in the North African desert. "You'll break it," my grandfather said. "I won't," I said. "This is a saddle for trees." I got married because I wanted to leave the house on Amaryllis Boulevard. I left my mother and sisters and moved with my husband to a flat-roofed townhouse on Tamarind Road. I kept horses on a piece of open land on Dominion Way, but I lost the letters my first boyfriend wrote me. He was a soldier in the British Army, visiting Jamaica on a military exchange. The letters were in a shoebox and my husband threw them out. "What about my letters?" he said. My husband moved us to Toronto, Canada. I lost my horses, our dog and my cat.  I lost our flat-roofed townhouse and the curtains the dog chewed the whole way across the bottom. My grandmother's crystal bowls got broken on the journey. It was February and Toronto looked like a vast, frozen car park. We went back to Jamaica and I lost all our wedding presents – Baccarat, Wedgwood and Pyrex. They had been stored in a box in my Canadian sister's basement, she had moved and no one could find them. When my husband and I went back to Jamaica we had been in Toronto for only three weeks. "I cannot cope with the cold," he said. He was a runner and he jogged circles in my sister's basement, round and round and round, leaning to the center of his diminishing circles like a top winding down. I watched him, our baby son in my arms, wondering if he would come to a complete stop in the middle of the smallest circle and then fall over. He said we had to go home; Toronto was making him dizzy. We moved to the family house on Pelican Avenue. My mother had rented it out and left Jamaica, because she couldn't stand to see my father in public with or without his new wife. She saw him in the supermarket; he had never once done the grocery shopping when they were married. She saw them at cocktails and Christmas parties, and then her invitations stopped coming. The tenant at Pelican Avenue gave up his lease just as my husband and I moved in. I looked for the saddle in the mango tree but it was gone. The townhouse, the horses, the wedding presents, the bicycle, the dog and cat were all gone. My husband went back to his old job. I left him and I lost my young son. I lived in a one-bedroom ground floor apartment on Constant Spring Road. It was the 1970s and Jamaica was at war with itself. I had a mattress on the floor and a rocking chair and a cooking pot. My husband had given me the rocking chair for my twenty-first birthday. He knew I thought I was old. The card said: "To comfort you in your declining years." At Constant Spring Road, I ate baked beans straight from the pot and combed flea markets for furniture. When gangs had gunfights in the parking lot, I hid my sleep-over son under the bed. "Shh-shh," I said, my hand lightly over his mouth. My son does not remember this. The landlord gave me notice and I moved from Constant Spring Road to Old Hope Close. I lost my son's tricycle and his Lego set. On Old Hope Close, I lived with my Jamaican sister. We made muffins together and ate them for breakfast. That was the only time we saw each other; we both slept at our boyfriends' houses. We kept clean underwear in our handbags. Once, as I rooted for my wallet in the supermarket, the cashier noticed my panties.  I worked at a bank, I went to university at night, I took up running like my ex-husband. I visited my son. When he saw me, he'd say, "Not going to take me away, Mommy?" I lost the red Armani jacket and the Chanel chain belt my sister and I took turns wearing. I met another man, a sculptor, and lived in a renovated lighthouse on the coast.  He used the lighthouse as his studio. He had inherited money, so it didn't matter whether or not he sold his work. He was married; he and his wife had an understanding. He partitioned off a room for me in the lighthouse; I furnished it with a four-poster bed and my rocking chair. I thought his daytime visits romantic and agreed it was better to be a mistress than a wife. I had an art collection, a brand new BMW and days with the boom of the sea. Nothing grew in the garden, so I made landscapes of rock and sand. Then the sculptor said the salt air was making his sculptures rust, so he built a house in the mountains. When we left the lighthouse, I sold the four-poster bed because it was too big for the rooms in the mountain house. And all my photo albums disappeared. The house in the mountains was uncomfortable. It too faced the sea and the breeze was fierce. I looked at the view through plate windows that bugs and birds dashed themselves against. My ex-husband was dying and my son was coming to live with me. The sculptor said no; he couldn't be a parent, not even part-time. I told him he was a slimy piece of shit and moved to an apartment on Carvalho Drive. I lost my BMW and my art collection. I lived at Carvalho Drive. I worked in a travel agency and hoped for a client who wanted to go to the North African desert, but mostly I dealt with housewives flying to Miami on shopping trips. I had a young boyfriend with muscles and no conversation. He threw pebbles against my windows at two in the morning and I let him in. The apartment had a spare room I called my studio. I painted bad still lifes in oils; jagged pineapples, stone jars and enormous, lumpy lemons from the tree outside. I made curtains out of swags of material held together with safety pins. I arranged statice in hand-woven baskets. My son and I cooked dinner together and he asked about his father, who was in hospital in America. He did not die and when he came out of hospital I lost my son again. I married another man and moved to Starfish Heights, where there was a ghost.  No one would visit because things moved by themselves in the spare room. One day my husband hit the cook and I left. I lost an antique planter's chair I'd bought but he'd renovated. From Starfish Heights I went to a fully-furnished flat on Cedar Valley Road. My furniture went to my Jamaican sister, whose house had three floors. I met another man, recently divorced, who within a few months insisted I move in. "Your place is too small for both of us," he said. We looked for a house together. He was hard to please and we settled on a house at Seaview Place with a preponderance of concrete. I moved in and retrieved most of my furniture from my sister. He went on a six-week sailing trip. Two months later, I went away to see a friend who was ill. On my return, the man collected me at the airport and said he had met someone else. I walked out of Seaview Place with the carry-on luggage from my trip. I went for my things later, walking through the house and putting masking tape on everything that'd come with me. I discovered his new girlfriend had thrown away my running shoes and the collection of stone jars he had given me. "You always paint the same jar," he said on my thirtieth birthday. "Now you have many to choose from." I lived with my Jamaican sister, her two teenage daughters and my furniture. She had a spare room in the loft – it was hot up there, but she could afford to run the air-conditioning all the time. I could never find clean underwear because everything got mixed up in the washing machine. She cooked elaborate meals and I tended her wilting plants. "Why do my plants always die?" she said. "Too much sun, water, fertilizer, or too little," I said. "It's a minefield," she said. When I moved to a studio apartment on Canyon Road, the first place I owned, the moving men stole my jewelry box. I lost two wedding rings, two engagement rings, a promise ring, an emerald choker and the diamond earrings my son's father had given me the day he was born. I rented out the studio apartment and moved to Vancouver, Canada. I went to graduate school. I lived in student quarters with five other people I hardly saw. They were very young. I walked to school in the rain, carried my books on my back and ate ramen noodles. I hiked in forests that never stopped dripping. I hung posters of Jamaica on the wall and my son visited. He said being in graduate school made me the coolest mother on the planet. When I moved back to Jamaica, I lost my hiking boots and all my papers. I don't know what happened to the hiking boots, but the postman put the cardboard box with all my papers over my sister's gate while we were away for the weekend. The October rains came and the box disintegrated. Everything I wrote was lost, along with the comments of my professors. I got a job with the government, writing policy papers. I sold my studio apartment and moved to a cottage I'd long wanted to live in. It came up for sale and I bought it. It has a steeply sloping shingle roof, dormer windows, an alley kitchen and a huge bedroom loft with a skylight. It sits among guango trees and there are often leaves on my living room floor. Except for two journeys out of Jamaica, a circle drawn around all the places I've lived would have a diameter of about ten miles. In the cottage, my easel sits under the skylight. I have a birdbath and a bird feeder, a fish pond and a spaniel named Shane. I think carefully about who visits. A woman telephones one afternoon while I'm watching the birds. She and her husband have bought the house on Pelican Avenue and there are some personal effects in the storeroom I might like to have. I remember the dribbling pipes and the scurrying insects in that low, dark storeroom. It's not surprising things were forgotten. "How did you find me?" I ask. "Oh, Jamaica is a small place," she says. "I'll come on the weekend," I tell her.  "What time suits you?"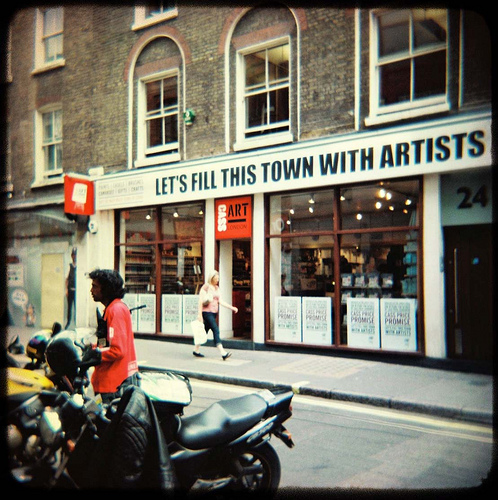 There won't be any more taunts. They call him 'Veg' but from now on they will call him 'Meat'. They call him Veg because his name is Johnny Leek. Kids can be so cruel. But these kids just lack imagination. They will call him Meat now, because he is ripped. He's chiselled. He's been sculpted by Muscleangelo. He brings the abdominal domination. Meat says he can't go to school in a short-sleeved shirt anymore because he'd get suspended for bringing his guns to class. Meat's best mate Stumpy promises he'll call him Meat. "I'll call you Meat," he says, "as long as you call me Tom." Meat and Stumpy are fifteen. Meat tells Tom that he would give anyone who called him Stumpy a critical beat-down. Stumpy believes Meat. Meat goes home from school and eats a protein shake while he watches Neighbours. Slurp. Boy that Andrew is shredded. Check out the biceps on the Aussie chump. No wonder the girls love him. Slurp. Karl Kennedy better recognise he'll be losing the most bangable older lady on TV if he don't shape up and start crunching his abs. Too much jelly on the belly, Karl. Slurp. Toadie, get off my screen you lump of lard. I'm gonna sue you for crimes against gym membership. I'd like to see you defend that. Slurp. After Neighbours, Meat goes to his room. He lies down on the floor, legs straight, arms stretched out to the sides as far as they will go. He's like an awesomely cut cross. Meat wraps his fingers round the handles of his one-kilogram dumbbells and lifts them off the floor. He breaths in deeply, pauses, then pushes air out of his lungs as he brings the dumbbells together above the centre of his chest, arms still fully stretched. Meat stares up at the ceiling. A poster of Ronnie Dean 'Big Ron' Coleman, Mr Olympia 2009, glares back at him. "You think five reps on 1KGs is good–do you, Meat?" he hollers. "Lightweight! I bench press boys twice your size. Look at these guns, Meat. Look at them! I could start a military coup in Africa with this hardware. Yeah, buddy!" Meat pushes his reps to twelve. He lies in the cross shape and rests for ten seconds. Ronnie smiles, "Now the crunches, buddy. You think you gonna win a fight without crunches? Crunches beat punches!" Meat brings his hands up and lets them hover by his temples. His mum calls. "Jonathon. Jonathon?" "Yeah?" "Dinner's ready, darling." "OK." Meat stands in front of the mirror. He flexes the pecs. He presents his biceps. He tenses his stomach. It's all good. Meat is carved out of wood. * Meat is on a run. It's dark and cold, one of those nights so fresh the air feels edible. His throat is starting to hurt. Breathing in that air is beginning to burn. Each breath he takes, he takes with a wince. No pain, no gain. In it to win it. Just do it. Meat stops when he gets to Stumpy's house. Stumpy's dad comes to the door. He smiles at Meat and ruffles his hair. Meat shakes his head away. "You wouldn't ruffle Dexter 'the Blade' Jackson's hair, would you?" he says. "I don't know who that is, Johnny," says Stumpy's dad, walking away. Meat runs upstairs to Stumpy's bedroom. Stumpy is sitting on a small chair and playing Xbox. The headset is too big for his head. Meat checks himself in Stumpy's mirror. "You wanna go do something?" Meat says. "Alright," says Stumpy. They walk to Dane John Gardens. Stumpy walks on tiptoes and stretches his hands as high above his head as possible. Meat walks by lunging. They arrive and sit on the swings. Meat says he would bench press Sally Coleman as many times as she wanted. Stumpy says once he defeats the big boss at the end of level fifteen, Josie Caverhill will be so impressed she'll eat his face for breakfast. "Stumpeeeeee!" A voice cuts through the night. "Oi! Stumpy, you nobber." Meat looks at Stumpy. They both recognise the voice of Matt Mallor. Mallor emerges from the gloom and stands in front of them. "What are you two swingers doing here? Gayboy batty sex?" Meat and Stumpy are silent. "Veg, you skinny chimp–are you a mute? Why do you insist on bumming Stumpy? You into bumming little children?" "Don't call him Veg," says Stumpy. "His name is Meat." "Meat? Ha! Shut up, Stumps. I'll do the naming." "Shut up yourself," says Meat, jumping off the swing. "Just shut up! I'm called Meat cos I'm packing beef. He's called Tom, not Stumpy." "Ooooh," says Mallor, "suddenly grown some hair on your nuts have we, Vegetable? Standing up for your life partner? Look, Stumpy, your boyfriend's finally got pubes. When you gonna catch up?" Meat stands taller and eyeballs Mallor. "Don't. Call. Him. Stumpy." Meat pushes Mallor in the chest. "Ha!" Mallor laughs, "what was that?" Meat pushes him again. Stumpy is still swinging, rooted to his seat in fear. Mallor laughs again. "Why don't you punch me this time, Veggie sausage?" Meat throws up a jab with the right. Mallor catches his fist and twists it. Meat bends round to try and counteract the twist. Pain shoots out from his tendons. He tries to swing a punch in with his left. Mallor kicks him in the crotch. Meat doubles over and then Mallor kicks his shoulder so he falls on the ground. "You two are the biggest pussies I know," Mallor says. "Go back to your rooms and play with your cocks in front of your Xbox." "One day I'm gonna kick your ass," Meat mumbles into the grass. Mallor cackles and walks back into the darkness of the park. Stumpy gets off the swing and helps Meat up. "Thanks for sticking up for me," he says. "I reckon you almost had him there." "I told you I'd do it, didn't I? I told you I would. Next time I'm gonna give him a proper critical beat-down. Next time he's gonna be sorry. I just need to get more ripped. Two protein shakes a day. Twenty reps. Twenty crunches." "I'm going to stretch till I almost split." They get back on the swings. They start to swing, getting higher and higher. "I'm gonna get swolled." "I'm going to get as tall as that tree." "I'm gonna get so thick people will think I'm two guys combined." "I'm going to be taller than a basketball hoop." "I'm gonna be jacked." "I'm going to have legs longer than Matt Mallor's whole body." "You wait, Tom. We're gonna be massive one day. I promise."
Ali Smith is called "astonishing" by the New York Times and a "a genius" by Alain de Botton. Her new novel is based on her lectures to Oxford University. She talks to Fleeting's David Whelan about lost stories, reversing the past, and her mother's cooking. Would you like to send a love letter to anyone? Yes. Here it is. Anyone, I love you. If you could reverse or bend a moment in history into an outcome regarded as the opposite of what happened, or at least as substantially different, what moment would it be? I'd replace Hitler with Chaplin. I'd give Keats, Burns, Austen, Mansfield and Plath full long lives. I'd resuscitate all the butterfly species that've died out, and bring back all the lost varieties of apples. Assuming others will already have dealt with war, poverty and disease. Why won't the aliens step forth to help us? They are busy with their own histories. Do you ever wonder after the stories stolen in Mr Hemingway's valise on the platform in Paris? Yes, I do – I wonder whether the person who found or took that suitcase read them, or liked them, or found him or her self years afterwards thinking of the stories they found in the suitcase one day and read.  I wonder where they ended up, where exactly the paper they were written on broke down and mulched itself away, or disappeared into landfill, or … Maybe someone published them under another name.  I hope, if whoever found them burned them, it made a warm difference to a cold night and someone's cold hands. Would a small red balloon cheer you up? Invariably. Do you ever devote yourself to making a cake and then sit down and eat it? No, I was psychologically scarred by my mother's weekly baking regime and as a consequence I never bake. Of which lost or destroyed culture are you most fond? The 1960s Greek musical. If a gentle specimen of livestock passed you by en route to its slaughter, would you palm its rump? No. I would inhale the scent of a fellow being and look at the way it moved and how its skin sat well on it. Then I'd offer the person taking it to slaughter three magic beans, and I'd take the gentle specimen back with me to live on the farm overrun with animals whose lives have been exchanged for magic beans. (And when I am on the slaughter road myself, I will hope to meet someone who'll do the same for me.) Do you favour a day of the week? I actually quite like not to know which day it is. Are you happy? More often than not. Do you believe in ghosts, or want to believe in ghosts but really can't, or dismiss ghosts outright? I've never seen one, but I like listening to people who have tell me the details, which are usually very pedestrian, a fact I find really interesting. Even ghosts are subject to conventional narrative realism. Ali was interviewed by David Whelan, who asked questions from his copy of The Interrogative Mood: A Novel? by Padgett Powell.
November 2009 proved to be the end point of one the great literary hunts of recent times. Brooke Magnanti revealed herself to be the elusive Belle de Jour, author of two best-selling diaries about her experiences as a London call girl. She talks to Fleeting's David Whelan about her love of ancient monuments, where she sits on the Periodic Table and entertaining aliens. What would be the most fun thing you could do, right now? Grab a kayak and go for a paddle. But it looks like it might rain. If you were now thirteen again, what would you do that you did not do when you were thirteen the first time, and what would you not do that you did? At thirteen I didn't do much apart from study, read, and go to the beach. I'd study less and go to the beach more. Oh, and learn to ride a pushbike. Didn't learn that until I was sixteen, which was a very silly thing to put off. Are boys meaner than girls, or vice versa? Girls are meaner. Always girls. Boys are louder at it but girls are more effective. It's what we have instead of political clout and fists. Of which lost or destroyed culture are you most fond? Middle Kingdom of Ancient Egypt. Ask me about obelisks next time you have a few hours and a suspension of disbelief to spare. No aliens are involved, promise. Why won't the aliens step forth to help us? They're trying, but because they're not carbon-based, we don't recognise them as living nor their actions as interventions. Or maybe they're watching from afar and laughing. I'd like to think we are at least entertaining even if only in a Jerry Springer sense. Is the sky the limit? No, but the edge of the universe might be. Then again it might not. Can you tell I read too much Carl Sagan as a kid? Are you much of a cook? I love to cook. Am obsessed with things that ferment, and the airing cupboard is full of gently bubbling cider-to-be. I also do a bit of charcuterie, bacon, chorizo, and salt beef. Could Mendeleyev place you correctly in a square on a chart of periodic identities, or would you resonate all over the board? Helium. For a long time it was thought I bonded with nothing, but it turns out if superheated to plasma form I can just about join in with an excimer. If you learned that you would expire tomorrow at 5pm, what would you seek to do until then? Eat more cheese, get drunk, and sit outside watching the sky. With so few hours left there wouldn't be enough time to talk to all the people you'd want to so best to chill out alone. Do you believe in ghosts, or want to believe in ghosts but really can't, or dismiss ghosts outright? I want to believe in ghosts. In the same way I want to believe in gods and homeopathy. A capacity for faith probably makes life a little nicer in so many ways. But sadly I was not, as Lady Gaga might put it, born that way. Brooke was interviewed by David Whelan, who asked questions from his copy of The Interrogative Mood: A Novel? by Padgett Powell.
Nic Kelman's debut novel girls was a Book of the Year in The New York Journal and The San Francisco Chronicle. In 2011 he sold his screenplay, Genneris, to Steven Spielberg, and is now writing a movie for Warner Brothers. He talks to Fleeting's David Whelan about anguish, Turner, and the bioelectrical phenomenon we call "ghosts". Who is your favourite painter? Turner. There's something about his particular flirtation with the abstract which never quite becomes divorced from representation that moves me tremendously. The lens he gives us to see the world exposes a certain collection of emotions and realties I wish I could see all the time. And as if that wasn't enough, I wish I had his dedication to my own work–I, for one, believe the story about having himself lashed to the ship's mast during a storm in order to better understand his subject. Are boys meaner than girls, or vice versa? They're different. Girls have a knack, I believe, for intentionally crafting and causing emotional anguish the likes of which boys aren't even aware exists until they are unfortunate enough to be on the receiving end. Boys, on the other hand, perhaps because of this very ignorance, can be just as mean in their thoughtlessness and disregard for other people's emotions. Not that there aren't intentionally cruel boys or selfish, thoughtless girls. Would you like to send a love letter to anyone? My fiancé, Ana Tajder. We're getting married September 1st. Congratulations. Why won't the aliens step forth to help us? Because even they're governed by the Laws of Relativity. Do you believe in ghosts, or want to believe in ghosts but really can't, or dismiss ghosts outright? I believe there very well could be some phenomena we don't understand that we call "ghosts." The bioelectric field we generate is quite intense and the idea that it could leave impressions behind on particular physical locations in moments of intense anguish doesn't seem that far-fetched to me. Then if people (or animals or young children) are particularly sensitive to external effects on their own bioelectricity, maybe this is what we call "ghosts." There are certainly more things in heaven and earth… Of which lost or destroyed culture are you most fond? There are so many it's hard to choose just one, but if I had to, I would say Victorian England. The primary characteristic that attracts me to any lost culture is to what extent they valued human qualities over material gain and society over the individual. Thus Classical Greece and Rome and Shogunate Japan are also among my favorite lost cultures, but I think Victorian England may have reached the pinnacle of holding honor, integrity, and "the greater good" higher than the qualities we seem to value today. Now, of course, I am well aware that Victorian England was also exceedingly cruel and unjust in many respects (as were the other cultures I've mentioned), as well as highly financially motivated–whether because of its labor laws, treatment of native populations, or licensing of the first global mega-corporations. And one only has to read any Victorian novel to see reference to how many pounds a year a character has as one of their defining qualities. But when you really study the history of Victorian England or examine its art, you come to see that on the individual level, a great many important decisions that shaped the course of the history of the entire world were made on the basis of holding personal the greater good above any sense of personal gain–including financial. And ultimately I think this is something we could benefit from today, however enlightened we may believe we have become in other respects. Our enlightenment, particularly for the last 30 years, has struck me more as good public relations with our own consciences than it has as any real humanitarian progress. Have our lips ever done what we wanted them to? From Demosthenes to Obama, the orators seem to know what they've been doing. Modern advertising and PR seem to be, unfortunately, very effective. Every time I go to the opera, they seem to be managing. And a kiss is never just a kiss. Nic was interviewed by David Whelan, who asked questions from his copy of The Interrogative Mood: A Novel? by Padgett Powell.
He spits over the side of the tower and pats the handle of the revolver in his belt. The first silver line of dawn traces the outline of the mountains and he realises he can hear water. He has heard it before in the morning but never this clearly. Even the night air feels as if it has been breathed a million times, as if some desert djinn is panting stale air straight into his lungs. The snows are melting in the high Kush, sending emissary streams needling down the slopes, feeding the wadis of the plateau, the poppy fields that glow red in the foothills. As the air around lightens, he can make out the stream in the distance. He'd passed the dry bed a few days before, with the Multiple on foot patrol – eight hours with guns, ammo and water, climbing into the nearest hills, always walking with one foot tapping the ground ahead like a blind man's cane. They'd found an IED on the main Lashkar Gah road. A basic device buried under a mound of blue-grey aggregate. Later, he'd stood for a while in the centre of a poppy field, the heads of the flowers nodding in a warm breeze. He picked one and tore the petals off. On the way back they'd crossed the riverbed which now babbles with dark water. He leans out over the side of the watchtower. The sun begins to rise, and not with the pink diffidence of the sun at home, but already white and cruel as it explodes over the peaks of the Kush. The coming of the light changes the sound of the water. His throat is dry and he reaches down to his belt for his flask to find it missing. He doesn't know who has been taking his things. It has become part of a more general deprivation he barely notices. He came here because he thought it would make something of him; in fact it is unmaking him. The road leading up to the gate of the compound is lined with Hesco barriers. They look fragile, almost transparent. He imagines them as Chinese lanterns, imagines lighting them and seeing them float up into the pale sky. He looks at his watch: an hour to go. He lifts his binoculars and follows the course of the stream. A mile to the east it passes under the lip of a rocky levee and fans out into a pool. It looks cool there in the shadows by the rocks. Silver flowers open and close on the sandstone lip that juts above the water as the sun catches the stream. He hasn't swum since he's been here. He remembers swimming with Marie. They rushed past Dawsholme Park, over the canal, and then they were in the countryside. They pushed their bikes up the steepest part of the hill and then stood on the crest looking down. Two lochs – Jaw and Cochno – separated by a narrow isthmus. After their swim, when they dried off on the banks of the loch, she looked around with quick, narrow eyes and unfastened her bikini top, letting the sun and his gaze fall upon her as she stretched out on the grass. When he kissed her it felt like they were swimming again, nervelessly, over deep water. It is time for his relief. The sun is higher now, near-unlookable. He hears the reveille – a short, brutal blast over loudspeakers, and the clatter of breakfast being prepared in the mess. Someone is singing in the shower block. His relief is late. The sun detonates above him, raging into the space behind his eyes. He's aware of every patch of exposed skin. He tries to think of Marie in the loch, but it is too distant and cool a picture. He looks over towards the pool of water and sees it is still in shadows. He feels an urgent need to swim. He imagines standing on the lip of the levee and hurling himself into the water. An hour passes. He is sitting in the narrow band of shade on the floor of the watchtower, not even pretending to keep watch. Every so often he rises and scans the maze of tunnels for sign of his relief. He knows that they want him to leave his post. That some shameful plan was hatched over beers in the mess last night, the snaking path of its plot ending in his humiliation. He feels himself pitching as if on a boat. He rises again, but this time, binoculars to his eyes, he looks at the pool. More than anything now, he wants to feel water on his body. He would choose swimming water over drinking water. He knows about the water gardens in this part of the world, the wide avenues of whispering trees and fountains. There is a religion of water here. He can understand that. He can see that God is dancing in the water under the levee. He climbs down from the watchtower. His joints creak, his binoculars slap against his neck, his sweat spirals to the ground beneath the ladder. He pauses at the compound gates. With a sudden instinct, in the free space where solid thought forms, he reaches out and opens the door that is set into the right-hand gate. Still walking, he steps through and out into the world. He sets off briskly across the fulvous earth. His feet are scorched by the heat, torn by the sharp spines of scrub, cut on rocks. He begins to run. He takes off his jacket and lets it drop to the ground behind him, peels off the white t-shirt to reveal a bone-thin body. He doesn't even think about IEDs. He draws in a deep breath of air and lets it out with a low, delighted whoop. In the mountains above he catches a momentary flash of sun on glass, ignores it, and presses on. He is sprinting now, leaping rocks and brush. When he comes to the levee he looks back to the compound and sees the watchtower is still empty. He undoes his belt, pulls down his trousers, his boxer shorts, is suddenly pleased by the burn of the sun on his body. He edges to the lip of the levee and stands there, angeline on the rim of a cloud. There is a crack, and it is the sound of a body plunging into water, the sound of thunder, the sound of a rifle shot in hill country. He plunges downwards into this water that remembers when it was snow. Water that wound between grazing goats, through poppy fields, beside the small house where two of the young men live who now stand above the stream, looking in. The water carries in it iron, zinc, silica, traces of goat and human faeces, the spit of a grandmother from Chitral, opium and poppy stems, the petals of flowers from a wedding at Kachil, potassium, magnesium, gunpowder, human and dog urine, the sweat of a man who bathed that morning at dawn in Tang e-Gharu. Despite the weight of all this, the water bounds along the stream bed, dancing and tear-clear. The young men shoot their guns into the pool for effect and then scamper back to the truck at the foot of the levee. Already the force of the current has carried his body onwards, over jagged shallows where it roils white, into another, deeper pool, where swimming creatures are congregating, insect larvae thrusting themselves from the bed into green depths. His foot snags on a root and he is caught, trembling, in the stream, his eyes wide and bright under the water. A plume of blood escapes like the ghost of a watersnake from the hole in his head, is caught by the current, and carried away.
There is something in the nursing home that turns young people into Gods.  The elders think our blood is made of light, and that a pinch of cheek, a smoothing of hair, a hand on a shoulder will kindle their bodies with everything we have. There is a lady here named Agatha who thinks she's twenty years old, make-up applied by perhaps a toddler with Crayolas, hair extensions like strips of arid meat, save the bald patch at the back of her head. She smokes cigarettes, her mouth an industrial furnace of pulmonary fibrosis, bronchitis and nuggets of cancer. Her idols are Jodie Marsh and the Kardashian sisters. A man called Parkinson riddles in – Sinatra's skeleton, the kind who once wore a Mohawk, would put his hand up my sister's skirt if his back wasn't so bad. His gums stick and whistle when he says the riots were basically a Jewish problem, and reveals scars along his hands and arms. He used to be immortal. Then you've got the cross-worders, the telly-watchers, the tortoise-movers, the food-through-tubers nodding off in their chairs, drool dangling off their chins like money shots. A hint of life. Grandma's room is a clusterfuck of varnished model cats and shiny statues of children skipping. She talks to her budgie like it's the samsara of everyone she ever held or touched. She tells me to experience as much as I can, I might never have the chance again. I sit down, Noel dances past boxfuls of money on the TV and the elders look in pairs at the clock on the wall and at the bottom of its face we are like punctuation marks, tiny as full stops.
We find there are fewer dinosaurs when we learn how the skulls age. Shifting horns, bones that thin and smooth, holes that form like some desires do. Changes we couldn't anticipate, knowing mostly our simple, fusing domes. You begin tweeting. I learn about your suits, videos, jets, pillows, the new words you picked up overseas. You take a picture of your diamond and gold teeth. You make a joke about a crown so lovely I see it on nymphs in daydreams. Sometimes I see my curly, muddled hair outlined in the morning dark and think I'm the lovechild of actresses and lions. But today I see the functionality of my face and not whether I'm beautiful. I'm so very animal. I remember and curl my lip.
I came home and saw the words FUCK YOU painted in big red letters on our front door. Sloppily done, but interesting of him to use the English. I stepped inside, closed the door and waited for my wife to come home. "What do you think of your son's work out there?" I asked. "My son?" my wife said. "His little message," I said. "What he wrote for me?" "My son did not write that filth." My wife's son no longer lived with us. He had behavioral problems. He had been dealt an ugly hand, but he was not my problem. At least, I hadn't thought of him that way. "If he didn't," I said, "who did?" "I have no idea," she said, "but I know it wasn't my Nicky." The possessive on the endearment ended it, but it didn't stop there. The next day when I came home the word AMERICAN had been added below the FUCK YOU. "This isn't cool," I said to my wife. "You need to call his case worker and—" "I told you, my son has nothing to do with that garbage. Nicky doesn't use such language." "Nick," I said, "is a big, angry boy. He knows that word and many others just like it, believe me." "Why would I believe you? This is my son, my blood. I know my son. My son did not do this trash." We were newlyweds and I was in a different country, with a different language and culture. I tried to give lots of room to this, to the inevitable misinterpretations that arise. I tried to be extra patient and understanding, but the next day KILLER was added below AMERICAN and FUCK YOU, even larger, even redder. "Carla," I said, "please. This has got to stop." "What?" she said. "Did you happen to notice what was added today? Did you see the word killer out there, on our front door? You know what this means? The words?" "Of course," my wife said. "You think I'm blind or stupid or what?" "Carla. So you saw what your son wrote? This doesn't bother you?" "My son did not—" "Carla, okay. Well, it's not okay. We've got to do something. Paint over it at least. Start there." "Why?" "What do you mean why? It's not right. The neighbors. Me. Us. A million reasons." "It won't help," my wife said. "What do you mean it won't help?" "It'll just come back," she said. "What'll just come back?" I said, losing my bearings. "What do you mean it'll just come back?" "The truth," she said. "What are you saying to me?" I said. "Who painted that?" "I have no idea," my wife said calmly, walking toward the bathroom. "For all I know, killer, it could've been you." I looked at the bathroom door in astonishment. I heard the shower start. Then I went to our closet. There was a can somewhere, a big can of blue paint leftover from the table I did for her father. I'd have to paint it all and sure, we'd look like we belonged in some Mexican village, but I didn't care. I found the can and brush and I opened the front door. I worked the lid off with my Swiss army knife, dipped the brush in, but then I stopped, stopped by the words that had been written. I re-read them: FUCK YOU AMERICAN KILLER, in those big, sloppy red letters whose borders looked like suspended tears. I thought of my wife's words, I thought of how futile it had been. Blue dots were appearing on the floor. I acted quickly. I added an "S" and then a gigantic exclamation point. I looked at my work, then I went inside, washed the brush in the kitchen sink and put it and the can back where I had found them. I sat down on the couch. I poured myself a glass of water and waited for my wife to finish cleaning her body.
In rich, elliptical studies of London and its cynosures, Peter Ackroyd has become one of Britain's most esteemed historians, and biographer of London itself. "London contains every wish or word ever spoken," he wrote, "every action or gesture ever made, every harsh or noble statement ever expressed." With typical concision, he tells Fleeting's David Whelan about God, happiness and personal identity.   Of which lost or destroyed culture are you most fond?   Classical Greece. Do you believe in ghosts, or want to believe in ghosts but really can't, or dismiss ghosts outright?   I don't believe in ghosts but I am frightened of them. If you could design a flag for a nation, what color or colors would predominate?  Blue. Wasn't there a day on earth when not every soul was possessed of his or her own petty political and personal-identity agenda?   Judgement Day. Could Mendeleyev place you correctly in a square on a chart of periodic identities, or would you resonate all over the board?   I don't belong in a chart. If you could reverse or bend a moment in history into an outcome regarded as the opposite of what happened, or at least as substantially different, what moment would it be? Wolfe's capture of Quebec. Are you happy?   Sometimes. Would a small red balloon cheer you up?   No. If a gentle specimen of livestock passed you en route to its slaughter, would you palm its rump?   No. Would you like to send a love letter to anyone?  To God. Peter was interviewed by David Whelan, who asked questions from his copy of The Interrogative Mood: A Novel? by Padgett Powell. 
The door that changed my life was a simple, gray, metal-clad fiberboard number: industrial solution for thousands, maybe millions, of entryways across the planet, or at least the tri-state area. I could not find a bell, so I rapped on the metal frame. I used to dread knocking on doors. Most of the time no one answers. Homeowners can tell there is something not right about me, something that sucks irreplaceable time right out of them before I've started my pitch. I am sure the man who answered that door did not want my encyclopedias; but he pulled it open without waiting for me to start. And before I could think, I stepped in; and, counter to all my training, I waited. I waited, and he twisted slightly to his side to let me pass deeper into his house. "All the knowledge worth printing, in twenty-six volumes, with an update service to keep you apprised of what our expanding culture has gained in the just-ended year." I was in the hall. Pictures of absolutely nothing on pale green walls. A decorative and useless rentkeeper's table in a corner. He smiled a homeowner's smile, his forty years, maybe more. I could tell I had no sale. There was nothing here that spoke of an increasing knowledge. But every transaction seems like no sale, and men like me live off the unexpected. "You can cancel the service at any time," I said, "but the knowledge will keep piling up." At the end of the hall we emerged into a den. A couch covered in a knit blanket. A set of six-month-old magazines on a three-legged table. And, in the center of the room, his wife. Slowly, she bumped about the walls of her aquarium. In traditional fashion, she wore no top, and her eventful human breasts were pressed to the glass, the force of her fluke flattening them into bullseyes. Slightly below the waist she turned into scales: lovely, round-tipped pieces that overlaid one another and became as solid as armor, shimmering down to a tail that curled free in the water. It was a large aquarium. I had seen these couples before. Taciturn. Usually not keen to be disturbed. Unlikely customers. You catch a hint of the fluke, and typically you're smartly out. A whiff of mechanically filtered salt water and it's on to the next house. I'm no idiot. I knew my chances at a sale were shot. People with these sorts of problems do not buy encyclopedias. Novice salesmen know this, and I was a tenured veteran of six months. There is no profit in getting one's fingers wet. The man sat on the couch and motioned that I do the same. I could have waved my hand and backed to the door: but instead, for reasons I have no faith in, I sat, creasing myself just at the edge of the furniture, leaning forward to touch as little fabric as I could. For a while, the man and I sat, watching his wife roll her torso against her aquarium glass as though this were a show the entire neighborhood might produce on Tuesday nights, regular as meatloaf. Her long blonde hair jumped when she came to the top to breathe, and the scales of her lower half cast the room's ambient light into somnambulant sparks. It is hard to tell a mermaid's years, but she was half her husband's age, maybe a third. A May-December thing, possibly. I noticed the eggs against one corner of the tank. Dozens the size of golf balls, silvered in one irregular pyramid, braced there. They had an unrepentant look. I noticed the homeowner watching them as closely as I. So there I was: not likely to sell a series of encyclopedias, sitting on a covered couch beside the homeowner, watching his wife drag half her body about her family room tank, watching with him what surely was his wife's most recent clutch of unfertilized eggs. He, I would say, was past his prime. I imagine the romance had some sizzle at one time, but now just staying afloat, swimming, and hoarding enough air, was about all he could handle. There surely came a point when the idea was more comforting than the act, and his efforts had trailed down into self-gratification, and eventually into humiliation, and lastly into sad if grandly practiced memory. She would have made no complaint, but he would have sensed the need to compromise, come up with a reason, a plan. What would you do? Stepping out of my clothes was mechanical and nerve-wracking. My gestures grew abbreviated, nothing like the glorious flapping language of sale, the broad whirls, the tugged invites. I had become tight and direct. But when I lowered myself into the water, the tank clear through and through, I felt submerged in a different, shaded world. Once the water supported me, I felt as bold as the element I was in; and soon, so soon, I was unselfconsciously scraping the tense edges of the scales of this other man's wife, tasting the salt of her hair, seizing the electric out of the brine. I knew what I had to do. It was a role possible for any encyclopedia salesman, but not expected. I could not get past my importance as I swam naked around the tank, slithering against the wife, tasting the feathery water-logged cold of her shoulders and breasts and warm arms, preparing myself to spill semen on an ineffective man's best hopes for the future. I might sell no encyclopedias, but I could be his surrogate. I could produce what he had surely tried, useless and exhausted, to produce for days, but never could. Across the aquarium from me, his wife, her scandalous chest thrusting me back, like the paperboy granted a glimpse, gestured me against the eggs, sensing my readiness, tasting the tension across all of the water, hoping there was still time. Since that day, when I knock on a door, there is no hesitation. I neither pound nor rap. I make the proper sound of inquiry. I have a right to be on the porch. I straighten my tie; I look directly into the peep hole; I tug securely at my cuffs. I know what I am capable of. With the passage of time, I sell no encyclopedias. Search engines have left my profession dry. When I state my business, I get looks of wonder, laughs, requests for my real intentions. But as long as the door is open I make my pitch, which secretly incorporates families of mermen and mermaids, all with my chin and broad set of eyes. And when I see just past a homeowner's door an aquarium, I do not think there is no sale here; I think instead that here I have more opportunity than anyone who has ever sold anything, that I am nothing but the right man at the right time, and with just the right bait and the hook to bring this one in, annual subscription and all.
Douglas Coupland is one of the preeminent social commentators of our time. Unconstrained by form and unsurpassed in his ability to probe the ironies of consumer culture, Coupland has inserted 'Generation X' into the pop lexicon. He talks to David Whelan about the natural bloom of poltergeists, modern sobriety and Quentin Crisp. Whose death, recent or not, do you most lament? I would have liked to have met Quentin Crisp. I almost did in New York in the 1990s but someone else phoned and I went to a dinner or whatever and lost the chance of a lifetime. I don't think he'd have been any more real with me as with anyone else, but…the aura. So I lament. What are three basic things you need to be content in life? Time, power and health. How have we gotten so stoned, on nothing? The opposite. Everyone's way too sober these days. Everyone's too frightened to get drunk because it'll somehow cause them to lose ground. I don't get it. Why won't the aliens step forth to help us? We eat so much crap that they probably consider us toxic. Are boys meaner than girls, or vice versa? The cruelty of both can be bottomless. Who is your favourite painter? Warhol. That was easy. Would a small red balloon cheer you up? Yes. Of which lost or destroyed culture are you most fond? The 1970s. Do you believe in ghosts, or want to believe in ghosts but really can't, or dismiss ghosts outright? From The Gum Thief: I believe that the dead speak to us, but I don't think they do it with words. They use materials they have at hand – a gust of air, a gold ripple on an otherwise still lake, or inside a dozing stem some sap is tickled and a flower blooms that would never have opened otherwise. Would you like to send a love letter to anyone? I'd fill a red balloon with helium and write a love letter on the balloon. I'd then release it knowing that ghosts would deliver it to whoever needed it. Douglas was interviewed by David Whelan, who asked questions from his copy of The Interrogative Mood: A Novel? by Padgett Powell. 
Since After the Fire, A Still Small Voice, Evie Wyld has been ranked among the best new British writers by the Daily Telegraph and BBC2′s The Culture Show. Her second novel, All the Birds, Singing, is published in February. She talks to Fleeting's David Whelan about cake, grandparents and looking for ghosts on YouTube. What are three basic things you need to be content in life? Tomatoes, isolation, blanket. Do you believe in ghosts, or want to believe in ghosts but really can't, or dismiss ghosts outright? I am an atheist, but ghost stories are my favourite things, and I spend too much time on Saturday mornings looking up clips on YouTube of 'ghosts caught on film'. Is a cupcake sufficient for you, or do you call for another? I do not understand the excitement about cupcakes. This is a small cake. This is not a fantastic invention. I like my cakes in slices, or if necessary, fistfuls. If you were now thirteen again, what would you do that you did not do when you were thirteen the first time, and what would you not do that you did? I would pay more attention to my grandparents. I would not take any notice of the people who thought my cropped, tasselled, shoulder padded leather jacket was not the coolest thing ever. If someone approached you saying, "lead me to the music," how would you respond? Punch to the throat. Would a small red balloon cheer you up? I would be frightened about where it had come from if it just appeared, so no not really. What if it was from Pennywise the Clown? If you could reverse or bend a moment in history into an outcome regarded as the opposite of what happened, or at least as substantially different, what moment would it be? I would like it if Steve Irwin hadn't died. Anything more substantial than that seems to be asking for trouble. Is there enough time left? There's time enough today for a bath, 1000 words and some tomatoes. That's something. Evie was interviewed by David Whelan, who asked questions from his copy of The Interrogative Mood: A Novel? by Padgett Powell.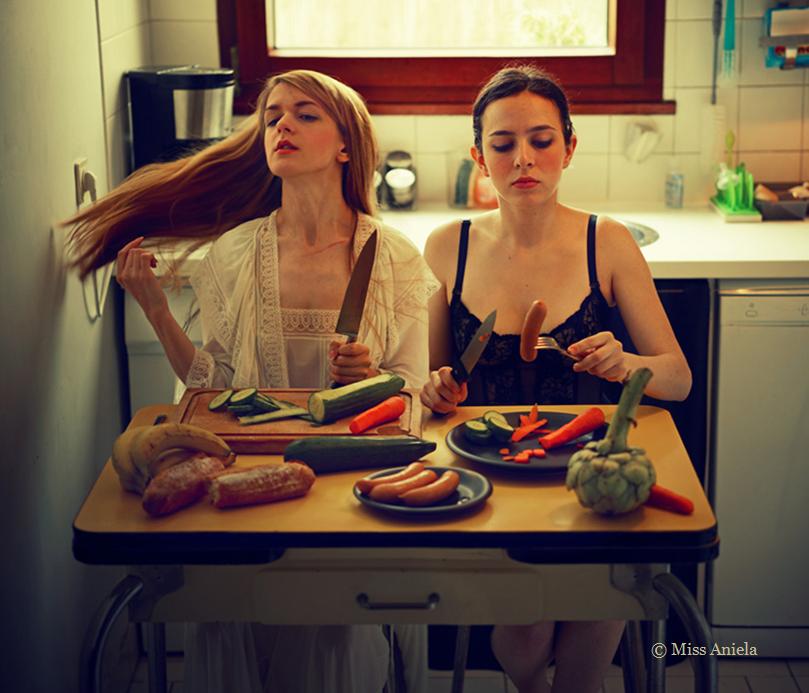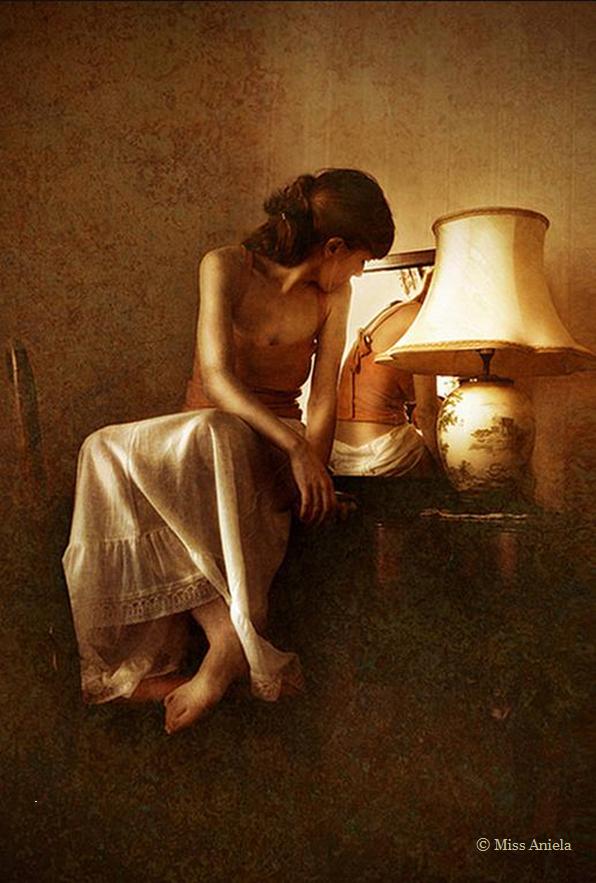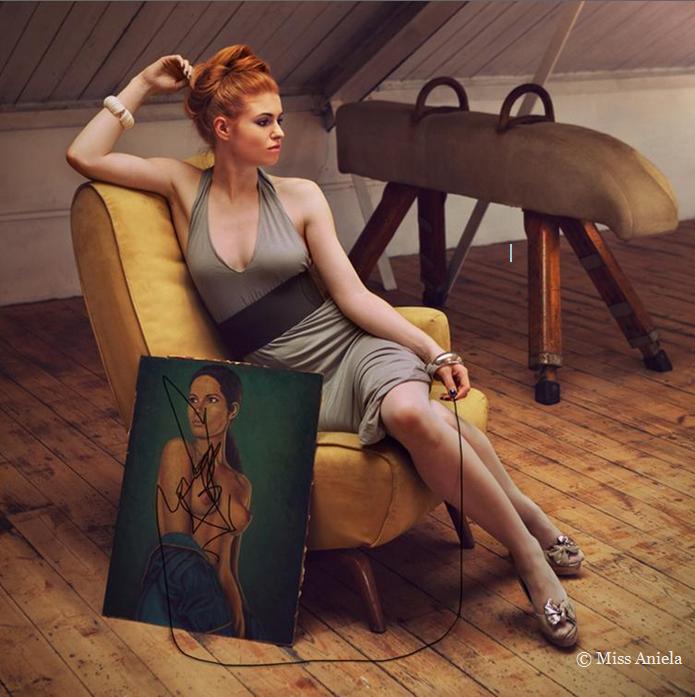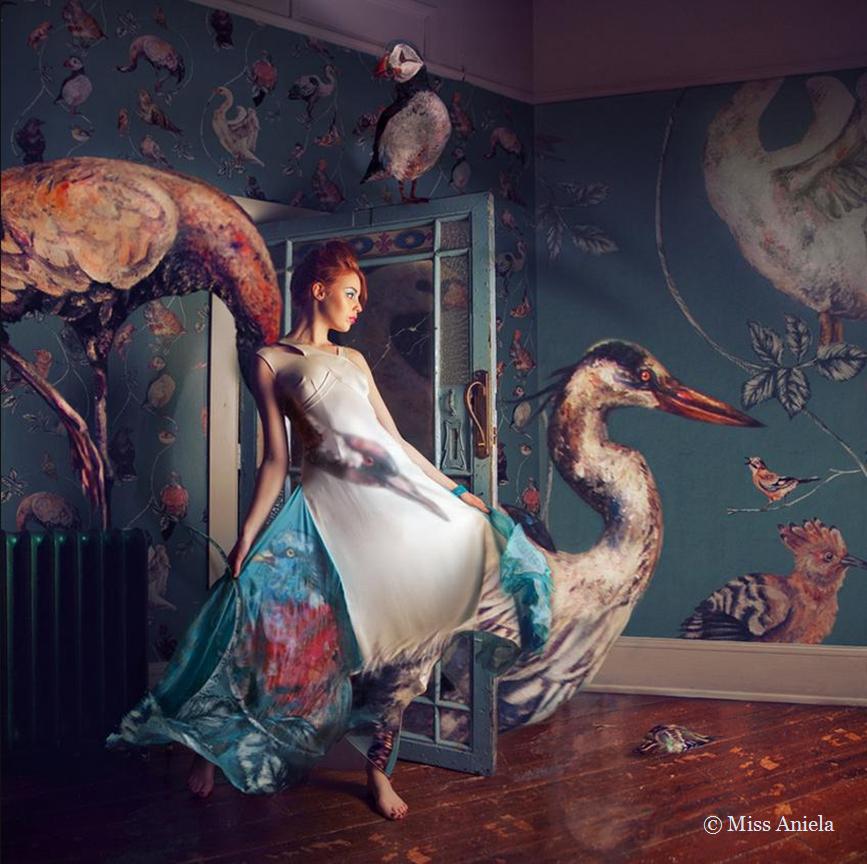 Mohammed's first wife Rami mimed a cradle gesture indicating that we should follow her. The skin under her eyes is layered and creased like the sugared pastry baklavas we were presented with in Osh. Finally, after two whole days of tea-drinking with Mohammed and a stream of visitors, we have been shown into the interior of the women's quarters, much welcomed after endless greetings with men wrapped in turbans, wearing coloured shirt-gowns and soft leather boots, offering services, blacksmith, carter, cook and tailor and asking questions: Where are your husbands? Where are your children? Why has your father allowed you here with no men? The upstairs room was dark, with slants of light coming through uneven windows half covered with blinds. Various women of different ages sat about on low cushions and bolsters looking at us as we three stood awkwardly in the centre of the room, not knowing whether to sit or stand. The floor was made up of thick felt rugs dyed red, indigo, blue; there was a bright strip of yellow across the centre of the floor and the woodwork of the room, the blinds and wooden columns were all painted a bright, stimulating blue. The air was soporific and two infants scuttled across the floor; one of them had his genitals completely exposed, and what's more, one of his testicles was swollen as big as my hand. Rami pointed us towards some cushions. My eyes adjusted in the dark and there it was, the baby, in the corner of the room, on the breast of a wet-nurse who was not young. This was the first time I had seen it since our arrival – so it had not been burned, or thrown away or left to die in the desert dust. The nurse's face was sour and she seemed much too old to be providing milk. As the baby suckled she looked neither at her, nor at the women or children but stared into a distance before her, as if dead. Millicent and Lizzie sat together on the cushions, but as I moved to join them a woman came behind me and held my arm. She pointed at my hair and would not let me go. Once, in Southsea, a gentleman with a cruel smile had whispered to me as he blew cigarette smoke in my face, 'You have the hair of a Burne-Jones beauty, but sadly not the face,' and I had wept all night because of the truth in his words. We were approached by a young woman. 'This is Khadega,' Millicent said, and they greeted each other in Russian. It was the first time Lizzie and I had met her. She is not the prettiest of Mohammed's daughters (I'm not surprised that she was one of the last to lower her scarf from her face in front of us). Her mannish-wide face has a repelling effect; she has what Mother would call an unfortunate manner. Khadega nodded at Lizzie then took a handful of my hair, pulled it roughly and held it in her palm as if feeling the weight. She rubbed an individual strand between her thumb and finger and seemed to be providing some kind of commentary because whatever she said made everyone, including Rami and Millicent, laugh. She saw me looking at the baby. 'Halimah! Huh?' pointing at the wet-nurse. Confused, I looked to Lizzie for help. 'Halimah, halimah!' and then a discussion – or argument, I couldn't tell – began and the women all shouted and waved. Khadega was loudest, her voice stealing the air around me, until Rami shushed them, slapped Khadega's hand away from me and directed me once again to the cushioned floor. Khadega seated herself next to Millicent and immediately they began to talk in Russian. I took my place next to Lizzie. 'Apparently, the Prophet Mohammed had a wet-nurse called Halimah,' Lizzie said. As drinks and honeyed nuts were served Rami introduced us to Leila, Mohammed's youngest wife. Lizzie and I could not look at each other with the shock of realising that they are both his wives. Leila smiled, liquideye pretty, and caught up the smallest, crawling child, not the disfigured one, whooped it into the air with a laugh and pulled it to her chest. We sipped tea. I was embarrassed by the closeness of the room and by the examination we were enduring. I held each mouthful of tea for as long as possible to contain my hysteria. The violence of their language filled the air and as usual I understood nothing. Nor could I read their codes or signals. What I could see, however, was that these women weren't friendly. One or two of them looked at us with open hostility. Eventually, the foul-looking wet-nurse pulled the baby away from her chest, wrapped her roughly in a blanket and stood up, her leaking, flaccid breast exposed. Rami pointed to me. For the first time all of the women stopped talking and stared. I am inexpert at handling babies and as I tried to cradle her in my arms a frown flurried across the sleeping face. I stood up: ridiculous, big and ugly-footed in that room full of graceful women. I nodded to Rami, trying to communicate a thank you, and that I would leave, and I took the sleeping bundle out of that dark, scented room. Lizzie, who had said nothing but, with slanted eyes had watched Khadega, stood up and followed me. Millicent spent an eternity shaking hands with every woman in the room and joined us. The second we walked out of the door we heard a burst of lively talk and laughing. The wet-nurse apparently sits and waits in the kitchen. I am to take the baby to her whenever it needs feeding. She is asleep now, and I sit here with this journal, fearful that she might stop breathing. These rough, scribbled notes are as far as I have got with my Guide for Mr Hatchett though I have grand, blazing plans for my book. It will be a new kind of book. 'A Lady Cyclist's Guide to Kashgar' is the current title I am labouring beneath and I shall sub-title it, 'How I Stole Amongst the Missionaries'. It shall be my own personal observations, filled with insights about the Moslems. I intend to spy upon the women, fascinating in their floating garb; and the landscape: these great, monotonous plains; and I shall sit upon my two wheels and feel the grit of the desert and move about the streets as if flying. For courage, I recall the conversation I had with Mr Hatchett before leaving: 'A bicycling guide for the desert,' he smiled. 'How curious.' Previewed from Suzanne Joinson's novel A Lady Cyclist's Guide to Kashgar, published by Bloomsbury on 5th July, 2012.
Literary polymath is a gruelling post. When she's not winning prizes for her novels and short stories–Costa Book of the Year 2007, Granta's Best Young British Novelists 1993 and 2003–AL Kennedy is performing stand-up on the Edinburgh Fringe, writing drama for radio and screen, and supplying pitch-perfect analysis for the BBC's Review Show. "I am usually slightly ill," she tells Matt Shoard, "due to overwork." What would be the most fun thing you could do, right now? It would probably involve a spa and then a pool and then a friend. Are you much of a cook? Yes. Come round, I'll make you a curry. How is your health? My friends know not to ask this because it will encourage me to tell them. I am usually slightly ill due to overwork, but now and again I break out and get something really wrong with me. Currently well. Well is better. Are you happy? I'd rather not know. If you have population-control suggestions, what are they? Sarah Palin. Just think of Sarah Palin. It works for all genders and persuasions. Do you ever wonder after the stories stolen in Mr Hemingway's valise on the platform in Paris? Two of them opened a cafe together in Montmartre, one hooked up with Mavis Gallant and the words in several of the others got part-time work during '68 as manifesto inserts. I thought everyone knew this. Are boys meaner than girls, or vice versa?  I used to fence and was involved in a minor martial art. I found that women were always harder to fight than men – they were sneaky and meant it more. I have found similar differences of approach in milder life – unpleasant men are often more straightforwardly unpleasant than unpleasant women. There are many reasons for this and many of them are not the fault of those involved. And I'm a woman and I can be very mean. It was the same when I was in the schoolyard – the sophisticated evil tended to come from the girls. Isn't it – and forgive me the pop locution – hard being you? Hell, yeah. But it could well be much worse being you. Have you chosen the way you'd like to die? Painlessly. AL Kennedy was interviewed by Matt Shoard, who asked questions from his copy of The Interrogative Mood: A Novel? by Padgett Powell. 
Fleeting Magazine is looking for the best six-word story in the world. In return, we're offering a stay at The Algonquin Hotel in Manhattan, where Hemingway bet the Round Table, "I can write a story in six-words." He flipped over a napkin, wrote: for Sale: baby shoes, never worn, and won his bet. Impress our judges and you could spend a night at the Algonquin. Or, like Hemingway, you can take the cash.* The short-listed entries are now published. Visit Twitter and Facebook for live updates. The Judges               Tobias Hill is an award-winning poet, novelist and writer of short stories. His awards include the Eric Gregory, the Ian St James, and the International PEN/Macmillan Silver Pen. In 2003 he was named a best young British writer by the TLS, and in 2009 became Programme Director of the Faber Academy. Brooke Magnanti is author of the best-selling diary The Intimate Adventures of a London Call Girl (2005). Under the pseudonym Belle de Jour, she won the Guardian's Blog of the Year in 2003. Now a doctor of forensic science, she appears regularly on the BBC. Her new book, The Sex Myth, is published by W&N. _______________________________________________________________ *The winner's room must be booked in arrangement with Fleeting Magazine within a year of the closing date. Alternatively, it may be exchanged for cash: £100 ($160 / €130). By entering the competition, you give permission for your name and six-word story to be used by Fleeting Magazine and other publications. 
Tim is the highest-profile newspaper columnist in the UK. His deadpan analysis appears weekly in G2 and the Radio Times, and his leader column for Guardian Weekend – laconic tales of marriage, banjo playing and tyrannical pets – reaches a few hundred thousand breakfast tables every Saturday. "Never a day goes by," he tells Matt Shoard, "when I don't think, 'What the fuck happened to you?'" How is your health? Let's put it this way: if I had fill out a form to go skydiving, I could safely tick all the No boxes in the list of conditions that might prevent my participation, unless one of them was "Fear of Skydiving". I drag myself to the gym twice a week in an effort to keep minimally fit. As a result I am always in pain. Are you much of a cook? I'm not bad. My mother taught me some basics when I was young – how to separate an egg, roll pastry – and I'm probably more confident than my kitchen track record warrants. I go through periods where I make bread obsessively. There's a sourdough starter still mouldering in a cupboard from my last attack. I also know how to make éclairs shaped like swans, although I've only done it twice, and I was drunk both times. What would be the most fun thing you could do, right now? Right now? Monday afternoon, 4:30? I have an answer, but honestly, she's never going to go for it. I'm not even sure how I would frame the request. Anyway she's downstairs looking at old spoons on eBay, which is probably the most fun thing she could be doing right now. If you were now thirteen again, what would you do that you did not do when you were thirteen the first time, and what would you not do that you did? I'm unhappy with idea of going back in time and meddling – I don't want to return t0 the present and discover that everything is exactly the same, except I can't drive. I'll assume you've worked all that out… It was the summer of the French class trip to Paris. In the first week Amy Darwick fell in love with a German kid from another school, and when he left for home on the Saturday she was heartbroken. She cried so much that she did something to her eye and one of the teachers had to go to a chemist for some drops. In hindsight it seems to me there must have been some way I could have turned these events to my advantage. I suppose I would tell myself: be brave! Her face is all red and puffy – what's she got to be fussy about? As far as what I would not do – I would avoid all the places where I got beat up that year, particularly the back stairwell that was my shortcut from the cafeteria to geometry. What's it like being you? For reasons that are unclear, I have been blessed with more self-esteem than I have use for. I'm actually shy, sullen, weak-willed, lazy, cowardly and ineffectual, but deep down inside there's a part of me that thinks I'm marvellous. It's like body dysmorphia, but of the soul. Still, if you're going to have a big self-worth/actual worth imbalance, this is definitely the right way round. Imagine being absolutely fantastic and having no idea. What would be the point of that? Would a small red balloon cheer you up? I don't know, maybe. What other colours have you got? If you could emigrate to any country in the world and support yourself there, which country would it be? I've already done this once. I came to the UK 20 years ago for foolish romantic reasons, and I never left. At the time I was quite incapable of supporting myself anywhere, much less in a land where I knew almost nobody. Somehow I've ended up with a job, a wife, and family, a house, a mortgage and the convenience of a local corner shop where they sometimes let me off when I'm 5p shy of a pint of milk. Never a day goes by when I don't stop and think, "What the fuck happened to you?" But, you know, not in a bad way. I'm not sure I've got another emigration in me. I was lucky to get away with the last one. Why won't the aliens step forth to help us? I can only imagine they think we'll end up resenting their advice, complaining about their failure to deliver assistance on schedule and recasting their altruism as some kind of sinister takeover plot. I can't speak for the whole planet, but I know that's what I'd do. Tim Dowling was interviewed by Matt Shoard, who asked questions from his copy of The Interrogative Mood: A Novel? by Padgett Powell. 
We waited for five years before we got married. I was guarding the Simplon Pass and, when there was a silver moon, could hear the melodic voices of the enemy. I played cards with my comrades, listened to Von Salis and his World Chronicle on Radio Beromünster and hoarded Emilie's letters. She, meanwhile, was mending army blouses and shared the concerns of the whole world at the time: emergency supplies, blackouts, rationing, problems with the heating, the possibility of evacuation. I'd sent her a handcart, just in case. Emilie presided over the Women's Association in Ostermundigen and organised a Sewing Circle, a Knitting Circle, a Christmas Parcel Circle, bazaars and clothes collections for the Red Cross. I wrote telling her I wanted to desert and come home and hide beneath the bed until the war was over. That was a crazy idea, Emilie wrote back, and she didn't want to hear any more about it. Every free minute I had, I spent reading. I read her clever and soothing letters over and over till I knew them by heart. "We look deep into the things that have become dear to us for the shine we ourselves project on them," she wrote, adding a sentence by an unproblematic German philosopher who meant something to her. "We see things not as they are, but as we are. That said, we could just try being married, to see whether matrimony is annoying, or not. If it doesn't work, we'll proceed calmly and quietly towards a divorce. That way, no one gets hurt." I carried the letters around with me, in the inside and outer pockets of my uniform, and when the crumpled envelopes began to fall apart, I put the letters in a new envelope. Then peace came along and, finally, the marriage became official. We accepted the keys to an apartment in Köniz, on the edge of Berne, went to the register office together, talked all night, listening to nonsense songs composed by Americans full of zest for life, then threw out our guests: Emilie's siblings who spoke six languages between them, yet talked in such a way you died of boredom while they were still on their mother tongue; our fathers and fathers-in-law who, from hour to hour, were agreeing more and more on how completely different all our war-ravaged neighbouring countries were – "and they think that will all grow together into a single Europe?" Not forgetting our mothers and mothers-in-law and grandmothers – offended, even appalled, because they'd have preferred to see the bride in a white veil and to have organ music and a priest's blessing, preferably in the Cathedral. Once the convivial part had broken up, I turned the glasses over on a cloth to dry and stepped into the bedroom and – you want to experience this one day too, Kâzim: Emilie was standing by the bed, in the altogether, nothing but a pearl necklace, and smiling at me, not entirely unselfconscious. Right there and then, her normally quiet, composed husband dropped the briefcase he'd received as a wedding present and chased her round the room. Two mornings later, we found a postcard in our letterbox. "Dear Tenants, You've now been in your new apartment for two days. We hope you've been settling in nicely. You've no doubt noticed by now that here on Fliederweg it's very easy to see into each other's apartments. Especially at night, if the lights are on and you've forgotten to close the shutters and the curtains aren't closed. Please bear in mind: current and future pupils of yours are watching. With kind regards, Your Neighbours." It's possible my debut as a teacher in Köniz wasn't a complete triumph. It's a wonder I didn't re-pack my things immediately when I saw the classroom I'd been given: a hovel, riddled with dirt and mouse-holes; bare bulbs hanging from the ceiling on long cords; on the wall, a rather flat relief map, Switzerland before the folding of the Alps. With my back to the militant class, I searched the sponge tray frantically for a usable piece of chalk. At the end of the lesson, the sweat was dripping from my brow and I'd banged the table so hard that the local clerk's son was beginning to worry about the furnishings. Have you seen this, though? The pattern on the wallpaper here doesn't match the rest. And there's a bulge in it here. This is an exclusive excerpt from Zbinden's Progress by Christoph Simon, which is published by And Other Stories on August 9th, 2012.
Ami Hendrickson wins Fleeting's Six-Word Story Prize. Her story, "No taxidermist loved his daughter more", was described as "stunning" by judges Brooke Magnanti and Tobias Hill.  "The quality of the entries was very high," added Brooke. "So many funny and brave stories. It was a relief to be judging rather than entering – I don't think I would have stood a chance!"  Ami, an author and screenwriter from Michigan, was editing at a local coffeehouse when she heard the news. "My reaction was an audible 'Holy Cow!'" she told us. "I am honoured." We saw nearly five thousand stories in our search for a rival to Hemingway's classic. And like Hemingway, Ami has taken the cash prize. Thank you to everyone who wrote and read this year. You can read about our Six-Word Story Prize at the Guardian and on Ami's blog, and enjoy the finalists here. No taxidermist loved his daughter more. Ami Hendrickson _ - Boy meets girl's boyfriend, prefers him. Tim Dowling = - - _ Macbeth divorced her for wasting soap. Helen Matthews Set sail, great storm, one survived. John Banville_ - - His Russian bride hid others inside. Dan Powell -  - - Modern fairy tale: Frog. Snog. Sprog. Mario Petrucci "I do…" "You may now–" "…unless…" Ricky Garni Groundhog day. Groundhog day. Groundhog day. Fran Edney Share on Twitter and Facebook
John Banville won the Booker Prize in 2005 and the Franz Kafka Prize in 2011 - good portents, some argue, for a Nobel Prize in Literature. His latest novel, Ancient Light, is a Book at Bedtime on BBC Radio 4. He tells Matt Shoard about debased Christianity, the best meal he ever had, and why he'd like to write a novel in jail. Do you engage in any ritualistic behaviour? I shave each morning, very carefully. If you were to hear the phrase "does harm" in isolation, what might first come to mind? Well, 'religion', I suppose. Though as I get older I come more and more to agree with my friend, the English philosopher John Gray, that religion is a kind of poetry, that is, a poetic interpretation of the world. And while I despise St Paul's debased form of Christianity — Nietzsche: 'There was only one Christian, and he died on the cross' — I find very appealing Jesus's contention that even the lowliest of us has a soul worth saving. But then I think of, let's say, Himmler, and I recall T.S. Eliot saying of such people that they weren't men enough to be damned, so how could they be saved? Did your mother teach you anything particular, and did your father? My mother taught me to try not to damage other people, or myself; my father reinforced the lesson, in his diffident way. Would you rather be in hospital or in the jail? That would depend on the jail. I often think chokey would be the ideal place in which to write fiction — endless leisure time, and fascinating company, but only for fixed hours in the day. Hospital, on the other hand, has a horribly frightening smell, which I doubt I'd get used to. What today would make you cry? You mean other than the death of a loved one, things like that? Certain dispositions of the sky on autumn evenings bring tears to my eyes. Or is that too hopelessly soppy? True, anyway. Is the sky the limit? Of course not, since we make 'the sky' — Emerson: 'The eye makes the horizon' — and beyond our little bit of blue there in an infinity of worlds, or at least of possible worlds. Do you regard yourself as a connoisseur of anything? Much too ignorant and ill-educated for that. When I was a boy I considered myself a connoisseur of kissing, but that's in the far past, now. What is the best meal you have ever had? Spaghetti with truffles, in a tiny, pokey, dark and not very fragrant restaurant in one of the hill towns of Umbria – can't remember which one, unfortunately. I'm speaking of thirty years ago. My missus and I were the only customers, and the crone who ran the place kept the truffles in a safe under the cash register. Can you say why there are no longer TV shows featuring the loyal heroics of dogs or horses? Children are no longer innocent enough to believe in animal heroes. Can you say for sure that you have loved? For sure? No. But then, I can't say anything for sure. John Banville was talking to Matt Shoard, who asked his questions from a copy of The Interrogative Mood: A Novel? by Padgett Powell. 
Early this year, John Burnside's Black Cat Bone won the TS Eliot Prize for Poetry. Gillian Clarke, chair of the judges, called it "a haunting book of great beauty, powered by love, childhood memory, human longing and loneliness." John gives Matt Shoard a glimpse at his music collection, his traval plans, and the theme of his forthcoming novel: the paradoxes of protest. Will you be travelling significantly this year? I travel all the time. Right now I am at the end of a stay in Berlin, where I have been a resident at the Literarisches Colloquium – it has been an idyll, really, having time to write in a beautiful house by the Wannsee, just a stone's throw from Kleist's grave. Later in the year, I'll be in Berlin again, Vancouver, Munich, Montelimar, various other places. I love being in Germany, in particular; the German-language literary community has been very kind to me. And the beer is great. Do you regard yourself as a connoisseur of anything? Sadly, as my body mass indicates, I am a lover of food and drink. I'm not sure if I am a connoisseur, I'm possibly more gourmand than gourmet, but I do love food, especially game, and I have a disastrous love of beer, wines and some spirits. On a less unhealthy note, I love music, photography, painting, film. It's always difficult to call oneself a connoisseur, because of the overtones of knowledge and snobbishness it can have but, as a Scot, I do consider myself a true connoisseur of rain, mist, fog and snow – not to mention blasted heaths. What is the best meal you have ever had? I've had so many good meals, with good company over years of wandering about. Maybe the best was on a rented seal boat in the Arctic Circle. It was early July, we went out night fishing by the light of the midnight sun and caught cod on lines, cooked them in a big tureen of sea water, and served up with fresh bread, butter and lemons. And beer, of course. That was special. A close contender would be the Grunnlovsdag (Independence Day) breakfast I had with Dag and Tove Andersson and their friends one year – gulls' eggs, various fine meats in aspic and akevitt at eight thirty in the morning. But really, as much as I love food and drink, it's the company that makes a good meal – just as life offers us innumerable annunciations – challenges to rise to an occasion in an imaginative way – so it offers us the possibility of a eucharist every time we sit down with friends and eat the food that someone has prepared, out of generosity of spirit, or love, or a shared sense of what is good in this world. Did your mother teach you anything particular, and did your father? My mother taught me to bake. She also tried to teach me to be patient, but I fear she failed in that. My father taught me to drink hard. He also tried to teach me to be tough (give as good as you get, say as little as you can and trust nae bastard) but it didn't stick. As my sons would happily tell you, the overall result of his hard school of knocks training was to make me into a big softie. 'Soft as butter', as my youngest once remarked. Would you rather be in hospital or in the jail? Hospital. I might die there, but I'm absolutely certain I'd die in jail. In fact, those who go to jail, or even risk going to jail, for acting on a moral imperative to help others, to act against injustice or imperialism, are the people I admire most. Dietrich Bonhoeffer is an example of this: he certainly could have escaped prison and death, but he chose to continue to fight fascism in Germany. To be an activist, properly speaking, does one need to actively undo government or may one just passively not participate? This is a huge question for me right now, because I'm working on a novel in which it is a principal theme. Refusal can be active too – and I think a good deal depends on the quality of our refusals. When Reagan and Thatcher made bankers and swindlers the heroes of our age, we should have refused that narrative immediately. Now there is so much more to refuse, and we are all so very implicated in it. A person tries to invest her money responsibly, then finds out that the 'green' investment company she chose is only 'green' because it supports wind turbine developments. Maybe she's okay with this, until she discovers that the turbines are massive, cause huge damage to bird and bat populations and rob the poorest energy consumers to pay huge subsidies to rich landowners and opportunistic developers. And when she asks why this happens, when it could be so easy to do things differently, she realizes that our politicians are as much in hock to 'green' energy companies and big landowners as they ever were to coal or oil. So – back to square one. My own view is that you can't fix this system by working with it, you have to dismantle it, piece by piece and start anew. People assume that means bloody revolution – which is ironic, considering how bloody capitalism is – but it needn't be. But if there is violence, we know where it will originate – just look at the killing of Ian Tomlinson for evidence of that. Who is the best guitar player in the world, in your view? Alive? Maybe Paco de Lucia. Maybe Vicente Amigo. Of course, guitarists are like poets: death improves them. The list of great dead guitarists is very long, with Duane Allman pretty close to the top of my list, for his work on the 1971 Fillmore East Mountain Jam alone. Too often, such lists are built on mere technique, but surely it's the spirit of the artist that matters. John Burnside was talking to Matt Shoard, who asked questions from his copy of The Interrogative Mood: A Novel? by Padgett Powell. 
I was in the kitchen wondering what to cook for supper when Salvador telephoned to confess he had taken a lover. How typical of him not to have the courage to tell me face to face. Nor even take the time to compose a letter. Angrily I tossed the handset into a pan of boiling water and ate it later with boiled potatoes and a fresh green salad. 'Mrs Dali' is the second of two exclusive previews from Roger McGough's forthcoming collection, As Far As I Know, published by Viking on August 30th 2012. The first is published here.
Invited to the launch of a book entitled A Handy Guide for Grandparents, in the spirit of caricature I dressed as a cartoon grandfather. Collarless shirt with braces and muffler, baggy grey cardigan and woolly mittens, wire specs, flat cap and smelly old pipe. But nobody noticed. My embarrassment turned to anger. 'I'm exposing stereotypes,' I shouted. 'Please raise your glasses and drink a toast to Irony.' In the silence that followed I slammed my glass down on the table, spilling wine over a stack of signed books. The author was the first to exit. I proffered my muffler to the store manager as she wiped the covers with a tissue. 'No worries,' she whispered. 'In the early stages my grandad used to throw wobblies like that. Nice cup of tea?' 'Wobblies' is the first of two exclusive previews from Roger McGough's forthcoming collection, As Far As I Know, published by Viking on August 30th 2012. 
Nikesh Shukla is a comedian by nature and a writer by compulsion. His debut novel, Coconut Unlimited, follows the exploits of the eponymous dilettante hip-hop band from Harrow, and was shortlisted for the Costa First Novel Award in 2010. Founder of The Subaltern Podcast, Nikesh interviews authors on everything from post-colonialism to the latest episode of Breaking Bad. "Much as we're clever," he tells David Whelan, "we can out-party you anytime." If you could design a flag for a nation, what color or colors would predominate? I really love the Bill Hicks joke about how flags should be pictures of parents fucking because it would be hard to rally nationalists around that. Flags are too blocky and boring. Mine would probably be new rave orange with the outline of thick-rimmed black glasses in the middle to show that much as we're clever, we can out-party you anytime. If you were to hear the phrase "does harm" in isolation, what might first come to mind? Charm. But I'm a sucker for a stupid rhyme. Which is why I like rap so much. Are you much of a cook? Yes. I can cook lots of things. Mostly pan-ethno curries. Because, I don't know if I've ever mentioned it before, but I'm ethnic. I can also cook a non-meat roast. Most of my Sunday lunch parties are BYOM. Bring your own meat. If you learned that you were vying within a love triangle with a Navy SEAL, would you be concerned? Ninjas like me never show concern. Or emotion. Which is why I would never be in a love triangle. Unless it was with another ninja. In which case, I'd be scared. Not that you'd know, because ninjas never show it. If you were now thirteen again, what would you do that you did not do when you were thirteen the first time, and what would you not do that you did? I'd save more records and comics and toys, which became hand-me-downs, for future eBay fortunes. I'd not give my misspelt namesake Neekesh any of my hand-me-down Star Wars toys, records or comics. Because those things are worth a lot on eBay now. Seriously. If we heard the ice cream man right now dinging down the street and we scrambled for some change, maybe even from within the sofa, and went out there breathlessly and caught him, what would you order? I like these irreverent questions. Where do you get your ideas from? Look, I may not be 100% British, I may not even consider myself English, but I am not above some of your quaint traditions, England. A 99 flake. Nikesh Shukla was talking to David Whelan, who asked his questions from a copy of The Interrogative Mood: A Novel? by Padgett Powell. 
Nick Laird is one half of the most formidable marriage in modern literary history. Between them, he and Zadie Smith have become international exponents of award-winning writing, arch disinterest, and some of the most important prose and poetry of the century so far. He talks to David Whelan about our endless universe, Francis Bacon's finances, and Auntie Isabel's ghost. Is the sky the limit? Certainly not. It's just a kind of scrim or curtain we pull back at night to see the real and endless universe of stars retreating from us. Who is your favourite painter? You know I didn't really start looking closely at pictures until my late twenties, and then I couldn't stop. I started to read John Berger and Robert Hughes, even Kenneth Clark, and now if I'm near a museum I find I have to go in for a few minutes at least. I went back again to the Frick last week to see Holbein's Moore and Cromwell portraits. I love them. There's a gathered power and clarity there that's incredibly suggestive of the type of men they were. And I love the colour blocking Holbein does. I saw Poussin's sequence of Sacraments in the Edinburgh national gallery last month for the first time and thought they were great – especially the one of Mary and Joseph getting married. There's a woman partially obscured by a column in that one and all the viewer can see is the amazingly intricate folds of her dress and veil. The effect is to suggest how at every wedding there's someone with a secret, or someone with a secret loss. It's an amazing picture. There's another Poussin I like in the Met, Blind Orion Searching for the Rising Sun. But then I also love loads of others: Rembrandt for his big sloppy heartiness and resilience, especially in those later self-portraits where he's been bankrupt and destitute but looks hard and clear-eyed at us with a certain earned dignity. And I love Caravaggio for his fearlessness and his daring, and El Greco for the way he combines the objective and the subjective in the one canvas, and Velazquez for his textured blacks and paintings of ordinary people, and for his dwarves… I like modern painting too. When I was a lawyer I worked on a case about Francis Bacon and spent a long time examining his receipts – for his lunch, for his paints, for his alcohol – but then I'd get distracted and while away most of my chargeable time looking at his pictures online. And I like a lot of abstract work. I think Sean Scully's a genius, especially the desert paintings. Are boys meaner than girls, or vice versa? Boys tend to be more honest or straightforward perhaps in their friendships. If we were discussing it in terms of Blake's Poison Tree, which we're not, but if we were, I'd say boys tend to tell their friend their wrath, and so their wrath does end, whereas girls don't, and so their wrath does grow. Girls will still be having dinner with someone they really can't stand decades after the friendship died. Do you find 'in a New York minute' or 'in a heartbeat' more annoying? Both pretty irksome. 'In a New York minute' is weirdly cumbersome, seems to suggest an aspiration to urban suavity, while actually attaining the opposite. I can't imagine anyone in New York would ever say it. 'In a heartbeat' is just odd, a little sentimental. Though I can imagine ways it could be used where it's just right. There's a great poem by Michael Robbins which ends: I go by many names: Buju Banton, / Camel Light, the New York Times. / Point being, rickshaws in Scranton. / I have few legs. I sleep on meat. / I'd eat your bra—point being—in a heartbeat. Do you believe in ghosts, or want to believe in ghosts but really can't, or dismiss ghosts outright? I have a lot of relatives who encounter ghosts – and who am I to argue with Uncle Kenneth or Auntie Isabel? But everyone has a camera now on their phone, and I still haven't seen any happy snaps of wraiths or ghouls. Same goes for aliens. Should I go away? But where to? In general, yes, definitely. Always nearer by not keeping still. Nick Laird was talking to David Whelan, who asked questions from his copy of The Interrogative Mood: A Novel? by Padgett Powell. 
Robert McCrum was editor-in-chief at Faber & Faber when he suffered a severe stroke. Half-paralysed and confined to hospital, he longed for, and finally wrote, a guide to his illness. My Year Off became a profoundly uplifting chronicle of recovery and a Sunday Times Book of the Year. He is now an associate editor of the Observer, author of an embodying biography of P.G. Wodehouse, and is about to publish his seventh novel. "Our world," he tells Matt Shoard, "is infinitely stranger than we can possibly imagine." Are you happy? Yes. Ranging from basically content, most of the time, to ecstatically happy, occasionally. In between, inevitable moments of depression. But I think of myself as an optimistic person for whom the glass is usually half full. Do you believe in ghosts, or want to believe in ghosts but really can't, or dismiss ghosts outright? I believe in ghosts because if it's good enough for Shakespeare, I'm not going to argue with him. Plus, I believe that our world is infinitely stranger than we can possibly imagine. But I have never seen a ghost, and don't expect to. Would you like to send a love letter to anyone? Yes. If you could reverse or bend a moment in history into an outcome regarded as the opposite of what happened, or at least as substantially different, what moment would it be? I would love to have seen Bonnie Prince Charlie & the Scots win the battle of Culloden in 1745, march on London, overthrow the Hanoverians – and possibly declare Scottish independence. Who knows what a Scottish victory in 1745 might have meant? Probably just the restoration of the reactionary Stuarts. But let's imagine that the Scotland of David Hume and Adam Smith had forged its own path, becoming an independent cultural and financial centre in opposition to London. After more than 200 years of separate development, possibly collaborating on various imperial adventures during the Victorian era, Scotland today might be to the UK as Denmark is to Sweden, or Portugal is to Spain. Whose death, recent or not, do you most lament? The great English poet, Ted Hughes. He died at the peak of his powers, and who knows what great poems we have been denied by his passing? What are three basic things you need to be content in life? a. A chilled bottle of Montrachet b. A quiet room, with bookshelves, and an armchair c. A view of the sea Is the sky the limit? There's no limit to our imaginations. Thought is free. When we look up into the sky, anything is possible. Or nothing. Robert McCrum was talking to Matt Shoard, who asked questions from his copy of The Interrogative Mood: A Novel? by Padgett Powell. 
I am explaining the situation to my small sister Ally. Cattaraugus 1 and Cattaraugus 2, our parents, have been at war so long they have become a frozen sea. We shall plough up this sea like an icebreaker, the Spirit of Alison. But before I forget, my unswerving gratitude to Lincoln libraries for exhibiting Native Americans. Here many questions to do with wars found an answer. For instance, how war may be continued over long periods without damage to its warriors. Before a battle a Navajo woman would take out her vital organs and hide them, retrieving them afterwards. Then the Cattaraugus Indians of New York, who I'm sure we're related to, knew that souls can be collected and placed in a bag for safety's sake; or that you simply keep the strength of your life in your hair. I suspect Cattaraugus 1 puts her brain and organs in the bucket beneath the kitchen sink. Cattaraugus 2 his behind the dashboard of his car. Ally has another Just a Joke to report here. A mad scientist pays a woman to lend out her brains for a week. A week later he gives her her brains back. 'I don't know you,' the woman says, 'you must be mad.' 'It's Just a Joke,' the scientist says, Ally says, say I. Ally squeals but I wonder what would have happened if the scientist had put this brain inside his own head. I explain to Ally the plan is to stow away on trains and boats and go to America via Holland, our final destination, a place by the name of Gowanda, New York. In Gowanda we would wait for Cattarauguses 1 and 2 to thaw out enough to come and fetch us, our sudden departure having caused the ice to crack. As women of Lincoln we shall be following the route of the persecuted folk who went out on the Mayflower. It won't be easy; a risk, it's said, is what happens when you go upon the sea. Another ­vesselfull of  Pilgrims sailed  just before the May  flower and it  sank. (If only they had seen Native Americans in Lincoln libraries they would have known to cover the quay of departure with leaves.) Anyway, with courage gathered they set sail on an identical course, like it was a furrow through the ocean. 'This toast has a hair of yours on it,' said Cattaraugus 2 loudly. 'And actually I don't remember asking for toast.' He's looking for the essence of Cattaraugus 1. He thinks it may be hidden in her hair, which is where he's looking now. 'Maybe you should get it cut.' 'Cut my hair? Next time get your food yourself.' He does. He has to, because how is he to know she isn't poisoning it. 'How's your food, Ally?' 'Fine, mum.' 'And …' 'Zuba,' Ally intervened. 'It's her name now. Zuba's name. Super Zuba. And you're Cattaraugus 1. He's 2.' 'Ally, don't point with your fork.' As for his brains, he unscrewed the dashboard and stuffed in every part of them except the part that works screwdrivers. 'OK I won't, Cattaraugus 2,' said Ally putting down her fork and squinting at it. 'Hands up whoever likes cream cheese.' Two hands up. Zuba's turn. 'Honey.' Two hands. 'Stop that you two.' Ally points to her spoon. Two small jerks of the hand. Serviette ring. Two. Table top. One. 'Ally and … Zuba have gone crazy over Indians.' 'Native Americans,' corrected I, Zuba. 'Anyway, stop this nonsense at the table.' Nonsense: I Zuba consulted Ally. We made the world's most small, most secret hand-raises. Meanwhile. 'Stop?' Cattaraugus was saying irritably. 'Why should they stop? I mean, what are children supposed to do exactly? They're not hurting anyone. Not breaking things. No one is offended. Not even you.' 'Since when do I get offended?' 'Quad erat demonstrandum.' 'What?' So, I shall tell them enough to be able to find us. I shall leave a map with routes marked under the mattress with just a corner of it peeking out. Now I shall make an announcement. 'The Cattaraugus Native Americans of New York lived mostly in Gowanda,' I announced. I spelled Gowanda. 'If they went to war outside their territory, say to Albany New York, a town known formerly as Orange …' 'Oranges!' Two hands. '… or here to Lincolnshire, they would have to sleep in the direction facing their homeland.' 'You mean this was their tribal lore, darling?' 'Yes, Cattaraugus 1, this is what I'm saying.' 'Your mother and I do this already,' said 2. 'I face where I'm from and she looks east.' 'And were we Cattarauguses 3 and 4 also at war, we would do the same. To do otherwise would be to court ill fortune.' 'No one wants bad luck,' said Ally. 'Bad luck!' No hands. They will have to come to Gowanda to retrieve us. I shall finger-type clipper-clip-clop the essential directions standing at the stool in the kitchen. To prepare Ally for the journey I may also make drawings showing what to expect on our way, for instance in the dark holds of our ships. Not forgetting our final destination. Listen, Ally. This is what it looks like in Gowanda. It has two main streets that meet in a T. They have covered Wyatt Earp sidewalks. But everywhere the paint is pale and peeling, the woodwork pink and brown; the place has lost its swank. The last Native Americans have moved away to Conewango. Gowanda is a no-horse town, the old men say. But it will be our new home. The ironmongery store, on the stalk of the T, will eventually be taken over by Cattaraugus 2. The old owner kept bolts of material for women's dresses and said ma'am to his customers. But Cattaraugus 2 won't. He won't lean on his broom waiting for the afternoon stage. He will do dull business day after day until one night he will set the store properly on fire. It will burn and burn until it makes no shadow, the famous beautiful tiles inside it smashing into dusty powder. Flying ducks will be asphyxiated and go crashing to the ground. It will be the last big crisis among the Lincolnshire Cattarauguses. Either they will make it up or they will part for ever, leaving Ally and I with ash on our teeth and tongues, and white dust which just gets into everything.
We are crossing the Sands when the haar unfolds, and every shape becomes anonymous and heimlich, like the dead we think about in hymns and churchyards, other selves continuous with gravity and light and undeclared; and if I slow a moment, while you go a few steps further, everything is blur, the life continuous, no point of view, only the fog along the water's edge where anything could happen, mare incognitum, rumoured, like the soul.
The release of The Machine in 2013 will mark James Smythe's third novel published in twelve months. He has also been steering Guardian readers to the work of Stephen King, lecturing at Roehampton University, and narrative designing for the games industry. "I need to get out more," he tells David Whelan, "but I've fractured my foot." How is your health? Fine, touch wood. I'm unfit, possibly grotesquely so. I need to get out more but I've fractured my foot. Apparently there are these bones called the sesamoid bones, and if you walk badly on them – are flat-footed and 6′ 7″ – and then decide you're going to run to get fit, they easily break. Would you like to send a love letter to anyone? Stevie Nicks, during the recording of Rumours. Just to confuse matters. Do you believe in ghosts, or want to believe in ghosts but really can't, or dismiss ghosts outright?  I believe in weird things and dark rooms. I've stayed in two rooms in my life where I was afraid to open my eyes but couldn't sleep. And my family has stories, about my grandmother seeing a monk in a woodshed, my other grandmother seeing a priest on a bicycle where there wasn't one. Interesting that both stories feature holy men, I think. And neither of my grandmothers were liars. I believe in memories, maybe, and that sometimes they're not ours. That seems as good an explanation as any. Are you much of a cook? I cook a mean haddock and bacon chowder. Do you ever wonder after the stories stolen in Mr Hemingway's valise on the platform in Paris? I've wondered if some enterprising young so-and-so got hold of them and thought, These are alright! and they ended up on submission. Maybe we know them, but we don't know who wrote them. We've praised them – or damned them – and maybe even already forgotten about them. What are three basic things you need to be content in life? Words. Time. Others. Isn't it – and forgive me the pop locution – hard being you? Gosh, no. It's incredibly easy. Lumber around, learn how to type quickly, master the hobble and the haddock chowder. If somebody wanted to imitate me it would be a breeze. James was talking to David Whelan, who asked questions from his copy of The Interrogative Mood: A Novel? by Padgett Powell.
To Carol Ann Duffy, he is "the patron saint of poetry." With forty collections, the era-defining 'Let Me Die a Youngman's Death', and tenures at Poetry Please and the Poetry Society, Roger McGough is progenitor and guardian of the modern English poem. Last month, Fleeting published two exclusives from his new collection, As Far As I Know. 'I'm waiting,' he tells Matt Shoard, 'to see what Death comes up with.' Are you happy? Happy? Yes, thank you for asking. What today would make you cry? The thought of a child being forced to peel and slice onions. Did your mother teach you anything particular, and did your father? My mother taught me to speak up and draw attention to myself. My father taught me to lie low and not draw attention to myself. Whose death, recent or not, do you most lament? Adrian Mitchell, whose passion for the use of poetry in schools we could harness today. Have you chosen the way you'd like to die? I'm waiting to see what Death comes up with. Who is the best guitar player in the world, in your view? Jimi Hendrix was the best guitarist I have recorded with. He noted, modestly. Do you sympathise with the outlaw? I have never trusted the romantic image. Think outlaw, think looter. What would be the most fun thing you could do right now? I am wary of Fun. Something you are bullied into. Why won't the aliens step forward to help us? As we speak, the aliens are doing just that. Or is it the angels? Are your emotions pure? My emotions are as pure as the driven-over snow. Roger McGough was talking to Matt Shoard, who asked questions from his copy of The Interrogative Mood: A Novel? by Padgett Powell. 
Doctor G is later to arrive than he'd promised. Eleven others surround the bed of the Windisch girl. He senses damp beneath the left hinge of his jaw. This morning he was careless with the razor. He'd heard the rumours yesterday, talk of a stupid decision. He'll have to suffer this flimflam with blood on his collar. Her followers say she has not risen from her sheets since the first trance. From within these walls, they say, she is transported to the stables of the Saviour's birth. She witnesses the martyrdom of saints, consorts with angels, returns with messages, warnings. According to Count Adelbert, her eyes dribble with Christ's blood. The State Department have lifted the Speaking Ban. The news kept Doctor G at his office. It was imperative his criticism made tomorrow's Post. He feels drained, would rather be at home, with his wife. This last assignment he's undertaken only at the insistence of The Count. To delay his arrival, Doctor G elected to walk from the Post. He brooded for some time in Odeonsplatz. He dawdled through the twilit streets of Haidhausen. Now, upstairs at the Reich's Adler working man's tavern, he can see Count Adelbert, head and shoulders above the others, transfixed by the Windisch girl. A painting of the Holy Mother hangs above her bed. She rolls her head across the pillow. Her eyes gleam in the candlelight. The Count is a respectable man, even if reason has abandoned him. They have spoken once only, on the telephone. Doctor G knows him mainly from his letters to the Post. The Count is genuine, unlike the girl his letters describe. Munich seethes with frauds, cranks and beer-hall kaisers. Has done for years. During the war, Doctor G had been a scholar of the ancient Near East, its history and languages. That world too was a hatchery for visionaries and maniacs. Doctor G will not risk offending the Count personally, but for the readers of the Post he will unmask another fraud tonight. Nowadays, every man must have a higher calling. From every street corner, a gimcrack messiah calls for blood. Someone must expose them to reason and argument. This will do for a calling until his becomes clear. He knows most of the other Visitors, by sight or reputation: the priest Vogl (he has a lot to answer for); Gunzberg, the pamphleteer (ditto); Geschwind, from the ironworks family; Haberfeld, the opera singer whose voice failed with the Treaty. Lendl, the banker; Kransthaler, Centre Party functionary (and embezzler); Dopplemeyer, former devotee of the Great God Pan, whose poems make the boys of the Post crazy with laughter. Their hushed reverence and frozen stances remind Doctor G of another meeting. He'd thought of it this morning in front of the mirror, when he'd let the blade slip. The only other woman here – a tightly-headscarved peasant – must be the mother. A man unknown to Doctor G, heavy-set with wiry brows must be her father, Innkeeper of the Reich's Adler. 'You must leave us for a moment,' the father says, shepherding The Visitors out onto the landing. 'She needs to pass water.' A gimmick to encourage custom, thinks Doctor G, as several of the men lope downstairs towards the taproom. The Count approaches. Doctor G flinches: the smug grin of this august man, scion of the old order now believer in ghosts. He explains what Doctor G had missed, that Helga-Maria – overcome, ecstatic – witnessed the martyrdom of Saint Lawrence; saw him roasting on the gridiron. 'She told of a smell like pig flesh, then said, "turn me over, I'm done on this side," but in his language, without having received a morning's instruction in Latin.' Doctor G sighs. He must get to the point. 'Have you heard the news? I need to talk to you.' 'Forget that,' says the Count. 'What happens here will sing through the ages.' The cut on Doctor G's neck throbs. The Count would not prattle so if he'd met the so-called Leader. Doctor G had met the Leader. Nearly six years ago, men came to his office. They brought the Leader with them. Doctor G used to write for another newspaper. The Leader wanted his support, made promises: no bloodshed, no violence. There had been blood, though, on the cobbles of Odeonsplatz, on the day the Leader's rabble tried to overthrow the government of Bavaria by force of arms. Today, Bavaria has lifted the ban on the Leader speaking in public. The atmosphere around the bedside of the Windisch girl reminds Doctor G of his meeting with the Leader. Doctor G presses his palm to his neck. The door swings open. 'Come quick,' the father says. 'See.' This time Doctor G finds himself adjacent to the bed. He will later describe – in the first edition of the newspaper that The Count will finance and he edit – that in other circumstances, when she sat bolt upright it would have only been the revelation of her girlish beauty, paled by years in seclusion and until now concealed by her hair, that would have struck him. Her eyes are full of blood. Two lines have trickled down her cheeks. Her arms lift towards the far wall. Bleeding hands grope the air. A shiver runs through Doctor G. Four years ago, in Odeonsplatz, a man had been shot through the hand. A squirt of blood, animal screaming. More screams when seconds later an infantryman shot Göring in the bollocks. You had to laugh. You won't be able to laugh at them soon. The Windisch girl moans. She rolls on her side and whips up her nightdress. She points to a bloody smear on the kink of her waist. She tilts back and forth on her hip, so everyone can gawp. The Visitors fall to their knees in prayer, all except Doctor G. Her father probably slaughtered the rooster himself. Doctor G watches the parents for any flicker or smile. He checks Vogl, wants to see the priest's eyes while this chicanery is enacted. Vogl is kneeling, though. The candlelight softens his profile. Blood oozes along the Windisch girl's forearms. Doctor G presses the bridge of his spectacles with his thumb to enhance his focus. He looks for actual wounds beneath the blood on her palms. She grins like the child she is. None of the other Visitors look up when she laughs. No one moves. No one stands. 'The sword,' she shouts. 'Oh save him, save the infant Lord! A mound of the Innocents in the courtyard, the blood gushes to float Satan's Cross. It pours from every window in the Fatherland.' Doppelmayer, the poet, lofts his arms and bursts into tears. 'Oh my,' she says, 'but we are flying. Above the desert road and the Carpenter and the Holy Mother and Child. We go towards mighty Egypt in the company of the Saviour.' Doctor G isn't going anywhere, except maybe to escort her to the asylum at Eglfing. His thumb is now pressed so hard on the bridge of his spectacles pain is beginning to travel across his eyes. She holds out her palms to him, her stigmata like two black fisheyes. That grin again. A squeak of childish laughter. 'Oh I see Him and you, together. At His side. Gadarenes is behind us. At the lake. The lake is angry. The petrels flee. He talks to a man underground. His name is Legion. He has broken his shackles this day. Now swine will carry fiery torches. There will be fire in the House of Tongues. Fire will raze the Temples of the Separated. Their little children will be driven into pits of flame. Inferno will consume the roofs and masonry of Germany and hurl cities of dust into the night. You know this man Legion. You sat with him, your hyacinths and your fingers burnt.' She falls back on the bed, writhes and squirms and clutches at her forehead as if to tear something from it. 'Etphetach … Kum …' she says. 'Magera beisebua cannaba … magera beisebua.' This ignorant maid is speaking Aramaic. Magera beisebua cannaba … magera beisebua. From his translations, his Peshitta Bible, Doctor G knows this is the shout of the Apostles, when they realize that Judas will betray Christ. A sword, down with the man of the devil, that thief. He presses his hand to his neck. Fresh blood on his fingertips. He falls to his knees. Someone is weeping. Doctor G cannot be sure it isn't him. Later, during his many Friday visits to the Stigmatic of Haidhausen, during his conversations with her and The Count and Father Vogl and the others, at the moment he is Baptised into the Church of Rome, as he spools editorials for the newspaper founded to popularise the wisdom and warnings of Helga-Maria Windisch, as he investigates all of the Leader's dark proclivities and monstrous lies, as the stormtroopers arrive at the printing press on the night they arrest him, Doctor G will consider this moment. Maybe it was the Aramaic, or that she knew about the hyacinths the Leader admired, or that during that meeting Doctor G's cigarette had burned down and scorched his fingers. Reason could account for these things. Vogl could have prepared her; he himself had written ad nauseum about the Leader in the Post; she could have noticed the slight discolouration the cigarette had left on his index finger; the hyacinths: a lucky guess. It was something else. She sees what he could only sense rising in the vapours of the city, spreading across the faces of the people, in the night terrors of abandoned Germany. He is embraced warmly by the Visitors: Count Adelbert, who in six years time will suffer alongside him in the camp at Dachau; Vogl, the priest, who when the time comes will keep his mouth shut and prosper in Rome; Gunzberg, who will be beaten to death in his quarters on January the thirtieth; Geschwind, whose family will secrete him in the asylum at Eglfing; Haberfeld, who will die of exhaustion during the construction of the Cologne to Basel autobahn; Lendl, who will have his assets stolen, then die of drink in a Prague flophouse; Kransthaler, who will pay them off and later get himself strung up by partisans in the ruins of a city that would be renamed Asgard; Dopplemeyer, who they will imprison, then coerce into special duties in the East; Herr and Frau Windisch, who will be hauled lifeless from the bomb site. Helga-Maria Windisch – who the Visitors watch closely as she pads from her sheets to embrace Doctor G – will be hiding in a convent at the time the Reich's Adler is struck. Helga-Maria Windisch  – who will claim to be suffering with Perpetua and Felicitas on the day Doctor G's wife is handed his blood-smudged glasses by a man in black – now wraps Doctor G up in her arms. The flapping of her nightdress gutters the candle. For an instant, night is indoors. She will survive to share her Visions with the GIs. They will take back home her prediction that America will end by economic means a century hence. They will take back her conviction that all that happened here will recur when the godless elect a cavorting Mohammedan devil to the White House. Doctor G is heading back to his wife now. On the Ludwig Bridge he gazes at the night above Munich. The stars are not as they'd seemed before – gassy emitters of heat – but the alert and multitudinous eyes of eternal God.
"I have seen the future and it's Fleeting." Brooke Magnanti Jake Arnott's bestselling novels have been described as "immaculate" (New Statesman) and "astonishing" (The Guardian). A BBC adaptation of his novel The Long Firm won two BAFTAs. In 2005 he was listed among Britain's most influential gay and lesbian people. Adam Foulds has won the Sunday Times Young Writer of the Year Award, the Betty Trask Award, the John Llewellyn Rhys Prize, the Somerset Maugham Award and the EU Prize for Literature. He is a Fellow of the Royal Society of Literature and a Granta Best of Young British Novelists. A.L. Kennedy writes novels, short stories, drama for radio and screen, narrative nonfiction and stand-up comedy. In 2007 she won the Costa Book of the Year and the Austrian State Prize for European Literature. She has twice appeared on Granta's Best of Young British Novelists. Deborah Levy has written nine novels and over 20 plays. Swimming Home was shortlisted for the Man Booker Prize. Her first collection of short stories Black Vodka was a finalist for the Frank O'Connor Award and the BBC International Short Story Prize. Daljit Nagra's debut collection of poetry Look We Have Coming to Dover! won the Forward Poetry Prize for best first collection and best single poem. In 2008 he won the South Bank Show / Arts Council Decibel Award. He has judged the Samuel Johnson Prize and the Manchester Poetry Prize. Stef Penney won the 2006 Costa Book Award and The Book-of-the-Month Club First Fiction Award for her debut novel The Tenderness of Wolves. Her work has been translated into 30 languages. She also writes and abridges for BBC Radio. Alex Preston's first novel This Bleeding City won the Spear's Best First Novel Prize, the Edinburgh Festival Readers' First Book Award, and was one of Waterstones' New Voices 2010. His second novel is The Revelations. He is a critic for BBC TV and radio. Matt Shoard founded Fleeting Magazine and Fleeting Books. He edited No Cheap Tricks: A Guide for Writers, part of The Best British Short Stories 2013 and numerous novels and nonfiction. His writing has appeared in the Guardian and he is a former Young Poet of the Year. Evie Wyld is the author of After the Fire, A Still Small Voice, which won the John Llewellyn Rhys Prize. In 2010 she was listed by The Daily Telegraph as one of the twenty best British authors under 40, and by Granta as one of the Best of Young British Novelists in 2013. Fleeting's Marketing Director is Tammy Ho Lai Ming. We're assisted by Rose Green and David Whelan. Our fine art photography is courtesy of Natalie 'Miss Aniela' Dybisz. Find out how we can help, read our news or drop us a line.
I was baptized a pacifist almost seven years ago when Byron Plumley and I were arrested for illegally entering the Francis E. Warren Air Force base, a forsaken parcel of land near Cheyenne, Wyoming where the world's most lethal battery of weapons was hidden and anonymous under a sea of cheat grass and sagebrush. I was a reporter for the Pacifica Network News and accompanied Byron to bear witness to his formal desecration of a Minute Man II intercontinental ballistic missile silo. Not too far off the interstate, we turned onto a washboard road and drove parallel to a tall chain-link fence that stretched to the horizon. We eventually concealed the car next to a small stand of scrub oak, and while I gathered my gear, Byron pulled bolt cutters from his backpack and snipped a hole in the fence directly under a sign that read, "Deadly Force is Authorized Beyond this Point." "Are you ready for this," he said. We had talked through our contingencies and protocols but never considered the possibility of being summarily shot to death. He searched my face and lightly gripped my elbow. "We gotta go," he said, and I followed him through the hole, crawling on my belly. We set off at a trot. The horizon was low, and the sky was wide and cloudless. Byron wore a compass on his wrist and noted our heading as we jogged a straight course through fences, past exotic arrays of antennae, humming transformers, towers pointed into space and decorated with blinking red and blue lights. Then Byron began to run faster and I could not keep pace. He sprinted toward a dark mound in the near distance, and by the time I caught up, he had cut through one last fence and was standing on a low, black, seamless slab, fifteen feet square, two feet deep and mounted on thick metal rails. The silo lid and a broad circle around it were made of a strange, super-hardened composite, smooth as polished marble but perfectly non-reflective, a deep negative blackness that seemed to bend the sunlight. I recorded audio and snapped photographs of Byron on the lid as he ceremoniously lifted a plastic water bottle from his backpack. He held it above his head for a moment and mouthed prayers while he poured a liter of human blood into the shape of a full-sized cross of Jesus. Fumes from the viscous took to the air and I gagged at the odor and tang of copper on the back of my tongue. When all the blood had been decanted, Byron drew a sledge hammer from his pack, uttered a short, plain prayer toward the sky and brought the hammer down at the bloody intersection of the cross. Each impact of steel punctuated the short chant of peace he spoke again and again, and every time the hammer struck I imagined the sound washing over a glistening sixty-foot rocket, an immaculate device that rides a tight and roaring flame into space and delivers thirty-two times the destructive power of the Nagasaki bomb anywhere on the planet, and one of 800 such missiles around us. I paused in the cool of his shadow, lowered my camera and microphone and looked up to find him glowing golden at the edges. The odor of blood had changed to a sweetness beyond floral and I wondered if God's eye was upon us. I abandoned my gear and joined him in his prayer for the redemption of our abject people. I knelt at the side of the lid, and we spoke to God aloud in unison, Byron counting time with the hammer until three helicopters circled overhead. The command to lie face down on the ground seemed to emanate from God, and I was duly terrified with my nose to the cold material, hands above my head, but Byron continued to assault the silo and pray. I screamed, "Byron, get down," but he swung the hammer with focus and did not flinch when the voice squawked one final warning. For an instant I imagined myself tackling him off the lid when machine gun fire prickled in the air all around us and Byron's thigh exploded in a pompom-sized cloud of meat and bone. He fell from the lid without making a sound. * On Colfax Avenue near downtown Denver, Byron was among a dozen peace activists on the sidewalk outside the headquarters of a candidate for US Senate. The American Friends Service Committee, or Quakers, were asking Colorado politicians running for federal office to have their photographs taken while signing an over-sized promise to support a nuclear arms reduction expected in the next congress. As usual I was the only reporter covering and I was late. The group had already been to the office of incumbent Ben Campbell, a conservative Republican, and they were waiting for the Democratic challenger to emerge when I spotted Byron. I had not seen him in almost six years. His leg was even more mangled than I had imagined, shorter than the other and horribly bent. He leaned on a cane, and the thick sole of his short leg shoe dragged on the ground as he stepped toward me. He bear hugged my body, tight under the arms, face in my chest. He had served six years, 144 days of an eleven year sentence in a maximum security federal prison in rural Mississippi. I got off with a two year suspended sentence and probation and had long felt guilty that I never made the trip down south to visit him, but we exchanged many letters, and in the intensity of his hug I could feel that he had believed the many lies I told him. Fictitious conversations with activists and politicians and various others that together made up a sedimentary narrative about Byron's protest as the catalyst for a change in the national conscience, a small but potent leavening agent in a popular groundswell that had driven the reduction of nuclear weapons. The bitter fact was, fear is a for-profit enterprise, and all the big networks and tabloids made Byron's act of sabotage seem an occult and apocalyptic threat to public safety, something meaningless and low. Despite the many reports I filed for Pacifica and other lefty news outlets, his story was buried and forgotten and never lived longer than a single news cycle. Hugging him, I could feel his sickly thinness, and though the whole group was watching, I began to cry. Seeing him so changed and knowing, for the first time, he had given his life for nothing. "Man, you missed the story at Campbell's office," he said. "They kept us waiting for an hour until finally a pair of under press secretaries came out to tell us the senator was not available, and that was it. Straight back inside and wouldn't answer a word. That's when the goons showed up and escorted us off the property." "Goons?" I said. "Two of them," he said. "Big guys, short hair, suit coats…" and his focus shifted to something behind me. He pointed at a white SUV parked at the curb and said, "There they are. Those are the guys from Campbell's office." He hobbled toward the vehicle and used a small camera to snap photographs of the license plate until the guy in the passenger seat jumped out and tried to snatch the camera. Byron was surprisingly agile and fierce, and they grappled before falling to the sidewalk. I got up on the balls of my feet when the goon took hold of Byron's neck and punched him in the stomach once, twice. I swung the boom like an axe and brought the heavy steel microphone squarely down onto the back of the guy's head. The metal ripped a gash in his scalp, and a reflex caused me to roar in exultation. He rolled away from Byron, and I attacked his head with wild, unbalanced swings, but he was fast and strong and fended me off with his arms, then rose up from the sidewalk and paused at a safe distance as if he was going to say something. His face was striped with blood, and his coat was open to reveal a firearm on his chest, but he kept it holstered and instead raised his right arm and aimed his index finger at my head as if it were a gun. The entire group was watching. Byron took more photos, and the goon sprinted toward his vehicle, dived back into the passenger seat, and before he could close the door, the SUV lurched into traffic and disappeared. Byron was unhurt but terrified that someone may have called the police. The terms of his parole were strict and five years remained on his sentence. He tossed me his camera and scuttled away without a goodbye. He called me later that evening to quietly say he was officially out activism asked me as a personal favor to learn more about the goons. The next morning I made an unannounced fishing trip to the senator's office, a refurbished white marble mansion near the Denver Mint. The November election was less than a week away, and the three-term senator and his staff were undoubtedly somewhere in the state campaigning, so I took a gamble and asked the receptionist to see the senator himself. She asked me to sit and returned a few moments later to say someone would see me. The longer I waited the more certain I became that the thugs and others were watching me on the many cameras hanging from the ceiling, and after twenty minutes or so, a tall, stooped man emerged and smiled flatly, his hair died black and old-school slick.  "Elijah Chairs," he said. "Press Secretary." He guided me by the elbow out onto a covered porch, and in a flash I felt Byron holding me the same way on the missile range. Elijah lit a cigarette and took two fast drags and I handed him a few of the photos Byron had taken of the thugs. "Do you know these men?" I asked. The cigarette fumed in the corner of his mouth and he examined the images at arm's length, eyes squinted. He lingered on the photo of the bloodied goon aiming his finger at me and slowly shook his head, then almost laughed. "Who took these, your Quaker friend Plumley?" he said. I was stunned he knew Byron's name. "What's it matter who took them," I said. "Plumley can't even vote," he said with a flick of ash. "I'm no expert, but brawling on the sidewalk might just violate the terms of his parole." He handed back the photographs, said, "Is that all you wanted?" and took a deep drag on his cigarette. The faint taste of his smoke in my mouth, I put the photos back in my bag and walked away. "Byron," I mouthed to myself on the sidewalk. "We got 'em, buddy. We got 'em now."
The important thing to know about America is that over there every citizen is at least as rich as my baba. But the key is that you have to be a citizen. That's the one thing our relatives in America want most. They talk about it all the time in their letters and on the phone with Baba. My maman and Mahtab are just immigrants now, so they are probably very poor. In a few years they will get their citizenship and they will be rich again. That's the way it all works. You start off as a taxi driver or a cleaning woman, like the people in Taxi. Then you get your citizenship, go to a good university like Harvard, and you become a doctor like in M*A*S*H. Then, when you're done saving the soldiers, you might go to Washington for your medal and, if you're smart enough and get the best grades, even meet a shahzadeh and get your picture in Life magazine. It is all possible. When Mahtab first arrived in America, she had to get used to the new rules, and that was probably the hardest part for her—because here, in Cheshmeh, the Hafezis are the most important family. But in America, she will have to work her way up. Don't worry though, because Mahtab can handle a challenge better than anyone. Now, here are some things you already know: First, you know that going to America was a very quick decision for Maman and Mahtab. None of us saw it coming. So it's fair to say that it was full of last-minute losses: Iranian money being so worthless (if you believe Baba), and degrees from important Iranian colleges so useless because, over there, they have Harvard. And so, in America, Maman has no job and no money. Mahtab's life is very different now. No more pocketfuls of forgotten toys and spare change. No more shelves bursting with illegal books. No more new dresses to show off to best friends. Probably no more best friends. The second thing you already know is that in America television is free and music is free, and everyone wears cowboy hats and eats hamburgers for dinner. So even though they're poor, they have a good life, except for the hamburgers, which Maman thinks are made of garbage. They watch television together every night from their shared bed, which is probably set up in the living room of a tiny apartment—like Baba's cousins in Texas who wrote asking for money for a bigger house. During their first week in America, when Mahtab asks Maman why their stews are full of lentils instead of lamb, why she has to join the public library for her books, why they sleep in the same bed, Maman just says, "We haven't earned anything here." Isn't that just the sort of thing Maman would say? She used to say that to us when she took away one of our toys. You have to earn it back. Maman takes a break from cooking dinner to have afternoon tea. She gives a long speech about how she will get a job and Mahtab will go to school, and they will both learn very good English and save money of their own. But Mahtab doesn't like to hear this, you see. She wants to go back to Cheshmeh and live off Baba's money and be comfortable. She misses me and wants us to be together again. She doesn't like writing secret letters, and she thinks it's unfair that she was chosen to go to America when she could have done just as well in Cheshmeh. But then Maman comes up with one of those Smart Girl Quests she used to make up for us about working hard and being self-sufficient women. "This life may seem bad, but do you want to know the best part?" she says. "The rule in America is that people get to choose how rich or poor they are. It's totally a matter of choice." You can't blame Mahtab for being suspicious, but I'll tell you that what Maman is saying is true. According to Horatio Alger and Abraham Lincoln and the girl from Love Story who ended up at Harvard even though she was poor, a brainy girl like Mahtab has every good chance. And so Maman goes on: "Here, smart kids can do anything they want. If they work hard, they can be rich. And that's the simple way of everything." Maman always talked like that. Simple rules. Black and white. I loved that about her because when she was around, I always knew exactly what I was supposed to do next. Then Maman swallows a mouthful of tea so hot that Mahtab imagines her insides turning to liquid, her organs swimming in chai, the lump of sugar between her teeth melting like the white sediment in my science experiments. But Maman's tolerance for heat is magic and she just sighs with pleasure and keeps talking. I love that about her too. "It's different here, Mahtab jan," she explains. "Yes, in Iran it's good to be smart, get top grades, go to college. Plenty of smart women study and get degrees. But does it matter? You still have to do some things just because you're a girl." "What things?" Mahtab asks, even though she knows perfectly well. "Marry, wash, clean, have babies," Maman answers. "If you want to be a lady doctor, great! As long as you still have the clothes washed. The respect doesn't come from being a doctor, Mahtab jan. It comes from the washing. They pretend it's not true, but you hear it when you burn dinner because you were busy writing a poem, God forbid. Not here though . . ." And then Maman reminds her that having your own money is the most important thing a girl can do for herself. She reminds Mahtab about sweet old Khanom Omidi, and how she spends her days tending house and selling her leftover yogurt for pocket money. It's never very much, but it's important that she does it. That's what Maman always told us and I've seen it myself. Khanom Omidi has hidden pockets sewn into her chadors and in her waistband—a place for her Yogurt Money. This is the name Mahtab and I gave to all secret money ever since the day we saw the old lady's secret stash. A name for all the unseen riyals and dollars that you earn or don't earn, but always, always keep hidden away. "So if I'm the best in school and make my own money," Mahtab asks, "then everything will be how it was?" Now my sister is starting to understand how things work in America—that factory garb leads to business suits. She should watch more television. Maman thinks for a moment. Then she pulls out a copy of the Life magazine from 1971. She shows off the pictures of the American Shah's daughter and her pale princeling and she nods. Yes, yes, yes. This is why every Iranian dreams of America. "And then I'll never have to clean my room?" Mahtab asks, as she always does. "You can have a maid," Maman responds. "They give a discount to lady doctors." "And I don't have to serve chai to the mullahs." Mahtab always hated that chore. Maman laughs, because there are no mullahs in America. No mullahs in the street. No mullahs in your house, eating your food. No mullahs whispering about you to your father so that he gets worried and buys you a new, thicker, blacker headscarf. Then Maman ends the conversation with her usual threats: "But if you don't work hard, if you play around and get average grades, then you can always go back to Iran and marry one." Her eyes grow wide, as if she were telling a ghost story. "You know those mullahs, they snore. And under those turbans, they have thin, greasy hair. They like to throw their big fat arms around your neck when they sleep, and they kiss like dead fish." Mahtab shudders. "I don't want to marry a mullah." No one wants that. "No one wants that," Maman says because she has always believed that this is how you teach girls to be independent. Mahtab says, "I want to be rich and single with nobody telling me what to do." And then Maman says something very important. Are you listening carefully? This part is critical. She says to Mahtab, "You will be, because Saba is rich." Maybe Mahtab whispers my name just then. You know, sometimes when she's bored, she reads my letters and makes up stories of our days together. "All of life is written in the blood"—Maman leans close and taps Mahtab's nose, identical to mine down to the last bump—"and you and Saba have the same blood. It doesn't matter where you live." This is true. How much control does Mahtab really have? How much control do any of us have? It is all predestined like the old fortune-tellers say. Mahtab should know, because she was in the water that day too. And I'll tell you, she will be insulted when she hears that you crazies think she is dead! Maman gets up to stir the no-lamb stew. Look at them: my poor mother, my sister. Look how sad they are without me. It's hard to know how much food to make for only two, or how to keep a conversation going. You need four for a full table. And look at the future that is now planted in Mahtab's mind: she will be an American shahzadeh in a magazine, with four dresses in as many photos and a quiet, light-skinned man with old money and new thoughts. She has American ambition now, the kind you see in movies about orphans. Now Mahtab is the sort of girl who worries—about money, about love, about her future. There are so many things that America has taught her to want. The next day Mahtab goes to the library. She finds out about school courses, and entrance tests, and free money from the government, which is how the girl from Love Story got to go to college. She fills her mind with all sorts of facts and deadlines and admissions rules—all the same things my high school cousins in Texas have been obsessing over since they arrived there. But most importantly, she stamps her dreams of glamour and riches with a name. She takes her girlhood goals, her love of books, her childish need for comfort, and her twinly self-hate and wraps them up in a neat little package, sealed tight and sizzling with an iron brand. A name that even the greasy, cumin-scented Iranian man at the gas station will recognize: Harvard. This is an excerpt from A Teaspoon of Earth and Sea by Dina Nayeri, which will be published in the UK by Allen & Unwin on April 4th, 2013. Click here for Fleeting's exclusive interview with Allen & Unwin's director Clare Drysdale.
Imagine Mark Z. Danielewski with Joyce, Pynchon, Foster Wallace, Borges and Proust bowing at his feet, 'choking with astonishment, surprise, laughter, awe.' That's how Bret Easton Ellis saw him after House of Leaves, Danielewski's genre-defying debut novel. Mark talks to David Whelan about genocide, 'the ghost in the Web', and the apricots that saved the world. Did your mother teach you anything particular, and did your father?  My father taught me to take the world seriously. My mother taught me not to take too seriously my father. Why won't the aliens step forward to help us? You mean twice? As everyone knows, the aliens came to Washington, D.C. in 2004. They should have gone to London. We'd be in a lot better shape if they'd gone to London. But they came to Washington, D.C. They came bearing gifts, simple gifts, like the cure for cancer, illiteracy, gravity. We kept them in the White House waiting room for three days. Supposedly they weren't even allowed to use the restroom. The reason the earth wasn't atomized was due to a migrant worker from Zacatecas who shared with them a bag of dried apricots. He wasn't allowed to use the White House restroom either. Do you believe in ghosts, or want to believe in ghosts but really can't, or dismiss ghosts outright? Aside from the ghost in the Web? I think that one's pretty much considered a fact these days, right? Those little occult messages we all get? Or at least I get. Worse than a Ouija board in a bar after midnight. Like: "Something-something collection agency something something." Supernatural? No question. And the proof that it's a ghost? No matter how many times you hit delete, those messages keep coming back: "Please Remit At Once." If you could reverse or bend a moment in history into an outcome regarded as the opposite of what happened, or at least as substantially different, what moment would it be? Can we all just agree that genocides are never a good thing? What are three basic things you need to be content in life? The cure for cancer, illiteracy, gravity. And the cure for genocide. Can I have four things? Are you really going to tell me I can't keep the cure for genocide on my list? Whose death, recent or not, do you most lament?  Roberto Bolaño. It seemed unnecessary. Were he alive today I would certainly have approached him like an old friend. Something involving a mall security guard would then take place. Nothing of literary consequence would result. Maybe an idle conversation with the security guard. Something like "I beg your pardon! I do not steal Hello Kitty socks! They come to me!" And "That's Roberto Bolaño! He's getting away!" I wish he had gotten away. Who is your favourite painter? Mark Rothko. I'm a sucker for pretty colors. Do you engage in any ritualistic behaviour? Only the ones the aliens taught me. Mark was talking to David Whelan, who asked questions from his copy of The Interrogative Mood: A Novel? by Padgett Powell.
are eighteen months old when Mr Jones dies in a minor pit disaster. My father calls round to help Mrs Jones fill out the compensation forms. The twins clamber and loll in their play-cage like small, bald gibbons. They gum down relentlessly on Farley's Rusks, small and round and featureless as their faces. Luckily, their mother adores them. I see it clearly as if the memory was my own. Aged seven, Morris composes a paean to my brother, top of the class: Hail Vince! Lord of the sands. Son of a god. Aunt Aggie moves in. For discipline she wields a stick called Jinny. Why Jinny? She tells no-one. Aged nine, Morris and Meirion win joint first prize at the Miners' Gala children's fancy dress competition, contested in Capel Zion's draughty church hall. Pastor Morgan introduces them as spies and Aggie has furnished them with identical copies of The South Wales Echo, portholes cut neatly into the front pages. They sit side by side on wooden chairs and with a single flourish raise the papers in front of them, their identical eyes staring out at rank upon rank of the village's children. Aged thirteen, already taller than their teachers, they become martyrs to weeping acne and dizzying body odour. My brother and I doubt they will ever lose their cherries. The very thought of their cherries is wholly repugnant to us. Morris, obsessed with shaving brushes, acquires trade catalogues by posing as an independent chemist. Shaving brush salesmen from Cardiff occasionally arrive bewildered, disappointed. Aged fifteen, Meirion somehow obtains a magazine of hardcore German pornography: Arsch! One spread, black and white, depicts a milk enema. They discover Tolkien. Meirion constructs a model Balrog out of plasticine. With only a magnifying glass and sewing needle he achieves a convincing approximation of pubic hair. Tragically, the sausage-like legs are too soft to support the bulky torso. He exhibits it prone in a shoe box upholstered with toilet paper. Aged seventeen, Morris tells us Meirion has killed another boy in the colliery yards. We run half the length of the village to see, but it's a lie. One day, Meirion turns Jinny on Aggie. Meirion vanishes from the village and our lives. Morris, who stays, is rarely seen.
Tod Wodicka's debut novel spans cultures lost and regained, elusive identity, the future and the inevitable end. All Shall Be Well; And All Shall Be Well; And All Manner of Things Shall Be Well was considered "one of the strongest and most unappreciated novels of the year" by Dave Eggers' The Believer Magazine. Tod tells David Whelan about crop circles, the laptops of the 1920s, and the chemical odor of fame. Of which lost or destroyed culture are you most fond? Ours, pre-internet. I also miss the neo-Adamite Picards of 16th century Bohemia and really gauzy coked-up 70s Soft Rock. Why won't the aliens step forth to help us? Probably for the same reason we won't we step forth and give ants or manatees our technology and advice. That, or they have already and they're now playing the long game, waiting for us to self-exterminate so they can holiday without the bells and whistles of cattle mutation or crop circles. Do you ever wonder after the stories stolen in Mr Hemingway's valise on the platform in Paris? Actually, it always sounded like a romantic plot hatched up by Ernie and Hadley. A little harmless self-mythologizing, because everyone loves a mystery and one that involves a French train. Or maybe it was only something like the 1920s version of saying you had a really productive day of writing and then your laptop crashed and you lost everything – everything! – when really you were just online all day looking at people without clothing. If you could design a flag for a nation, what color or colors would predominate? It would be transparent. If you could have anyone on earth come over to your place for some sexual relations right now, or in an hour or two if you wanted to get ready, or even later tonight or tomorrow night or next week if you wanted major preparations, or hell, like in six months or a year if you perhaps have some weight to lose, who would it be? Michelle Williams? I think I'd prefer it to be with an attractive, relatively inspired non-famous person. I bet famous people have a weird chemical odor. Are you with me here? Maybe? Tod was talking to David Whelan, who asked questions from his copy of The Interrogative Mood: A Novel? by Padgett Powell. Photo courtesy of Exberliner Magazine. 
Laura Dockrill leads the new wave of British performance poets. An inspired blend of writer, coxcomb and confidant to Adele and Kate Nash, she is equally at home at Glastonbury and Woman's Hour, dispenses fashion advice to the Guardian and the Times, and is tipped by the latter for literary stardom. "I have hallucinated a couple of times," she tells David Whelan. "On the District line." Do you engage in any ritualistic behaviour? I can't live without tea. I get in a very bad mood if I don't have it. Another ritual I share with my husband is that every night, before bed, he has to put on a Hawaiian shirt and we listen to David Bowie's Young Americans. Did your mother teach you anything particular, and did your father? How to drink. How to talk to strangers. One thing that's pretty sly and impressive of parents is how they basically turn us into friends of theirs, in a Frankenstein sort of way. They have babies and then spend the next twenty years customising their very own BFFs. BFFs that look like them. So they have somebody who understands them, with the same taste in music, film, food, culture. Someone to nod with in the pub. I've seen it happen. It's very clever. If you could design a flag for a nation, what color or colours would predominate? It would have to be horrifically sparkly and twinkly, made up of individual sparkles so that each circle of glitter was like its own mini rainbow. In answer to your question, the predominate colour would be sparkles. Are you with me here? Yes, I am having a really good time. I often wander off into a bubble of my own. Sometimes I get a nasty shock when I think I'm doing an excellent job of integrating myself into society and then realise I haven't been there at all. It's a horrible realisation. I have hallucinated a couple of times, both were the same vision. It was on the District line. I used to see a woman – Feist in an orange dress, to be blunt – on a white horse galloping fast after me on the tracks. I was happy to see her. It wasn't a ghost. Are you much of a cook? I get by, but the man I live with is the real chef. If I cook, he hovers over me, telling me to slice things thicker or thinner and then I get fed up. Currently I have a big gash on my left hand from peeling a sneaky sweet potato, so I understand and respect food. I know it can backlash. Isn't it – and forgive me the pop locution – hard being you? Oh, shut up. Of course it isn't. Life is what you do with it and what it does with you. Is the sky the limit? Absolutely, thank you for asking. I think about the sky quite a lot. I once saw a TV program where a screw came loose on an aeroplane in the air, the window came off from the front, and the pilot got sucked out of the window from the pressure and the other pilot quickly put his arm out and managed to grasp him. He held him there the whole way down to earth. He saved his life. People are amazing. His arm got amputated I think, but it was worth it. What a story. Are boys meaner than girls, or vice versa? You can't judge people on being boys or girls. We are rice and pasta, completely different, both need heat, swell in the belly and taste horrible raw. Should I go away? Please don't. I've got a six-pack of mince pies and some episodes of Breaking Bad. We can sit on the sofa and tear them open. I'll ask you things about your life and you can answer them. You can wear my slippers or my husbands, depending how big your feet are, or if you have really big feet we can put pillows underneath them and wrap belts around the top to invent you new house shoes. There's always a way. No, nobody has to go anywhere. Laura was talking to David Whelan, who asked questions from his copy of The Interrogative Mood: A Novel? by Padgett Powell.
Clare Drysdale directs the London branch of Allen & Unwin, Australia's most lauded independent publisher. In the first of a new series, Clare gives Fleeting her top five publishing picks for the coming weeks. As a publisher, I'm proud as punch to be working on Michelle de Kretser's new novel Questions of Travel, published in the UK in March. To my mind it's her best yet, a deeply satisfying and provocative interrogation of the concept of travel and the way our lives connect. Literary trainspotters will swoon over the threads and echoes of Patrick White, Christina Stead, Shirley Hazzard and EM Forster, and sentences like this: "She came to savour the brief minutes at the end of every journey when travel was over but arrival remained prospective." It's a book to cherish. Beyond my own desk, the horizon is studded with books I can't wait to sink into. When Meg Wolitzer is good she's great, and The Interestings is her big, brave, forty-year study of friendship, talent, envy and narcissism. There's also a new collection from short story writer par excellence Cate Kennedy. Like a House on Fire (Scribe, June) tells of lives heartbreaking in their ordinariness, with extraordinary warmth and a feather-light touch. I'm counting the moments until the February 2013 launch of The Writer's Room, Charlotte Wood's new magazine of long-form interviews with writers. Unashamedly inspired by the Artist Review and the Paris Review, she plans to concentrate on Australian writers for starters, which sounds right up my alley. Given that my family hails from Flint, Michigan, I'm also desperate to read Mark Binelli's The Last Days of Detroit (Bodley Head, January). I know it's nonfiction, but it's been a decade since this most blighted of American cities has had a worthy chronicler. I'm hoping Binelli can capture Detroit's peculiar mix of potential and urban despair. Share The Fleeting Five on Twitter and Facebook. If you'd like to share your publishing calendar with Fleeting, contact [email protected]
Son of a "cruel" financier, grandson of a Zionist spy, virtuoso flautist, aphorist and entrepreneur, Alain de Botton is the ultimate contemporary philosopher. At 23 he published a two-million selling novel of ideas. Since then, he has interned at a writing desk in Heathrow's Terminal 5, founded his own university in Central London and advanced practical philosophy at every turn. "So long as we're tolerably kind," he tells Matt Shoard, "we've earnt our place in the world." Are you happy? - I am leading the right life for me, but I'm scared witless most days by my work. - What are three basic things you need to be content in life? - You need a job you enjoy, a partner you love and a tolerably functioning society to live in. This is asking a huge amount. - Is the sky the limit? - I'm very against the philosophy that says, 'You can do anything.' We're all deeply limited. The point isn't to try to achieve everything, but just to honour one's innate talents. That may be a lot or a little. Most of all, what we need help with is resignation. We need to learn to live with disappointment. That is true heroism. - Do you sympathise with the outlaw? - I sympathise with people who've slipped up – broken a few rules, messed up their personal life, done something taboo – and have had to pay a very heavy price for it. - Can you say why there are no longer TV shows featuring the loyal heroics of dogs or horses? - We have ceased to believe in loyalty in animals or people, very sadly and unfairly. -- Wasn't there a day on earth when not every soul was possessed of his or her own petty political and personal-identity agenda? - It's normal to be deeply self-obsessed. So long as we manage to be tolerably kind to a few people around us, we've earnt our place in the world. - Are your emotions pure? - Some are, but when they're not, I tend to show it. I'm not a shmoozer or bullshitter. If I am in with someone just for a deal, they'll know it – and it's not a problem. - Do you know of a likely candidate to replace me as the asker of these questions? - I like being asked questions by my children. - Alain was talking to Matt Shoard, who asked questions from his copy of The Interrogative Mood: A Novel? by Padgett Powell.
Jonathan Lee left the life of a solicitor in London for that of a writer in New York. There, he has launched a fiction of dizzying suddenness and charm, catching the eye of the Edinburgh Festival First Book Award, the Desmond Elliott Prize, the Observer's Books of the Year and the BBC's Culture Show, which called him one of Britain's best new novelists. He tells David Whelan about Jazz Age Paris and apple pie slices, and makes a personal appeal to Claire Danes. Do you ever devote yourself to making a cake and then sit down and eat it? I never make cake but I do often sit down with cake, and eat cake. I'm a big fan of Bakewell tarts, lemon drizzle cakes and the apple pie slices served at Mazzola Bakery in Brooklyn, which is a lethally short walk from where I live. Of which lost or destroyed culture are you most fond? Jazz Age Paris would be pretty good, chucking back absinthe with Hemingway at Les Deux Magots, chatting to the Fitzgeralds and Picasso and Dali and Eliot and Gertrude Stein. For one city to contain the artistic universe in that way – I can't imagine it being possible ever again, for better or worse. If you could reverse or bend a moment in history into an outcome regarded as the opposite of what happened, or at least as substantially different, what moment would it be? I have a fear of large-scale mess, and I sense that by fiddling with certain moments I'd be dramatising on a grand scale the kind of issues I have when trimming my sideburns shorter on one side. It's the same with sentences: change one and you mess up the next. It goes on forever. So I'd probably let history be history. Would you like to send a love letter to anyone? Claire Danes. My novel Joy is in the early stages of being adapted for television, and I want to beg her to play the central character. Who is your favourite painter? Lucian Freud. I admire his forensic attention to his subjects, and the way he makes flaws beautiful by lavishing upon them such style and love – flesh, fat, the twist of a grimace. Updike talked about using writing to "give the mundane its beautiful due". Lucian Freud gave the ugly or supposedly ugly its beautiful due, to startling effect. You hear people at the moment speaking about likable or well-rounded characters. But a lot of people aren't likable, and we're not all well-rounded. Some of us are lopsided or square, and Freud made it his life's work to investigate and celebrate our flaws. I like water lilies, but I'd rather spend time with a Lucian Freud painting. Is a cupcake sufficient for you, or do you call for another? I'd call for another, but I wouldn't expect anyone to listen. Jonathan was talking to David Whelan, who asked questions from his copy of The Interrogative Mood: A Novel? by Padgett Powell.
This site uses Cookies This site can remember The cookies I bought from the online store That Friday in December. This site uses Cookies. This site knows so much. It understands my cookie habits: Each thought. Each whim. Each touch. This site uses Cookies. It's a Cookie-Kafka dream. An Orwellian twist of language: Animal Farm. The scream. I bite into a cookie And a Cookie counts the crumbs It tells me "buy another": Something Cookie this way comes. Ian McMillan's 'This Site Uses Cookies' was a special commission by Fleeting Books.
This year, Deborah Levy's novel Swimming Home missed the Man Booker Prize by a vapour. At once sleeker than Self and dreamier than Mantel, Levy tiptoed the steaming edges of repression and sensuality in the foothills of Nice, and was the most haunting inclusion on the shortlist. "I'm not sure where we land when we fall out of love," she tells Matt Shoard. "Ask me next year." Have you chosen the way you'd like to die? At 15 I thought I'd jump into a lake and be found like Ophelia with weeds and lilies in my hair. The problem is I am just too strong a swimmer for this kind of caper and would probably not be able to resist sunbathing on the bank. I now realise I have always been a stern existentialist. I really do believe we have to find our own point to life. Now of course, at 53, I'd like to die peacefully in my sleep as they say – preferably in black eyeliner with a perfect flick at the end. And with my knickers on. Freud was brilliantly subversive on the death wish, which is actually quite developed in us all. He thought vertigo as a symptom was really the fear of throwing ourselves off a high cliff. Whose death, recent or not, do you most lament? The best thing I ever said to my parents was this: look, I know there is a rumour that old people die but it's not going to happen in your case. If you let me down and die, I'll never get over it so as far as I'm concerned you have to be immortal. The odd thing was they kind of took up the challenge. My father said in his manly way, I'll see what I can do, but he was smiling, almost grinning. In my way I had told them I loved them and that's all they needed to know. It was a shock to read about the death of the reluctantly surreal artist, Leonora Carrington. I totally admire the complete conviction of ideas in her art and how she had to leave her family and country to move closer to how she wanted to exist as an artist and as a woman in a male-managed world. I admired her even more when I read that she had dated Luis Bunuel, whose film The Discreet Charm of the Bourgeoisie was an oblique inspiration for Swimming Home. When he cheated on her she apparently made hand prints from her menstrual blood all over the walls of his apartment. I sometimes think of the mechanics of this and frown. Can you say for sure that you have loved? I have loved for sure. Love has to be blind – if we were to see the object of our love clearly and rationally we would never ever risk falling in love. That is the only wisdom I have acquired over the years. I can now see how willfully blind I was, but at least my beloved could read maps and make good salads. It's so awful to fall out of love. It truly is a fall. I'm not sure where we land when we fall out of love. Ask me next year. If you were to participate in a spice war, which spice would you fight for? It would have to be cinnamon. Very good with lamb, evil with sugar on toast. And a hot cinnamon pretzel in Berlin in the snow is a wonderful thing. Are you more at ease in a veneer of civilization or in a true hardwood of barbary? I'd like to say the true hardwood of barbary but I do want the trains to run on time. Do you believe in justice? Yes I do. That's a yes in all the languages. I'm not getting into how justice is relative and all that. We feel justice in our bodies. Our cheeks flush when we are humiliated – the climate inside us literally changes. Our heart beats faster when we make a case for something we believe in. We find strength we did not know we possess. We raise our voice, we turn the volume up, we don't care what others think of us when we're making a case for justice, no matter how small or big, how political or personal. We discover who we are and what we won't stand for. Recently I raised my voice at a racist bus driver – he was bullying a 12-year-old schoolboy who was trying to find his oyster card. This kid was panicking because the driver's own prejudices and problems were clearly out of control. No child should be spoken to like that and I was surprised at how furious I was. Fury is a sort of alchemy, it starts off hot and then it turns to cold metal and makes us eloquent. The Oyster Card was found. The boy turned to me and said, "Thanks, yeah". And then he ran up to the top deck as fast as he could. Between an automobile mechanic and a psychologist, which is worth more to you per hour? What the hell is a psychologist, Matt? That's casting the net very wide. In the balance (balance is always very boring in fiction but essential in life) I would prefer the brakes on my bike to work than spend the morning describing my dreams to an Argentinian Freudian snoring behind the couch. Are you comforted by the assertion that there are yet People on Earth who know what they are doing? Or, like me, do you subscribe to the notion that people who knew what they were doing began to die off about 1945 and are now on the brink of extinction? Yes, Benjamin Eastham and Jacques Testard, editors of the stunning new Art Literature and Politics journal The White Review know what they are doing and they also know who they do not want to do business with. Andrew Gallix, writer and editor of 3:AM Magazine knows what he's doing and I am so pleased he's doing it. Uber publisher and translator Stefan Tobler at And Other Stories is a man of vision and steel; he knows what he's doing in any number of languages. So does Matt Shoard of Fleeting and so does John Self, an incredibly astute reader and critic. Every generation throws up its new thinkers and they tend to make a cultural revolution. They have energy and purpose and sometimes wear really nice shoes. They make everyone else look exhausted and clapped out. That is how it should be. Deborah was talking to Matt Shoard, who asked questions from his copy of The Interrogative Mood: A Novel? by Padgett Powell.
There was this hot nun. Her name was Sister Anne, and, of all the nuns at Holy Name Junior High, she was the only one younger than my mother. She had lips and perfect skin and most of all these big brown eyes I couldn't bear to look straight into. She rarely smiled, more because she was quiet than because she was sour, so when she did smile, say, in algebra if you had just completed a difficult equation on the board (in a minimum of steps, and neatly) you might look into her face and see her tongue moving in her mouth with the numbers, see her give the work (not you) just the barest nod, the barest hint of a smile, then you'd feel yourself flooded with a feeling you couldn't name that was something like pride, something like what happened when you discovered your brother's magazines in a plastic bag out in the treehouse, but more than that. "She's doesn't wear a bra," said Jimmy the Frog one afternoon. This was the sort of thing Jimmy the Frog would say, out of the blue. It was raining outside. We were watching his mom's tapes of Wheel of Fortune in his parents' weird mint-green bedroom. I of course knew who he was talking about. "They have to wear bras, right? It's a rule," I said, not only to shut him up, but because when I thought of her I liked to imagine that underneath that robe she was wearing something lacy and white and complex. "You can see them bouncing around," he continued. "Yup," I said flatly, ashamed, like I always was, by any out-loud mention of sex, especially connected with Sister Anne, who was, after all, married to Jesus, which didn't prevent me from seriously considering again the story, this time without underwear, of a late afternoon, returning to school for a forgotten book, finding her there in the classroom, the way she would look at me as she uncovered her hair and opened her robe. At that age, I couldn't bring myself to believe that Jesus was anything more than a really good guy, but I felt I was doing something evil and dirty and against God by imagining Sister Anne naked. Still, for God to expect thirteen-year-old me not to think about her would be like giving me a nuclear bomb and expecting me not to fantasize about blowing up the world. "Give Me Liberty or Give Me Death," said Jimmy the Frog, finishing the puzzle on TV, even though the only revealed letters were the two "t"s. Jimmy the Frog was a Wheel of Fortune genius. I found this intimidating. I could never see it until it was almost finished, and even then I was usually wrong. "Jesus," I said, then felt guilty for saying His name. "I'm bored," said Jimmy the Frog. "Vanna White is boring." "She's old," I agreed. "She's flat," though she was that episode wearing a shortish silver shimmering dress that I still remember. "I have an idea," he said. A few hours later, we were up in a tree twenty feet behind the dormitory where the nuns slept. The tree was pine, which meant the branches, though close together, weren't all that thick, and it had just stopped raining and it was spring so the whole tree was oozing sweet brown sap, which meant the branches were gooey and slippery and sticky, which made the climbing dangerous and kind of gross, and it was getting dark, which made the climbing even more dangerous, and pressing ourselves against the trunk and the wet waves of green needles soaked us through, none of which mattered to me because, at first, when there was still light, I was terrified of being discovered and then, later, when it was dark, that we would actually see Sister Anne naked. The idea was as unthinkable as seeing the face of God. I never asked Jimmy the Frog how he knew which window was Sister Anne's or how he knew about the tree or how he knew the exact time that the nuns returned to their rooms for the night. He knew things. In those days he had a certain power over me. The last time I talked to him was last year when he called out of the blue and tried to sell me a car. We were sitting on slightly thicker branches about fifteen feet up, just high enough to really feel the tree swaying in response to our alien weight, but below her window on the third floor and not high enough to see in because the branches up there got thin. To really see in we'd have to perch standing up and holding on. There was water dribbling down my neck. I was sticky and cold and on edge. And then we could hear the nuns' chanting from the church on the other side of the dormitory. It seemed to rise like mist from the wet dark green around us, soft and insistent as a lullaby, but strange, a lullaby without a singer. "There's a lady who's sure," whisper-sang Jimmy the Frog from just below me, blankfaced, in rhythm with the nuns, "All that glitters is gold, and she's buy-I-ing a stair-air-way-ay, to heav-uh-un." "Nice," I said, too loud. "Nice," he repeated slowly, softly, as if the word itself had some mysterious power I didn't understand. The chanting stopped. Within minutes we could hear footsteps in the halls of the dormitory. The weak light of candles. Then there was light in Sister Anne's window. Jimmy the Frog looked up to me, grinned and mouthed: "Titties." I waited. I was glad it was cold because I was shivering. I expected Jimmy the Frog to climb up first, but he didn't move, but kept grinning. I didn't consider that he could have been just as terrified as I was. He pointed at my face and then he pointed at the window. "It's your funeral," he said slowly, which made sense to me. I was surprised how easy it was to get myself to a place where I could look into Sister Anne's room: whatever else I was doing, I was also climbing a tree, and I was an excellent tree climber. When I was young I could stay up there for hours. As soon as I got myself level with Sister Anne's room, I saw her standing with her back to me, loosening the cloth covering her hair, then removing it, setting waves of smooth dark hair free. I felt as if I had been unpeeled from my skin. The room was small and bare. Not even a picture of Jesus tacked to the wall. There was a long thin bed, a dresser, a hard chair pushed into a skeletal desk. On the desk a large tin bowl and a small tin cup, a porcelain pitcher, a closed book, the burning candle that was the only source of light. Sister Anne laid her head cloth on top of the dresser, then opened the book and removed a black comb like a bookmark. It was the kind of comb barbers kept in giant glass jars, the kind my father used. She did not pull out the chair to sit but remained standing facing the shadows on the bare wall, her eyes following the flicker, her tongue moving in her mouth, and she began to run the comb carefully through her hair. I felt suddenly very calm. Every woman I have ever loved has reminded me in some way of Sister Anne in that moment. Most of those women have disappeared from my life. Most of those women I still love. I would pretend to be asleep as she was getting ready to leave for work, for school, for home, so I could watch her there, at the mirror, at the window, brushing her hair, watching trees move in the wind, watching her own eyes, thinking of something else, of church or breakfast or some other love, and at the same time running the brush carefully through her hair, the hair I had touched, with such dispassionate tenderness for herself, for the new day, for the whole world. Soon enough, from the ground (Jimmy the Frog had managed to climb down unnoticed while I was watching Sister Anne) a voice screeched up: "Give me liberty or give me death!" Sister Anne whipped her head towards the window and with a whoosh of her hand killed the candlelight. I could only see her outline in the darkness, but I know she could see me, I know it, even though she never turned me in, or treated me any differently in class, because I have never felt so naked and exposed, so seen–the way you feel sometimes during confession or prayer, when you manage to open your whole self to whoever is listening, to that silence. Somehow I lost my foothold and grip on the tree and started to fall, lashed from every direction by branches and wet needles. I was so disoriented I could have been falling up, into the sky. When I hit the ground Jimmy the Frog, laughing, helped me up and touched me on the back of my head and then we started to run.
Robin Jones is a literary agent, editor, and director of Unthank Books, independent publisher of "unconventional, unpredictable" fiction and curators of the UnLit Festival. He offers Fleeting his five publishing highlights for the months ahead. We're thrilled to have been around long enough to publish the second novel by one of our authors. We launched Unthank Books with Ashley Stokes' comic masterpiece about the creative writing game - and this month, three years to the day, we're publishing The Syllabus of Errors, Ashley's deep, interwoven exploration of messing up and missing out in present day Purley and Weimar Berlin. The very eminent David Rose calls it Josef Roth meets Robert Bolano – which will do for us.  Having served for many years as the UK literary scout for publishing groups abroad, I've retained a more than passing interest in the phenomenon of auctions. Nathan Filer's debut novel Where the Moon Isn't, published this May, had eleven publishers bidding for it, and I'm impatient and intrigued to see why. I'd been dying to read something that had a 'look' or even a 'go' at the contemporary British art scene when KS Silkwood's King of the Jungle, also out in May, came through the door. He pulls the art scene painfully and hilariously apart – how he managed such arch cattiness and vitality from the viewpoint of a young London park-keeper had us all marvelling at his cheek and skill. Bloomsbury UK and US have just acquired a fascinating work of non-fiction in the mould of Rachel Carson's Silent Spring, which began the environmental movement in the early 60s. Farmageddon is co-authored by 2012 Political Journalist of the Year Isabel Oakeshott and CEO of Compassion in World Farming Philip Lymbery. They expose the myriad truth of factory farming across all continents – the horsemeat scandal is the tip of a very septic iceberg. One of the joys of independent publishing is the freedom it gives to projects that wouldn't sit easily at the large conglomerates, wouldn't make the cut at their acquisitions meetings, yet are nonetheless good and true. One such for us is a collection for The Bronte Birthplace Trust. The house has a chequered recent past and our 'Bronthology' of shorts will go to help preserve the birthplace of the nation's most important sisters. Contributors so far include A. L. Kennedy, Simon Armitage, Alison MacLeod, David Rose, Tania Hershman – we're expecting a great read. Share The Fleeting Five on Twitter and Facebook. If you'd like to share your publishing calendar with Fleeting, contact [email protected]
Nathan Filer's debut novel started an 11-way auction in 2012, won by HarperCollins with "a substantial six-figure sum". The Shock of the Fall, Harper say, will "set the reading agenda for 2013." Nathan tells Matt Shoard about preparing for death, his three steps to happiness, and conceiving his daughter in a detention cell. How is your health? It's good. I often forget to be grateful for that. If you learned that you would expire tomorrow at 5pm, what would you seek to do until then? Correct my answer to your previous question. Then seek legal advice to get my last will and testament in order. I have a new-born daughter so have started to think about that sort of thing. And about mortality in general. It would be an admin-heavy day. What are three basic things you need to be content in life? 1. Have specific, achievable goals, and a flexibility in how you are willing to achieve them. 2. Be prepared to fail. 3. Don't expect contentment in three easy steps. Are boys meaner than girls, or vice versa? Yes – boys are meaner than girls or vice versa. What's just about the worst thing you ever heard of? Britain abstaining to support the Palestinian bid for enhanced UN membership on the grounds that Palestine wouldn't waive its right to seek justice through the International Criminal Court. It's a court. We like courts. Unbelievable. If you were to participate in a spice war, which spice would you fight for? I have no thyme for violence. Can you say for sure that you have loved? By your standards, who knows? By my standards, most definitely. Will you be travelling significantly this year? Last year I travelled significantly – it ended in my arrest and deportation. My girlfriend and I were making our second trip to the West Bank, where we'd previously done human-rights work with the International Solidarity Movement. The Israeli authorities aren't too encouraging of this sort of thing. We got as far as an immigration centre in Tel Aviv. It wasn't all bad. We were locked overnight in the same cell, so took the opportunity to conceive our daughter. We've named her Ayda, from the Arabic 'to come back'. This year I hope to travel insignificantly, and hopefully get a tan. Nathan was talking to Matt Shoard, who asked questions from his copy of The Interrogative Mood: A Novel? by Padgett Powell Share on Twitter and Facebook
She agreed to move in with me for a few minutes. Not what I had hoped but better than nothing. What shall we eat, I said, soon after she moved in but shortly before she moved out. There isn't time to prepare anything, she said. Sex then, I said, smiling, a short while after she moved in but soon before she moved out. It would be too rushed, she said. We could just talk, I said, several minutes after she had moved in and only moments, really, before she moved out. It's too late, she said. So we should just sit here in silence, I said, a few minutes after she moved in and seconds before she moved out. Yes, she said. This is exactly what couples do, even when they have all the time in the world.
Fleeting Books and Wrecking Ball Press are looking for a new rule for writers, a single line of advice, by an emerging or established writer. Hundreds of writers have added an imperative to the language of creative writing - "Write drunk, edit sober" (Ernest Hemingway), "Start as close to the end as possible" (Kurt Vonnegut), "No cheap tricks" (Raymond Carver), "Try to be better than yourself" (William Faulkner) - together they act as one complete and continuous remedial seminar from across the centuries. Impress our judges with your rule for writers and it'll appear with these in No Cheap Tricks: A Guide for Writers, a new book by Matt Shoard, introduced by Tim Dowling and published by Wrecking Ball Press in November 2013. You'll also be invited to its launch events and win £100 cash. The best line will be selected by No Cheap Tricks publisher Shane Rhodes, editor Matt Shoard and writer Tim Dowling. Send up to three lines of advice, and a brief bio, to [email protected] by midnight on July 31st 2013. Good luck! Share on Twitter and Facebook
I am on an excursion with Bob Broadbent Bob's a bit weird but I'm desperate he keeps saying dolce, loves saying dolce sweet my life isn't dolce (we had come out of Air Street onto Regent Street) nor is his, but he's moving on to new pastures he said quote unquote he said, as he thrust past some girls with mobile phones, shopping, coffees and I said (fate waiting to mock us, that's how these internet dates feel) I said OK new pastures, but mustn't tread on the snowdrops he said OK but a person can moo, new pastures meant having something to feel good about to moo about I said so as to connect with him yes he said he was going to moo as much as he liked then I said no sign of pastureland here, just swirls of people, mobiles and briefcases and hand-held cappuccinos I thought but left unsaid, walls of stone up to the sky imagine you were a cow he said I didn't like that, as remarks go more moo in a moment but before we hit the buffers, me reversing direction just in time and walking head high toward Piccadilly, the Tube, back to Hastings, here is the story so far: Bob, who was keen for me to call him BB, suggested I come with him and his case of fragrances the case was a shoebox, I should have had a box custom-made he said but ran out of funds I looked at his sweater of uneven weave and resisted asking exactly when he had run out of funds in his email he said I could go with him to a big department store to see if he could land a contract, well not a contract but an opportunity, to see his dolce tried out, on sale or return of course did this make any sense I asked myself the whole thing, did it make sense go back and wind forward, aim for an overview back in little Air Street I thought the arch above the street might fall on us, next thing we were out in the great space of Regent Street, whoosh, dramatic whoosh, the panorama, it was like going onstage from the wings, something's going to happen, I was intrepid for a moment then wondered if the arch had fallen behind us I glimpsed BB's profile, its soft line showing the direct influence of milk puddings and fried mashed potato strangers are strange he said so himself, most people don't fancy most people and Bob Broadbent was turning out to be such a donkey clot stupid lollipop but why get upset over some, some, some just some guy, why get upset if we didn't get on together, why don't argue, circle the covered wagons in their red bus exteriors, it's time for a pow-wow in the middle of Regent Street what was it about BB, who had the allure of a plastic tablecloth, straggling ginger hairs on his chin, then his broken tooth, his mop-top hair he'd hardly looked at me twice, I don't believe he even noticed my begonia his first words to me, don't try to guess, were "like your glasses" he said, lighting swiftly on my uncoolest feature my first thoughts were he could be cuddly, in a strange way I haven't thought that since mustn't cry what was it about the situation? what was there to merit me marching back home teary-eyed and stung? stung I spotted a coffee bar called Frego down a side street and risked grabbing his arm touching; touching is mucho significo on these dates and there I was, doing it, one hand on his arm to yank him off he wasn't having it he was preferring to keep his direction, his true north I never give up he said, I'm driven I didn't make a quip about his engine, his chauffeur, didn't ask, didn't query, I moved smoothly into commentary mode and told him being driven doesn't stop anyone having a coffee, department stores don't vanish so quickly and it's early, there's still sunlight up on those roofs mansards he said god I thought, here we go I put a mask on my face, made sure it was thick and rubbery, and behind it murmured Bob, please, no more effing mansards he had his shoulder to the crowd there was already a company that used the name dolce he said, but it didn't matter why doesn't that matter, I asked thinking dolce sounded old and musty, thinking so maybe he was old and musty, with his nerdy chin and sweater, the store would see through him before he opened his mouth, show the broken tooth, it was crooked too and an hour later I would have a wounded male on my hands so why not do now the other part of the date we had scheduled, chalked on the slate he called it, go to a café to (at his suggestion) list our strengths and weaknesses, get that over with it sounded as if he had done that before he looked jaded enough, furthermore there was an area on his lower cheek where the hair grew like in a garden, he could have fixed that with a razor did I want to see his razor, his bathroom, his anything did I mention that back there I spun him around to draw his attention to the great curve of Regent Street the drama of it I said, I was building on my previous insight, I said we were in an amphitheatre fate cackling he responded, which is a good thing saying oh yeah which is a bad, insufficient thing oh yeah he said, I dunno if all the world's a stage, but some of London is follow that fate is giving odds, which is unusual of it: five to one this won't be a flop, because now that the internet has whisked us up from our lairs and dropped us here, tragedy awaits no predicting the form it may select, except for the weepy retreat to Hastings now if one of this crowd knocks his box so he bends down and is trampled to death would it be tragic, I suppose it would I did try and follow his Shakespeare, his sub-Shakespeare, so I said yes all the world's a stage if he said, what if the world's a stage quote he said again unquote again he was definitely wrong about that but it was a first date I tried silence not my style but I can do it past another coffee place, Piccolino, and another, The Ice Bar and Strawberry Moons Bob was a human tank holding the box in his arms, he looked like he was leaning into the wind only there was no wind then he said amid a group of black-haired people, with mobiles, takeaway coffees, briefcases, which shifted to become couples, cameras eager for Eros in Piccadilly are there any Londoners in London? that was rhetorical, he said so Bob said he'd tell them I'm Bob Broad Bent, 3B, this is the 3B dolce and this is the sheep I thought he said sheep but he was saying chypre on the website, on the street, on my nerves, wherever, he had to show how unique he is as if making fragrances wasn't enough it's the way of the mating site, to gain access to the various throne rooms such as mine you think you have to be unique, have to have caught merlin, to repair seventeenth century harpsichords, be interested in fixed wing aeroplanes, traditional circus tattoos, or just toys you say things like: if we are soulmates it is because you and I love sound yet value silence and embrace the melancholy that inspires creativity or searching for someone who is a singer of twilight moods and is kind to hippies or I collect acid-wash denim, how about you, call me on my docklands number but not Fridays, Scott so when I chase to the cut with my reply they say fair enough or although I personally don't allow reasons to be the reason I deny myself things I can understand others do and understand deciding you want something very specific and saying no to new experiences can actually prevent you getting what you wanted unexpectantly which is the same as fair enough, only longer now here I was with BB he reckoned that once he'd got out the test strips they'd be bowled over by the sprinkling of pepper on the strawberry of his dolce the citrus and oakmoss of this chypre just run your nose under this delightful, fragrant sheep not in billions of light years would they go for it  I wanted to say to say they would hardly give him an opportunity if he went in bouncing around the glass counters and the beauticians, mooing, like a cow coming down a bagatelle board, I was imagining he was a cow, touché, I wanted to say all that but generally it's unwise to contest anything on a date if you want another date and the same goes for the second date and only by around the third the hugely rare third rare as dogs on a roof come the third round, maybe, maybe you can start to do some contesting some mutual kicking fate fast asleep, sure of the outcome did I say what a thrill it is to come out of Air Street, onto the stage having ignored the stone wreath in the middle of the arch, twenty feet up, forget you ever saw it onwards to nirvana with Bob Broadbent he was OK for the first twenty seconds, until he got driven, and in response to my no-comment over the sheep snapped I know what I'm doing so shifting a gear into over-grump we both did silence I admit, looking across at him as I was, he could do silence better would that be a strength or a weakness thinking, feeling, silently, I did not feel this venture was on the right footing what am I doing here, buffeted by hundreds and not a single Londoner, Mrs Dalloway centrifugal in her grave, doing a Higgs bosun around the West End I could have been at home, working on the formula for eternal youth, been in the Strawberry Moons watching a barista like the one we passed, seeing to a carton of milk as if he was dressing a tooth that's the kind of care I want level of care I want mother's words in my ears: wherever I go I expect to be treated like royalty suddenly no more shop windows, number 15 buses, flags on the effing mansards, this is one of the doors to the store, we're here, we're inside I'll wait in the café I said, second floor and er, good luck Bob, and give me that plastic bag with your sandwich in it, that doesn't look good hard not to turn human when the chips are down table by the wall, americano please, and, er, a trio of macaroons no Londoners here either that arch had a serrated look, like that fluting around pie-crust edges millions of fates will have walked through it to Regent Street to ecstasy despair a couple of doughnuts trio of macaroons with cows in their heads, sheep in their vials pockets full of giraffes millions and millions ghosts of Bob and me, entering the street there we go, poppety pop then we're gone poof we're gone
Junot Diaz's first novel won the Pulitzer Prize for Fiction. Like his short stories, it brutally and tenderly evokes the Dominican immigrant experience in America. Diaz now sits on the Pulitzer board of jurors, the first Latin American to do so. "I thought that shit would just happen," he tells Matt Shoard, "but you got to work for anything real." - - If you were to participate in a spice war, which spice would you fight for? The spice from Dune. He who controls the Spice controls the Universe. - Are you much of a cook? I cook worse than anybody you know. I wash dishes really well though. - Are boys meaner than girls, or vice versa? Boys at a social level, in the societies I'm familiar with, have more power which they consistently use for awful purposes. Nevertheless I will not be able to answer that question until I visit a version of our world where girls have more power than boys at a social level and we'll see if they're meaner or not. I suspect they're not meaner but a suspicion ain't proof. - If you could design a flag for a nation, what color or colors would predominate? Colors? I'm not sure about colors. It would be huge fabric library card and library cards come in all sorts of colors. - Are your emotions pure? Don't know. Nothing about me is pure so probably not. - Did your mother teach you anything particular, and did your father? My mother taught me to work hard. My father taught me not to be like him. - Would you like to send a love letter to anyone? Not these days. - What is the best meal you have ever had? My first Japanese curry, in Tokyo, so many years ago. The least fancy dish ever but I still dream about it. That was a beautiful trip and I was very different in those days. My first book had just come out and I was convinced I was going to knock out a book a year. Didn't happen. There was a girl in Tokyo too, a Dominican woman teaching English, someone I liked, but I was too much of an idiot to do anything about it. On that trip we ate curry together and talked about everything and I thought that shit would just happen, good shit, but really, you got to work at it for anything real to happen. - Whose death, recent or not, do you most lament? I don't even want to think about it right now. - Junot Diaz was talking to Matt Shoard, who asked questions from his copy of The Interrogative Mood: A Novel? by Padgett Powell - Share on Twitter and Facebook
15 April 2013 Two Fleeting editors, Evie Wyld and Adam Foulds, are named Granta Best of Young British Novelists 2013. 11 April 2013 Fleeting writer J.D.A. Winslow shortlisted for The White Review Prize. The winner, announced on 25 April, wins £2,500. 09 April 2013 Two Fleeting writers, Deborah Levy and Ashley Stokes, are longlisted for the Frank O'Connor Short Story Award. 03 April 2013 "The Stana Yurich Snatching", critiqued at Fleeting, wins Story of the Month at Bartleby Snopes. 04 October 2012 Alex Preston's short story, "The Swimmer in the Desert", edited at Fleeting, makes The Best British Short Stories 2013. "I will never again let a word of my fiction pass before the public," writes Preston, "without first being seen by Matt Shoard." 30 July 2012 Sandra Jensen, Bridport Prize finalist, wins $1000 in the bosque Fiction Prize, with a story edited at Fleeting. "Send your work to Fleeting," she says. "It's the deal of the century." 04 June 2012 "I just wanted to let you know my story has been accepted by Flashquake," writes Catherine Domonkos. "Thank you so much for your help with it." 12 May 2012 Niranjan Casie Chitty becomes Charles Pick South Asian Fellowship finalist 2012-13. "I could not have done it without your help," he writes. 08 July 2011 "I normally have trouble not taking comments personally, but I felt remarkably calm after reading these." Fleeting review by Sarah Dawson at Poetry After Ink.
Kit Caless is co-director at Influx Press, a Hackney based publisher specialising in site-specific short fiction and poetry. He gives Fleeting his five publishing highlights for the weeks ahead. As a new publisher (we started in May 2012) we still treat every book we publish like a rare Trojan Records 12-inch. This autumn sees the release of our Kent coast anthology Connecting Something with Nothing and Gareth Rees' The Marshman Chronicles - psychedelic, psychogeographic short stories set on Hackney Marshes. Both books feel extremely precious to us. My radio show, Mapping the Metropolis on Resonance FM, centres on the relationship between cities and literature. My guest recently was Chloe Aridjis, another writer attuned to the psychology and mythology of place. I can't wait for her novel Asunder (Chatto and Windus, May 2013), anchored in London's National Gallery. Based entirely of our love of the book he co-authored with Paul Farley, we're also looking forward very much to this month's publication of Michael Symmons Roberts' sixth collection of poetry, Drysalter (Cape 2013). 150 poems of 15 lines inspired by the ancient trade in powders, dyes, chemicals and cures. Crowd funding is becoming a good friend to the writer. In Salena Godden's case it'll enable her to publish Springfield Road, a memoir of her extraordinary life in Hastings. She's a legend on the live poetry scene and a funny and profoundly honest writer. Unbound Books are an exciting innovation too – an 18th century pamphleteer for the internet generation. Share on Twitter and Facebook. If you'd like to share your publishing calendar with Fleeting, contact [email protected]
Catherine Taylor is Publisher at The Folio Society and part of the Folio Prize Management Committee. She offers Fleeting five highlights from her diary this month. Spring is the most exciting season in the publishing year, and one book that particularly fits the season is the new Folio Society edition of Henry Green's Loving. First published in 1945, its deceptively straightforward story of Irish life above and below stairs during wartime showcases Green's luscious and elliptical prose. Chris Corr's bold illustrations and a new introduction by Lorin Stein make it the perfect example of how to reinvent a classic for a new generation. Tonight is particularly anticipatory as the much-awaited Granta Best of Young British Novelists is unveiled, highlighting those authors under 40 expected to make the biggest impact over the next ten years. Who will be in, or out? One author on the list in 1983 was Julian Barnes, who continues to surprise and delight in both fiction and non-fiction. It's notable that Zadie Smith, Adam Thirlwell, and Monica Ali made the '03 list on the strength of their debuts (the latter two in manuscript form) – but will they make the line-up this evening? Chimamanda Ngozie Adichie's Half of a Yellow Sun, a fiercely moving novel about the Biafran War of Independence, was that rare thing – a commercial and critical success. Will this be equalled by her novel Americanah, out this month? Lastly, a nod to a couple of new literary ventures, one big, one not so big, but no less important for that. The Folio Prize was very recently launched as an international literature prize awarded to any work of fiction published in the English language, and at the end of April the beautifully produced, much emulated but rarely rivalled The White Review announces the winner of its first short story competition. Share on Twitter and Facebook. If you'd like to share your publishing diary with Fleeting, contact [email protected]
Press, praise and publications for Fleeting and the team.
Sending your work to Fleeting? Read about our panel of editors.
What goes on at Fleeting Books?
The Universe rolls huge, exophthalmic eyes. It hisses, Oh for fuck's sake. Oh that's rich. Oh that's a real gas. The Universe heaves an opulent sigh. It says, Let's not be coy here. The Universe flashes me an oeillade. It whirls a cleft tongue and licks its lips. It purrs or growls or rumbles. You're here to get your mind blown, huh? I blush. The Universe smells of ylang-ylang and powdered milk and knowing this makes me feel ashamed. I hear you want some of this piping hot penetralia. That true? I nod slowly. I am mortified and horrified and terrifically aroused. I can give you some of this piping hot penetralia if you think you can dig it. Do you think you can dig it? I tell The Universe I can dig it. I think I can dig it. As long as it's not too hot, the penetralia. I'm gonna give you some of these high-frequency vibrations baby, says The Universe. I'm gonna transpierce the monotony of your repetitious world by creating overlapping patterns of peri-o-dicity. The Universe flattens its tongue like a spatula and moves in on me, breathing hot saccharine. The Universe drags its tongue over my flesh. It strokes me warm and glistening wet from the bottom-up and back-again and ever so slowly, ever so gently The Universe pulls me deep inside its cavernous mouth. The Universe is edentulous, slick as oyster meat. The Universe sucks soft on me then hard on me then slow on me. The Universe loosens its throat and hums, drawing seraphic orchestrations of muscular twitches through my body. I am warmer than I've ever been and sicker than I've ever been and better than I've ever been. The Universe whispers, Mm-hmm oh yeah yes Sir… Here comes that cosmic douceur… My amygdala shoots thunderous signals at my hypothalamus. I curl and squirm. I think of cells that live in cells that live in cells that live in cells. I think of mindless gyrations of atoms and molecules. I think of dripping, populous honeycomb; razor-toothed vernal earthworms on warm concrete. I know immeasurable forces of push and pull! I know ebb and ebb and timeless throbbing infinity-eternity! The Universe gurgles, spits and lays back. Viscid cosmic wetness trails wayward down its chin. That was real sweet babe real divine yeah gotta split now alright be cool alligator ciao hasta adios! I raise my eyebrows and blink at The Universe. It says, What? What's this face now? I confess my secrets to The Universe. I tell The Universe about Restricted Environmental Stimulation Therapy. I tell it about The Spiritual Warriors and The Soul Retrievalists and other groups I joined on Craigslist. I tell it about Jefferson Starship and Operating Thetan. I tell it about Arizona, about sitting in a sweat lodge for three hours, how the only vision I had was of myself, famished and puking into a Navajo blanket. I tell it about psilocybin mushrooms. I tell it about the neck rash I've had for four months and how people at work say I have rabies. I tell it about power crystals. I tell it about squeezing power crystals. I tell it about squeezing power crystals until my palms split and bleed in perfect triangles. I tell The Universe I've had enough. I tell it honestly I seriously urgently need to have some kind of spiritual metaphysical transcendental breakthrough right now. The Universe yawns and gives me a look. Alright alright cool your jets kimosabe, says The Universe. The Universe checks its watch. Here's what's what: I'll give you a little conciliatory communion. You with me? I nod. I am with The Universe. We're talking about the (The Universe does air quotes) nature of your existence, right? You want to know about your (The Universe does air quotes) purpose? I nod again. Ok. The Universe makes a big show of clearing its throat. The Universe looks deep into my face to establish meaningful, exophthalmic eye contact. The Universe places a strange, amorphous hand on my shoulder and says, Your purpose is to be radiant as fuck. I blink at The Universe and my face is a manhole and The Universe looks back at me, panoptic and irritated. For all (The Universe does air quotes) eternity. The Universe pretends to check its watch again. Youaretoberadiantasfuckforalleternity! Ok? Got it?? I nod. Sure, I get it. We square? Yes, I suppose we're square. Cool. Gotta jam! See you 'round like a donut. I wave goodbye to The Universe. The Universe pounds a closed fist twice against its nebulous chest, points silently back at me and jams. I walk to my car and drive into the radioactive sunset. I return to an insular, occluded world which conceals vast depths of ignorance. I go back to a buffet of compromises and rationalizations which I consume in manageable stress-postponing chunks. I return to my astrophysical reality and my supposed senescence where I shine like a goddamn diamond until I'm (air quotes) dead.
Fleeting Books is based in Portland Place, conveniently close to the BBC, Edward "Fast Eddie" Davenport, and Jane Gamble, the inspiration behind Henry James' novel The Portrait of a Lady: Fleeting Books 32 Portland Place Oxford Circus London W1B 1NA If you'd like to talk to Fleeting, send an email to Rose Green in the first instance at [email protected] Please include the writing you'd like to discuss and a note about the kind of help you'd like. A member of our team will contact you with a quote within a week. We occasionally publish short fiction online, with an acceptance rate of about 0.1%. You can post stories to Fleeting (max. 2500 words each) or email David Whelan at [email protected] Selected writers will hear back within ten days. To keep up to date, follow us on Twitter and Facebook.